About this Event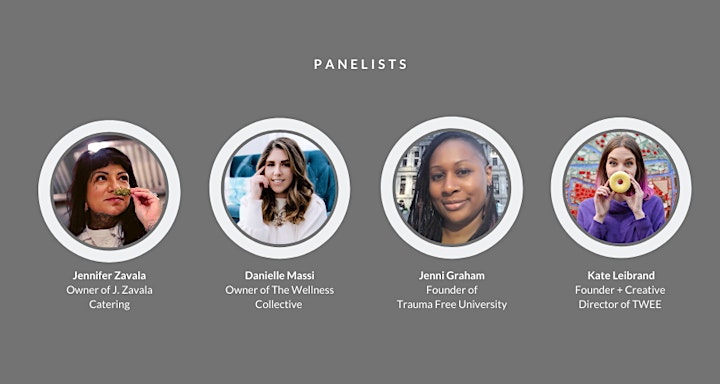 As an ode to Women's History Month, Industrious invites you to an open panel discussion on being a self-made #GirlBoss! Join us to learn some helpful tips and tricks on how to navigate the world of entrepreneurship, as well as network and build relationships with like minded women. There will also be a business card drop box where you can possibly win a FREE week of coworking space at Industrious!
Each of our panelists come from different walks of life but have all succeeded in creating their own businesses.
Jennifer Zavala has been a trailblazer in the Philly food scene for over 10 years, cooking at places such as El Camino Real, Xochitl, Amada, Will BYOB, and Farmer's Cabinet. She's an official member of Les Dames d'Escoffier, C.O.R.E Ambassador, and was named by Philly Mag as the 2018 Best Cannabis Chef. She's known for representing her Latinx culture by using locally sourced ingredients. Ever the innovator, Jennifer also once ran a renegade tamale food truck and created quite the controversy with her vegan meatballs. Not to mention, she's also a former contestant on Top Chef! On her "free time" she's a mother to her 2 children, Santino and Oscar, and a wife to Chris.
Danielle Massi, LMFT is the owner of The Wellness Collective, a holistic psychotherapy practice in center city specializing in mind/body/spirit wellness. After her spiritual awakening, Danielle began integrating channeling, intuitive guidance, and shadow work into her practice, and scaled to a multiple six figure business. Danielle has written for and been featured in the Huffington Post, and has been featured on major news outlets like CBS Philly and Fox29 Philly as an expert in her field.
Jennifer M. (Jenni) Graham is a licensed, registered and board certified Art Therapist with 15 years of experience working in the mental health field. In 2017, she founded a Philadelphia based creative arts therapy organization called The Truehart and her business evolved to become Trauma Free University in September 2019. Jenni works through a healing centered, trauma informed, anti-oppressive and culturally competent lens. Jenni takes great pride in utilizing Art Therapy techniques to break down and address stigmas, stereotypes, and ineffective practices within the mental health field that have perpetuated harm, or have prevented groups of marginalized people from seeking and obtaining effective mental health services.
Kate Leibrand is Founder and Creative Director of TWEE, a women owned and operated maker's studio specializing in handmade, small batch sidewalk chalk. What started as a project in her kitchen has expanded into a business whose products are carried all all over the country, including national retailers such as Nordstrom's, Crate & Barrel, and Neiman Marcus. She is also an exhibiting, large scale fiber artist who has shown at various venues across the country- including the Philadelphia International Airport.
Getting to the Space & Parking
The event is held at Industrious at 230 S. Broad Street, 17th floor. Please enter the building from Locust St. between Broad and 15th, between Estia and Tuscany Cafe, and head right up to the 17th floor.
This is right off of the Broad & Locust St. Subway stop. Parking can be found on the street (a bit challenging) or in one of the nearby garages such as the Bellevue Garage or Latimer Garage (cash only).
If you have any questions, please don't hesitate to reach out to Keana at klopez@industriousoffice.com