Description
2019 Women Who Inspire Conference: Women's Stories, Women's Strength
Proudly brought to you by Autumn Rock of www.Rocklifestrategy.ca and Jessica Coulthard of www.justagirllikeme.com
The Women Who Inspire Conference is about creating connection, valuing the female virtue, and providing an incredible networking opportunity with some of the strongest women in the Vancouver area. The conference highlights the wisdom found in overriding old narratives and providing proof that we do, indeed, rise above. This event is for women who are interested in self-improvement, personal health, finding their voice, and understanding how to harness the power within to change themselves and their life for the better. Nine inspiring speakers will take you on a journey of healing, finding strength, and learning resiliency.


At the beautiful Hilton Vancouver Metrotown hotel, we will grow stronger together with a full day of powerful ideas, vital lessons, and everything you need for a better, brighter tomorrow. Discover new resources and engage in a vibrant community of incredible female minds. This is an opportunity to gather and share stories, connect with exceptional women, and grow your tribe. Join us on October 20th and be inspired to overcome any challenge through discovery, healing, and mutual empowerment.
MEET YOUR SPEAKERS
JESSICA COULTHARD - Host & MC
Jessica is the founder of Just a Girl Like Me Coaching, Author, Strategic Interventionist, and NLP Practitioner who believes that the best way to learn is from each other. When we build a strong community of women, we are unstoppable! I spent most of my life afraid of my own voice, now I am here to show women that we all need to set forward and share our stories to inspire and empower other women to do the same.
I wanted to put this event together to work on building that community of women that can encourage, support and inspire one another with our struggles and our stories or overcoming them. My main focus for this event will be to create a safe , empowered atmosphere that lend itself to creating connection among the speakers and attendees. My hope is that each person who attends this conference will leave with new perspective of what is possible in their life and will have found at least 1 other person in the room to stay connected with after the event for support.
AUTUMN ROCK - Life and Recovery coach & Co-host
Autumn Rock is a successful business owner, real estate investor, and Success Strategist and Life & Recovery Coach. As the founder of Rock Life & Success Strategies. Autumn's mission is to empower others. Against the odds, she has created a success story for herself and many others. Over twenty years ago Autumn overcame her own addiction and subsequently battled PTSD from a traumatic past. Since then, she has been fiercely brave in rising above her challenges and mentoring women in business, guiding others on the path to addictions recovery and wellness, and supporting families. As a community leader, writer, public speaker, and mentor, she is devoted to helping others achieve their dreams and reach their highest potential.
TONYA JOYCE - Energy Healer
Tonya Joyce has lived a full life of overcoming one traumatic incident after another! She is a childhood sexual abuse survivor; a human trafficking survivor; a three time motor vehicle accident survivor where she became a near death experience survivor.
She grew up on a stage as a drummer and singer in her family band, Kami Country, in Kamloops, BC. She has performed as an adult in the lower mainland and Seattle, WA where she was offered a recording contract with Warner, which she subsequently declined. She has recorded with James Bowers Productions; Jammaster Productions; City Studios with Roger Swan - whom she still records with at Hipposonic in Vancouver, BC.
During her music career she was procured into human trafficking by a pimp from New York, who she was recording in the studio with, after borrowing money for rent.
To escape her fate, she attended Kwantlen Polytechnic University and earned her Bachelors Degree in Social sciences majoring in Criminology. Just when she believed her life was improving, she endured her first car accident in 2010 whereas she was struck from behind and suffered a tilted sacral and had to be off work for three months. As she was raising her 5 children, she had no choice but to return to work in pain. Then in 2012 as she was healing from her first accident she was struck by a driver who ran a red light and she died instantly! By the grace of her higher power, she came back to life with a purpose... she went from being in a wheelchair with a broken neck, ribs, back, severe head laceration, punctured lung, aneurism on her carotid artery, a blood clot in her throat, contused legs, cognitive challenges, and severe PTSD. She survived and is here to share her story of recovery, resilience and hope as she went from that wheelchair to a walker and now stands proudly in heels!
MICHELLE HARCOURT - RHN (Holistic Nutritionist)
My own wellness journey started in 2002 when I was diagnosed with the autoimmune disease Ulcerative Colitis, a condition very similar to a much more common disorder, Crohn's disease. Despite spending six years following the usual treatment of medication with a leading Crohn's and Colitis specialist, I progressively got worse and watched my energy, as well as my passion for life, steadily decline. I stopped playing sports and wasn't able or willing to do anything active or spontaneous any longer – my passion for life was gone
In 2008 I saw a naturopathic doctor and began working on natural treatments for my condition. My disease improved drastically, piquing my interest in helping others learn how to take charge of their health. Make it Count Wellness is based on my belief that life starts with making informed decisions about how to fuel your body. I believe that an intake of fresh, whole foods is an essential part of living a healthy and full life and I am dedicated to showing others that achieving optimum wellness is easier than they think! Today I am off all medications and treat my condition solely through a holistic approach of foods, supplements, exercise and stress relieving techniques. I am ecstatic to have regained both my energy as well as my passion for life. I have fulfilled many of my dreams, including climbing the Great Wall of China, completing two Tough Mudder events and graduating as a Holistic Nutritionist from the Canadian School of Natural Nutrition. None of this would have been possible had I not made emotional and physical lifestyle changes.
BONNIE NICOLE- Badass
Bonnie grew up in small town Fort Langley in a privileged environment. Her grandmother was a wealthy woman who gave her everything she ever dreamt of, however behind the scenes the elephant in the room was never spoken of; sexual abuse.
From early on Bonnie was molested by her step-father and treated poorly by her mother. Bonnie grew up believing her life was worthless and that she was put here to endure abuse because she could handle it. As she got older she entered violent relationships thinking she was lucky anyone loved her. Co-dependent, depressed and ridden with shame she felt stuck.
Then one day she stood up on a stage and shared her story. Ever since that moment where she took back her power she has been unstoppable. Bonnie has become an international speaker, co-author, business owner and someone who gives back to her community. Although she still struggles with areas in her life she never gives up.
A true Badass never stays down long, but instead gets back up and fights for what she believes in. Listen to her share her journey from a scared little girl to a complete Badass in life.
SUSAN BINNIE - Motivational Speaker
Susan is an entrepreneur, motivational speaker, coach and most importantly the mother of 4 amazing children. Against all odds, she started her business as a motivational speaker & empowerment coach in the end of 2016 and today speaks on several stages every month. She also runs workshops for people who want to achieve massive success by believing in their power without getting overwhelmed. Susan has experienced many losses in her life. Jobs, family members and spouses, just to name a few. Overcoming obstacles has become common place. For many years Susan experienced what it meant to be stuck. Stuck in her circumstances of life. She helped her disabled daughter take the word can't out of her vocabulary at a very young age. Unfortunately, it took her a lot longer to take can't out of hers.
Believing anyone at work, when they told her that she can't… kept Susan in the role of victim for many years. After being downsized from her 17-year career in the not for profit sector and living much of her life as a care giver, Susan has learned to love not only her family and those around her, she also learned to love herself and take the steps needed to be the champion of her life. It is with this "can do" attitude that she has helped many others become unstuck and find clarity to overcome their obstacles and move their lives forward.
SITA GAIA - Tedx Stanley Park speaker
Sita lives with a chronic illness, which went from stable to worse. Thankfully she has the support of her wife and family to make life a bit easier. Sita is also a Tedx Stanley Park speaker alumni, where she spoke in front of 2000 people. She has also spoken at Word on the Street, which was an amazing opportunity. Sita is a charismatic and fun loving person and in her spare time she loves to write poetry and practice yoga. Sita lives in Vancouver with her wife.
LYNN ROBINSON - NLP Trainer and Breakthrough performance trainer
At this point in time, there are many people who have lost their sense of self, they have list their direction and are asking the question "who am I" and "where do I go from here". For more than 20 years Lynn Robinson has been helping individuals to achieve breakthrough performance. She has been doing this by helping people tap into the power of the mind and take control of their results.
She has always been on the cutting edge in her approach to achieving success. She is a certified Trainer of NLP (Neuro Linguistic Programming) and has been teaching courses internationally in the UK, the US as well as Canada. Lynn is a model for what she teaches. She has built 2 successful businesses, and overcome life threatening health challenges using the skills and techniques she shares with others.
LISE LAVIGNE - Status Quo Disruptor
It wasn't until my mid-forties that I said "Enough is Enough" and started on a path of transformation. Up until then, I had been attracting one unhealthy relationship after another. No matter how much love I gave, it was never returned to me. It seemed as though I was receiving all the wrong kinds of relationships, even friendships were not ideal. Then I learned that my relationships were a reflection of how I saw myself. I had no idea that there was a correlation between how I felt about myself and the people in my life. Once I understood this it was truly an eye opener and the beginning of my transformation. I then began to implement the appropriate steps to grow and bust the mindset I had acquired during my life. Having grown up in circumstances of sexual, physical and emotional abuse, my self-esteem was so low and I felt broken.
now know that I am worthy of love and happiness. I have a healthy dose of self-worth and respect for myself. I can quickly detect the red flags of unhealthy relationships and put a stop to them before they fester. I only accept to be surrounded by positive and loving individuals. I don't put up with anything else. What would your life be if you found meaningful and fulfilling relationships? Perhaps you believe you are not good enough or you feel undeserving of love. I am here to tell you that you are indeed more than enough and you are absolutely worthy of true love. If you want to attract healthy relationships that lead to a fulfilled and happy life, I can show you the way.
TERI HOLLAND - Certified Master Coach.
Teri thought being an entrepreneur and starting a business would give her freedom and the lifestyle she craved in an industry she loved. She was wrong. After 10 years in the health and fitness industry, Teri found herself anything but fit and healthy. She was burnt out, depressed, anxious and sick and she didn't know what to do next.
Sometimes our darkest moments bring us our greatest gifts and in Teri's darkest moments, she found help, a new way of being and a new life purpose.
Teri now helps entrepreneurs and high performers to move from where they are to where they want to be in a short period of time.
She has studied Peak Performance and Life Enhancement for over a decade and has over 15 years of experience as an entrepreneur. Teri is the creator and host of a #1 Self Help Podcast on iTunes, The Empowered Life® and the founder of The Empowered Life® Academy. Teri has trained with Master Trainer, Dr. Tad James and is a certified Trainer and Master Practitioner of NLP, Hypnotherapy, and Time Line Therapy® and NLP Coaching.


CANDACE BERNIER- Life Champion
Born and raised in the bible belt of BC, but not everything is as it seems.
For the first time ever she will share her story of not giving up when the odds were against her,living a traumatic dark lifestyle that most cant imagine and many die along the way.
The fire inside her kept her alive, knowing she was ment to win the fight.
Jaylene Tyme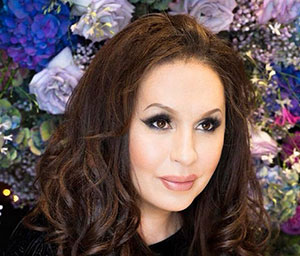 She now encourages and empowers women to face their fears and become thier own life Champion!
The 35th elected Empress of Vancouver, British Columbia- The Mother Court of Canada and the 27th elected princess of The Greater Vancouver Native Cultural Society, Empress Jaylene Tyme is a proud clean and sober First Nation trans woman and visible member of the Vancouver's LGBTQ2S+ community. She is the host of the weekly drag showcase Legends Cabaret and featured regularly in documentaries, online stories and articles furthering education on diversity. She believes that it is important celebrate the power of community by contributing to the energy of our world with passion and positivity. We do this together for each other, with the opportunity to inspire and educate. Our identities, beautifully diverse and wonderfully unique. She is honoured to be included in the women who inspire conference. --