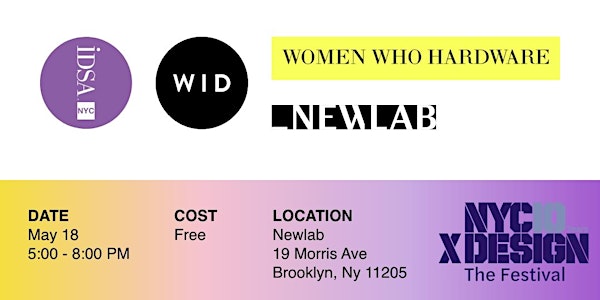 Women Who Hardware x IDSA NYC | NYCxDesign Week Meetup
Location
Newlab
19 Morris Avenue
Brooklyn, NY 11205
Join the Women Who Hardware crew and IDSA NYC Chapter for an evening of networking, show-and-tell, and discussions with community members!
About this event
Come meet and mingle with folks from New York's hardware and design community at an event hosted by Women Who Hardware and IDSA NYC Chapter, during NYCxDesign Week 2022.
The event features show-and-tell presentations and brief stand-ups by community members, highlighting their work, including organizations, companies, and community groups. We will also be celebrating the launch of IDSA's new Women In Design Chapter program, and gauging interest to start a Women In Design chapter in New York.
Join us on Wednesday, May 18th. The fun starts at 5pm at Newlab in Brooklyn Navy Yard, with beer, wine, light bites. We can't wait to meet you and expand the Women Who Hardware and Women In Design communities.
Kindly fill out this interest form to apply for a show-and-tell slot at the event.
-------
We're a kickass group of women and gender-diverse founders, leaders, techies and doers working to grow the NYC Hardware ecosystem and support each other as we build our orgs, products and teams.
The New York City chapter of IDSA represents a vibrant and diverse design community steeped in immersive experiences that attract innovators, entrepreneurs, artists, and other creative talents.
This event is generously sponsored by Newlab, the home to over 800 entrepreneurs, engineers, and inventors, solving the world's biggest challenges with leaders and experts across industries and cities.