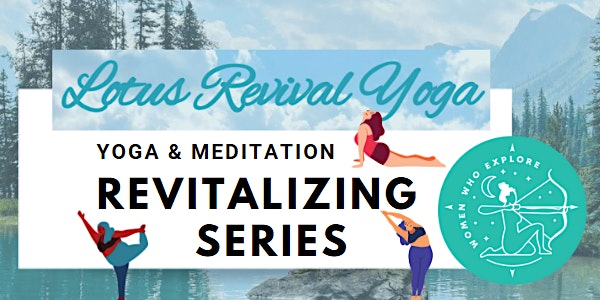 Women Who Explore VIRTUAL Yoga & Meditation Series - Class 2
Come revitalize yourself and find serenity in your own space with Women Who Explore and Woman-Owned Lotus Revival Yoga!
Refund Policy
Contact the organizer to request a refund.
Eventbrite's fee is nonrefundable.
About this event
This will be the second class out of our 4-part Yoga and Meditation Revitalizing Series with Lotus Revival Yoga (lotusrevivalyoga.ca).
You can attend all four classes or just one, the choice is yours.
EACH CLASS IS DONATION BASED. We recommend $5 for this class but you can donate whatever you like. 30% of proceeds will be donated to @indigenouswomenhike.
WAIVER REQUIRED | SIGN HERE: https://forms.gle/HwwDkNxiDZAk15vW7
June 15 -Yin Yoga
A modern style of yoga which holds gentle poses connected to the breath. Yin is traditionally practiced in a cooler environment to target the joints, however please do what works best for you. Poses are held between 2-5 minutes each and are typically renamed after animals or nature. Although yin can be practiced without props, it is ideal to have a block, bolster or thick rolled up towels, blanket/s, and essential oils if you choose.
THERE WILL BE A GIVEAWAY IN EACH CLASS
A one-hour, live, interactive, online yoga class of your choice for you and 2 friends!!
ABOUT THE TEACHER
Jennifer is the Founder of Lotus Revival Yoga and a Canadian Yoga Alliance Certified Instructor. Through the practice of yoga both on and off the mat, she works with students to achieve their desired balanced lifestyle. Jennifer has lived in Ontario, British Columbia, and Brisbane, and now lives in Saskatchewan with her husband Joel and their two beagles where they enjoy many outdoor adventures together.
SOCIALS
instagram @lotusrevivalyoga
facebook @LotusRevivalYoga
OTHER CLASSES IN THIS SERIES:
July 20 -Restorative Yoga
A gentle yoga class providing time and space to experience deep relaxation. Traditionally restorative poses are held for 8-12 minutes each, however due to the class being 60 minutes we will slightly shorten the duration of each pose; you will still feel the benefits of each pose both mentally and physically. Itis ideal to have a block, bolster or thick rolled up towels, blanket/s, and essential oils if you choose.
August 17- Guided Meditation
An opportunity to focus inwards and reconnect with your breath, mind, and body. Please create a space that will allow you to feel deep relaxation and an evening of peace. We will begin with a few gentle stretches to help settle our mind and body; the remainder of the practice will be guided meditation and audio only to limit distractions.