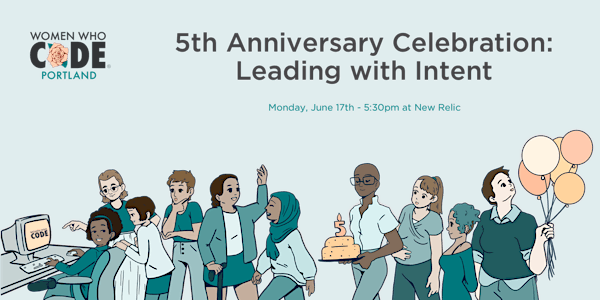 Women Who Code Portland - 5th Anniversary Celebration: Leading with Intent
When and where
Location
New Relic 111 SW 5th Avenue #2700 Portland, OR 97204
Description
It's hard to believe, but Women Who Code Portland is closing in on five years in Portland. We are so thrilled to celebrate this incredible milestone with you. Join us on Monday, June 17th at New Relic for our 5th Anniversary Celebration, an evening of networking, inspiring speakers, giveaways, and delicious food and drinks.

The theme of the event is "Leading with Intent." It is what we as an organization have aimed to do over the last five years. Our leadership team has worked tirelessly to create and support a diverse and inclusive community that we can be proud of. In five years, our community has grown to 3,500 members and we have organized 350 events to help our members succeed in tech.

"Leading with Intent" is also a theme embodied by our speakers. Our five panelists are inspiring and successful women in engineering, design, and security. They have also spent their time giving back to others, by creating communities that helped other women and underrepresented minorities enter and stay in the tech industry. We rise by lifting each other.

Agenda

5:30 - 6:15 - Doors open + Networking Activity
6:15 - 6:30 - Welcome + A Look Back at Five Years of Women Who Code Portland
6:30 - 7:30 - Panel: Leading with Intent
7:30 - 8:30 - Networking + Prizes

Panel Details




- Erica Stanley - Erica Stanley is an engineer, entrepreneur and diversity & inclusion advocate. She is an engineering manager for the integrations and analytics teams at SalesLoft – where she's helping grow the product engineering team for the 4th fastest growing software company in North America. Erica is active in the Atlanta technology community. She founded the Atlanta network of Women Who Code, where she organizes conferences, hackathons, workshops and networking events for women technologists. She also helps develop and teach youth coding programs and mentors entrepreneurs for local incubators and accelerators.

- Amber Milavec - Amber Milavec is a Sr Principal Technical Architect at Nike as well as the creator of We Code Hackathon for Women and Friends. Amber's expertise lies in bot mitigation, cloud-native microservice architecture, high scalability, performance, security, and automation. Honored with the Women Who Code PDX Technical Leadership award in 2017, she is passionate about diversity in tech. She also loves retro video games and baby animals.
- Vaidehi Joshi - Vaidehi is an engineer at Tilde, in Portland, Oregon, where she works on Skylight. She enjoys building and breaking code, but loves creating empathetic engineering teams a whole lot more. In her spare time, she runs basecs, a weekly writing series that explores the fundamentals of computer science, and is co-host of the Base.cs Podcast, as well as a producer of the BaseCS video series. She is currently at work on baseds, a new series on distributed systems.
- Steph Nguyen - Steph Nguyen is a product and designer leader, co-founder, and advocate for diversity in tech. She is the VP, Product & Design at Flashfood where she focuses on developing on a scalable solution for reducing food waste while making food more affordable for people. In her spare time, she is a Director for Women Who Code Toronto where she helps encourage women to excel in technology careers, as well as is a co-founder for a digital magazine called Brief Take.

- Michaela (Miki) Demeter - Miki is currently a Security Researcher at Intel specializing in Open Source Supply Chain. She is one of our evangelists and serves on the staff of the Diana Initiative, BsidesLV and volunteers for the DefCon Hotline she is also a TrevorChat Crisis Counselor. She is a staunch advocate of URMs in the technology industry and strives to help all women succeed in the tech field.

- Moderator: Caterina Paun - Caterina is a developer, designer, entrepreneur, and community organizer. She is currently an intructor and researcher at Portland State University and she is the Senior Director and co-founder of WWCode Portland. She works on voice applications and making the online world more accessible to everyone.

Giveaways + Prizes

As a thank you to our wonderful members, we will have a Women Who Code t-shirt as a giveaway to our first 100 attendees and we will be raffling conference tickets for everyone who completes the networking activity.

Special Thanks

Thank you to our sponsors, New Relic and Alchemy Code Lab, for supporting this event and to Mozilla for sponsoring videography for the event.
Illustrations for the event were create by Ren Stein: www.reinelaren.com.

About Women Who Code

We are a global nonprofit dedicated to inspiring women to excel in technology careers. Our events offer study groups, technical workshops, hackathons, networking events, panel discussions, lightning talks, and social events featuring influential tech industry experts, innovators, and investors. We help you build the skills you need to raise your professional profile and achieve greater career success. Current and aspiring coders are welcome.

Code of Conduct

WWCode is an inclusive community, dedicated to providing an empowering experience for everyone who participates in or supports our community, regardless of gender, gender identity and expression, sexual orientation, ability, physical appearance, body size, race, ethnicity, age, religion, socioeconomic status, caste or creed. Our events are intended to inspire women to excel in technology careers, and anyone who is there for this purpose is welcome. We do not tolerate harassment of members in any form.

Our Code of Conduct applies to all WWCode events and online communities. Read the full version at http://www.womenwhocode.com/codeofconduct. If you would like to report an incident, please reach out to one of our volunteers or submit an incident report form: http://bit.ly/wwcode-incident-report.