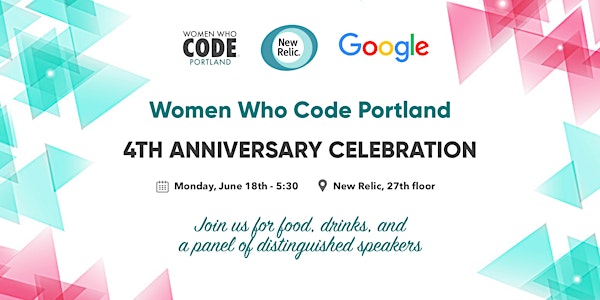 Women Who Code Portland - 4th Anniversary Celebration
When and where
Location
New Relic 111 Southwest 5th Avenue #2700 Portland, OR 97204
Description
On Monday, June 18th, Women Who Code Portland will be celebrating 4 years in Portland! Join us for our 4th Anniversary Celebration, an evening of networking, great talks, giveaways, and delicious food and drinks, hosted by New Relic.
This year's esteemed speakers are:

- Mauri Whalen - Vice President of Developer & Community, Ampere Computing, previously: Vice President of the Core System Development, Intel
- Jinsy Oommen - Principal Software Engineer, Cascade Energy
- Ann Wallace - Technical Cloud Consultant, Google
- Neha Duggal - Senior Product Manager, New Relic
- Moderator - Amy Boyle - Senior Software Engineer, New Relic
Program
5:30 - 6:00 - Doors open + Dinner + Networking Activity
6:00 - 6:30 - Welcome from Women Who Code Portland + Sponsors
6:30 - 7:30 - Distinguished Panel
7:30 - 8:30 - Networking
Giveaways + Prizes

As a thank you to our wonderful members, we will have an awesome Women Who Code t-shirt to give away to our first 100 attendees and we will be raffling conference tickets and other cool prizes to all attendees.
Speakers + Bios

Neha Duggal is a Senior Product Manager at New Relic where she helps drive the product strategy and roadmap for APM. She has over 10 years of experience in the software industry where she has held various engineering and marketing roles. She started her career as a software engineer at Lehman Brothers (her first day being the day Lehman filed for bankruptcy!). Post the Lehman Brothers debacle, she continued on to write code for Barclays Capital and Tibco Software before switching careers to Product Management. When not obsessing over customer issues and solving problems, she enjoys backpacking, hiking or enjoying a glass of Pinot Noir.
Ann Wallace is a Technical Cloud Consultant at Google focusing on kubernetes, security and SRE. Before Google, Ann spent 14 years at Nike in various engineering and architecture roles. CloudNOW named her one of the top 10 Women in Cloud in 2015. When not working, Ann can be found traveling and ultra-trail running.
Jinsy Oommen is a Principal Engineer on the Software team at Cascade Energy Inc. She has been with Cascade Energy for 4.5 years and helps develop an energy management and collaboration platform. She has varied interests in the world of software development and it has ranged from writing APIs, "devOpsing" in the cloud, to writing client applications. She holds a Masters degree in Electrical Engineering and stumbled on to the world of Software Development while completing her degree. She enjoys problem solving and finding solutions that delight customers.
Mauri Whalen is a dynamic, results driven, and passionate software engineering manager with over 20 years of experience in successfully building engineering teams and driving software in the open source eco-system. Most recently, Mauri followed her passion and joined Ampere Computing as Vice President of Developer & Community. Previous to Ampere, she worked at Intel as Vice President of the Core System Development team where she lead Intel efforts in open source software development across a range of technologies focusing on Linux-based operating system stacks, software for enabling Intel CPUs and chipsets and virtualization.
This panel will be moderated by:
Amy Boyle is a Senior Software Engineer at New Relic, working on distributed back-end systems. She is an Organizer for PyLadies PDX, and she loves monitoring, data, and puppies.
Code of Conduct
Women Who Code (WWCode) is dedicated to providing an empowering experience for everyone who participates in or supports our community, regardless of gender, gender identity and expression, sexual orientation, ability, physical appearance, body size, race, ethnicity, age, religion, socioeconomic status, caste, or creed. Our events are intended to inspire women to excel in technology careers, and anyone who is there for this purpose is welcome. Because we value the safety and security of our members and strive to have an inclusive community, we do not tolerate harassment of members or event participants in any form. Our Code of Conduct applies to all events run by Women Who Code, Inc. If you would like to report an incident or contact our leadership team, please submit an incident report form.
About Women Who Code Portland
Women Who Code is a global nonprofit dedicated to inspire women to excel in technology careers. We connect amazing women with other like-minded individuals around the globe who unite under one simple notion--the world of technology is better with women in it. In Portland, we organize monthly study nights, workshops, and networking nights, as well as hackathons and social events.