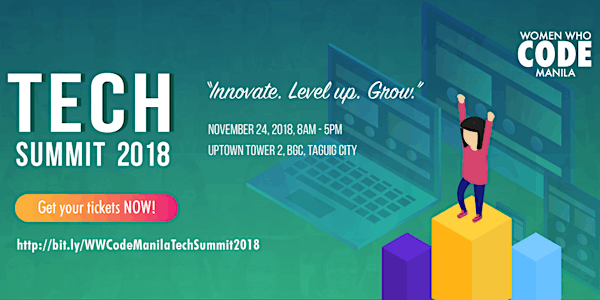 Women Who Code Manila Tech Summit 2018
When and where
Location
Accenture CVC 10th floor Uptown Tower 2 BGC Taguig Philippines
Description
Women Who Code Manila Tech Summit 2018 highlights the talent of Filipinas in the tech industry. We will talk about best practices, new technologies, how to level up your career and more.
This summit was designed to help everyone in our community to innovate, level up and grow. Hope to see you in this awesome conference. :)

Many thanks to Accenture, Philippines for being our Platinum Advocate Supporter. <3
If you want to support the event, send us a message at manila@womenwhocode.com.
Please register as soon as possible so we can personalize your IDs and get your preferred shirt size. Deadline to personalize your swags - November 15, 2018.
RUN OF SHOW
8.00 am - 9.00 am | Registration and Breakfast

9:00 am - 5:30 pm | The Surprise Goes Here -> Check the suprise at https://manila.womenwhocode.com
6.00 pm - 9.00 pm | After Party
FAQs
I'm a Women Who Code Member but I can't afford to pay the ticket right now but I want to attend the event, do you offer any scholarship for the conference?

Hi there! We feel you and we believe that everyone deserves the opportunity to grow in their career even if there are barriers in your life.

Please send us a message at manila@womenwhocode.com and tell us the reason why you wanted to attend, why you can't afford the ticket, how are you planning to share your experience in the conference to others?, and how can this conference help in your career?

We have limited scholarship tickets available and we'd be choosing based your answers. We wanted to give everyone a ticket however we might not be able to fund the event if we do that. I hope you understand.


I love what you are doing and I want to donate or support attendee, how can I do that?

First of all, thank you for even thinking about helping others. We are very happy to meet someone like you. There are ways to donate or support an attendee for this event.
1. You can support an attendee by buying a ticket for them - click on 'tickets' and choose support an attendee.

2. You can donate any amount - click on 'tickets', choose donate and donate to the community.
3. Reach out to us at manila@womenwhocode.com if you want to donate in a bigger amount or in-kind. We still need a lot of help in making this event possible.

Again, thank you. <3

Are guys welcome to join the event?

Yes, everyone is welcome. Regardless of gender, race, age, ethnicity, religion, beliefs or more. We believe everyone should be part of this movement - to increase diversity in tech. If we tackle the issue together, we can create better solutions for this problem. Just make sure that when you attend, you follow our Code of Conduct.
What is your code of conduct?

What type of payments do you accept?
You can pay using PayPal, Debit Card or Credit Card. When you click on Paypal checkout - you are being required to login or underneath the login an option to pay using Debit or Credit Card. If you don't have any of these, you can send us a message at manila@womenwhocode.com to give you instructions for bank deposit.


What's the refund policy?
Please note all sales are final but ticket transfers are possible in the event of a cancellation.
How can I contact the organizer with any questions?
Send us an email at manila@womenwhocode.com.
More details will be annouced soon. We can't wait to meet you all! :)