About this Event
Meet the Conductor and Learn About This Amazing Event and Movement!
Conductor Amy Andersson, teams with Larendee Roos, champion of women's rights, to raise awareness and funds for Women Warriors : The Voices of Change.
Come meet Amy and some of the celebrated female composers who are creating this unique social justice symphony orchestra concert!
This cottage event is co-hosted by CEO & Creative Director of AYSHA NY - the fabulous Aysha Saeed. We are thrilled to work with Aysha on such an amazing cause!
FREE Wine and light refreshments will be served!
Warrior Women: The Voices of Change, will premiere at Alice Tully Hall, Lincoln Center, NYC on September 20, 2019.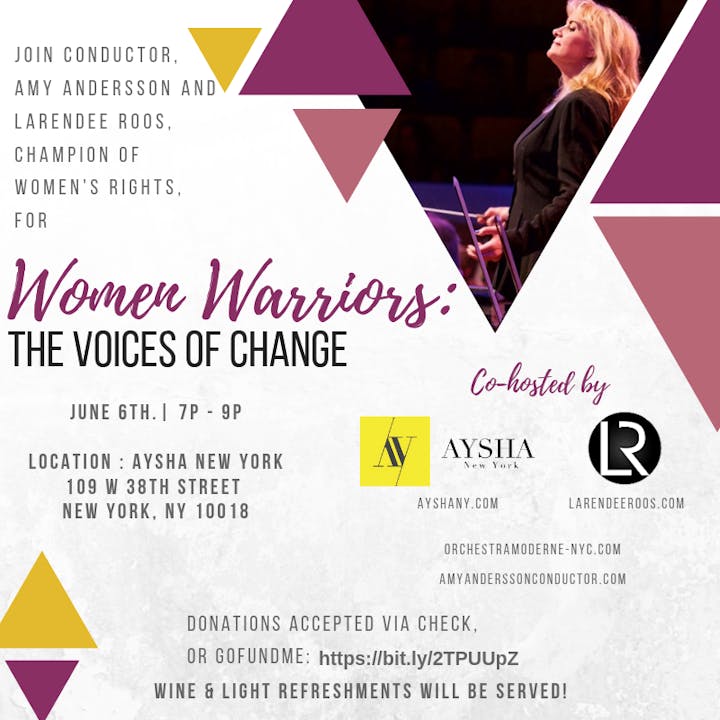 This event to be held on June 6th. from 7:00p.m. - 9:00p.m.
View the GoFundMe page here : Women Warriors: The Voices of Change
Funds raised for this project go directly to the New York registered non-profit Music Resonates, Inc, 501(c)3, which supports women and minority composers with social justice concerts performed by Orchestra Moderne NYC. Your contribution will support production costs at Lincoln Center.
Please visit Orchestra Moderne NYC's website at http://orchestramoderne-nyc.com to read about their recent triumphant Carnegie Hall debut concert on immigration on October 2017. Also visit http://amyanderssonconductor.com for more information on Amy Andersson.