Women Warriors of the Afro-Latina Diaspora New York City Book Signing

Saturday, November 17, 2012 from 5:00 PM to 7:00 PM (EST)
Event Details
The Caribbean Cultural Center African Diaspora Institute (CCCADI)
in Collaboration with Encuentro Diaspora Afro and La Casa Azul Bookstore
Present
Women Warriors of the Afro-Latina Diaspora
New York City Book Signing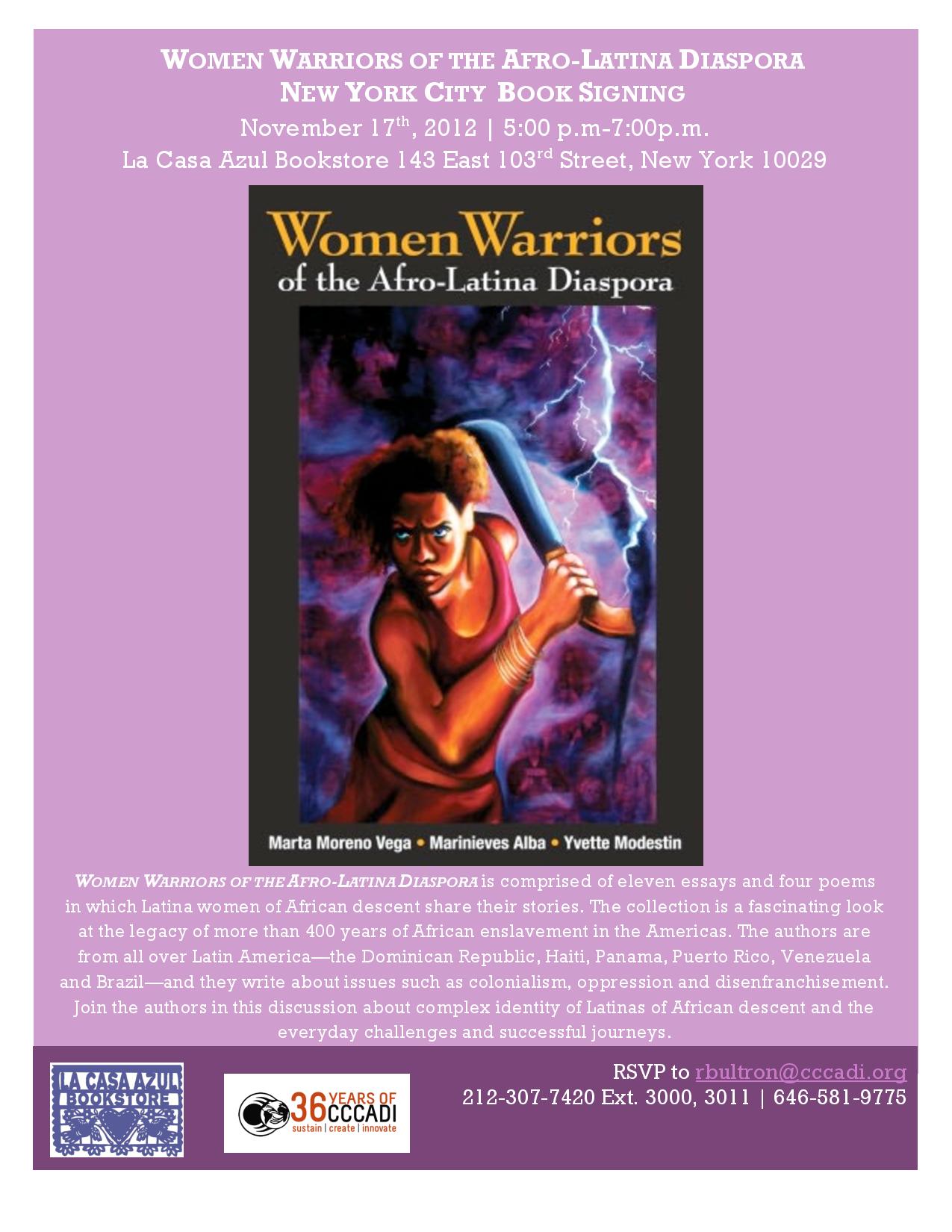 When: November 17th, 2012
Time: 5:00 p.m-7:00p.m.
Location: La Casa Azul Bookstore 143 East 103rd Street, New York 10029
Admission: MUST RSVP via EventBrite.com or e-mail (rbultron@cccadi.org)
After having visited other cities and spread their self-empowering stories, Women Warriors of the Afro-Latina Diaspora will be hosting a book signing at La Casa Azul Bookstore located in the legendary East Harlem neighborhood of El Barrio. This event is not to be missed! Join Dr. Marta Moreno Vega, Marinieves Alba and Yvette Modestin as they share their insights  from a personal point of view, the conditions that have led Afro Latinas to challenge systems of inequality.
About Women Warriors of the Afro-Latina Diaspora:
Women Warriors of the Afro-Latina Diaspora is comprised of eleven essays and four poems in which Latina women of African descent share their stories. The collection is a fascinating look at the legacy of more than 400 years of African enslavement in the Americas. The authors are from all over Latin America—the Dominican Republic, Haiti, Panama, Puerto Rico, Venezuela and Brazil—and they write about issues such as colonialism, oppression and disenfranchisement. Join the authors in this discussion about complex identity of Latinas of African descent and the everyday challenges and successful journeys.
For info: rbultron@cccadi.org 
212-307-7420 Ext. 3000, 3011 | 646-581-9775
Organizer
Caribbean Cultural Center African Diaspora Institute
The Caribbean Cultural Center African Diaspora Institute (CCCADI) values, connects and advocates for the traditions, history, culture and advancement of the African Diaspora. Through the dual tenants of arts and advocacy, CCCADI aims to create a paradigm shift within the global community toward cultural equity and social justice via new standards, policies and language. The Center has been, and will remain, an accessible community resource, a "first voice" institution, which produces culturally-grounded, purpose-driven and activist-oriented works, while simultaneously serving as a beacon of motivation and inspiration for many.
Stay connected...
Subscribe to our e-newsletter HERE.
Visit: www.cccadi.org
Follow us on Facebook, Twitter and Instagram
Women Warriors of the Afro-Latina Diaspora New York City Book Signing