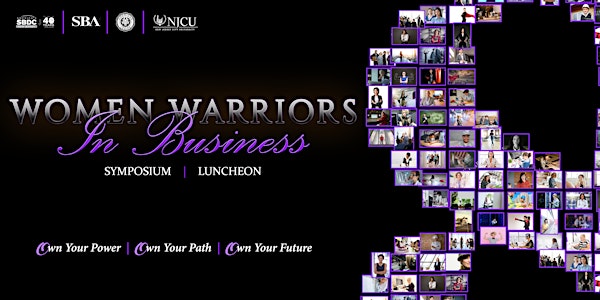 Women Warriors in Business 2018
When and where
Location
New Jersey City University School of Business Harborside II, 200 Hudson Street Jersey City, NJ 07311
Refund Policy
Refunds up to 7 days before event
Description
Women Warriors in Business 2018

Own Your Power | Own Your Path | Own Your Future



**NOTE - PROGRAM RESCHEDULED DUE TO INCLEMENT WEATHER**


Thursday, May 17, 2018

|

8:00am – 4:00pm
WHERE:
New Jersey City University

School of Business
Harborside II
200 Hudson Street, The Lecture Hall
Jersey City, NJ 07302
On International Women's Day, we are proud to bring you this power-packed event focused on empowering, enriching, supporting and encouraging women business owners, entrepreneurs and leaders for their next level of success.
---
DESCRIPTION:
The goal of Women Warriors in Business is to facilitate a real dialogue about topics that are important to women entrepreneurs and leaders. The program will help women explore leadership challenges and opportunities, identify competitive advantages, help with personal and organizational branding, access lenders for financing, and utilize procurement certifications that are necessary when it comes to competing for public/private contracts.
According to U.S. Census Bureau data, New Jersey based women-owned firms make up nearly 32 percent of all businesses, generating $49.5 billion in receipts. Nationally, a 2012 study from the National Women's Business Council reported that over 9.8 million women have businesses that generated $1.4 trillion in receipts. Of that figure, approximately 383,000 veteran women-owned businesses – which are one of the fastest growing segments of the veteran population – generated $17.9 billion in receipts.
Though the numbers appear encouraging, women business owners still face significant growth challenges, as many cite issues including access to capital, education and resources being contributing factors to business development. "Women Warriors in Business" aims to address key issues facing women entrepreneurs and leaders while providing encouragement, support and access to the resources needed to fuel growth.
"Women Warriors in Business is proud to partner with The American Legion and salute our women veterans. Registration fees are waived for women veterans, military members and their dependents.
For a Full Agenda, Speaker Listing and More Information, go to:
---
PRELIMINARY AGENDA:

8:00 - 8:45am
Registration, Breakfast & Networking
8:45am - 9:00am
Welcoming Remarks
9:00 – 9:45am
PLENARY SESSION #1: LEADERSHIP
Managing & Leading: Honing Your Power in Each Role
Managing and leading have very specific responsibilties. Do you know them and how to utilize methods in each role effectively? This session identifies and discusses various issues, strengths and strategies you can use to help propel you, your team and your organization to where you need to be.

9:50 – 10:20am
PLENARY SESSION #2: FINANCING
It Takes Money to Make Money
Every business has to make money but you need capital. If you're just starting, how can you get it? If you're seasoned but need to expand, what do you need to scale? What options and opportunities are available to help you get what you need to grow?

10:25 – 11:10am
PLENARY SESSION #3: DIGITAL MARKETING
Digital Branding: Owning It & Working It
You know them ... Facebook, Twitter, LinkedIn, YouTube, Instagram, Pintrest. These platforms have revolutionalized how businesses interact with their clients and customers. Do you know how to utilize them for your
business? Do you know what to do to pull your clients and customers in and keep them with you? How can you drive your business beyond the measures of your beyond the competition?


11:10 – 12:30pm
Keynote Lunch: Our World, Our Future
Keynote Speakers:
-- Ivy Charmatz, Executive Producer, News12 New Jersey

-- Ingrid Centurion, CEO, Centurion Technologies, LLC

12:30 – 1:15pm
PLENARY SESSION #4: CONTRACTING: SEALING THE DEAL - Part I
Supplier Diversity Certifications
Diversity certifications help small businesses sell to large corporations and organizations. Which certifications are available to you and how can you use them?

1:20 – 2:05pm
PLENARY SESSION #5: CONTRACTING: SEALING THE DEAL - Part II
Public/ Private Contracts
Yes! You're ready to compete for contracts. What do you need to do to balance the odds in your favor?

2:10 – 2:55pm
PLENARY SESSION #6: CONTRACTING: SEALING THE DEAL - Part III
The Vendor Forum
Learn from the best! Women CEOs share their stories of trial and triumph in contracting.

2:55 – 3:00pm
Closing Remarks

3:00 – 3:30pm
Networking Reception (Light Refreshments)

Shy Hopkins
973.353.1414
shopkins@njsbdc.com
Eugene Spillane
973.645.2427
eugene.spillane@sba.gov
---


Thank You to our Partners & Sponsors

The American Legion

The U.S. Small Business Administration

New Jersey City University