Description
The Women Vote Committee, Bettye Nowlin, Becky Beaver, Nona Niland, Cathryn S Dorsey, JoLynn Free, Cindy Goldrick, Clare Hudspeth, Corky Hilliard, Sharon Watkins, Robbie Ausley, Elizabeth Neeld, Carmen Tawil, Bea Ann Smith, Nancy Neavel, Linda Aaker and Emily Williams invite you to join them on Mon Sept 18th at 5:30 pm.
Our speaker will be Sheriff Sally Hernandez.
Elected in November 2016, Sally Hernandez is currently serving her first term as Sheriff of Travis County, TX; a jurisdiction that encompasses 11,000 square miles, including the state's capital, and whose current population of 1.2 million is growing at one of the fastest rates in the nation. Uniquely qualified for such a challenging leadership role, Hernandez has worked in law enforcement for nearly 35 years, 30 of which have been in Travis County. Her vast experience has provided her with opportunities to build community partnerships and work to prevent crime and keep families and neighborhoods safe in Travis County. As Constable of Precinct Three, she works to build a stronger and more professional Constable's Office with a collaborative approach with local governments and the Travis County community.
Currently, Sally holds an even greater distinction as 1 of only 6 women who currently serve as Sheriff in the state. She has wasted no time making an impact. Hernandez's no-nonsense policy on immigration shed light on the issue of ICE Detainer Requests being civil in nature and are lacking in probable cause; it launched a national debate that rumbles on in the court system today. Passionate about the plight of mentally ill persons, she has begun working to alleviate the unfortunate trend in county jails of inmates incarcerated as a result of crimes committed solely due to the fact that they suffer from mental illness. Hernandez is also in the early stages of a new initiative designed to keep kids in school and out of jail.
Read more about Sheriff Hernandez here.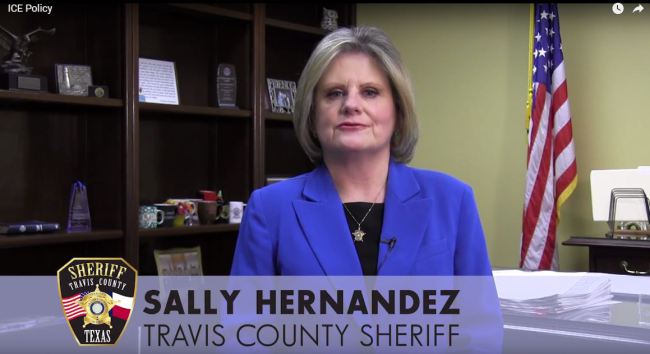 SAVE THE DATES
Mon Nov 13th 2017 Cristina Tzintzun - Jolt