Women Vote! Nov 19th: 2018 Midterm Election with Evan Smith, Texas Tribune
Description
The organizing committee of Women Vote! Robbie Ausley, Becky Beaver, Cathryn Dorsey, Jolynn Free, Cindy Goldrick, Corky Hilliard, Clare Hudspeth, JoAnn McKenzie, Nancy Neavel, Elizabeth Neeld, Nona Niland, Bettye Nowlin, Bea Ann Smith, Carmen Tawil and Sharon Watkins invite you to join them at Chez Zee Amercian Bistro on Monday, November 19th
at 5:30 PM.
We are so honored to have Evan Smith back with us! Evan will be sharing his views about the 2018 Midterm Elections.
We will gather at 5:30 pm for happy hour, with the talk beginning at 6:15 pm and (optional) dinner to follow. The dinner buffet is $15.95 per person. Please click on the "tickets" link above to sign up, even if you are not planning on staying for dinner. There are options to purchase dinner and/or drinks at the link above and this may save you time and avoid the line! You may, of course, purchase your drinks at the bar at any time during the evening.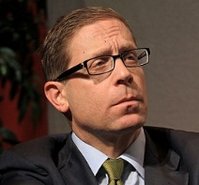 Evan Smith is the Editor-in-Chief, CEO and co-founder of The Texas Tribune, a nonprofit, nonpartisan digital news organization recently called "one of the nonprofit news sector's runaway success stories." The Tribune's deep coverage of Texas politics and public policy can be found at its website, texastribune.org, in newspapers and on TV and radio stations across the state, and in the print and online editions of the Washington Post. Since its launch in 2009, the Tribune has won international acclaim and numerous honors, including eight national Edward R. Murrow Awards from the Radio Television Digital News Association and six awards from the Online News Association.
Before co-founding the Tribune, Mr. Smith spent nearly 18 years at Texas Monthly, stepping down in August 2009 as the magazine's president and editor-in-chief. He previously served as its editor for more than eight years — only the third person to hold that title. On his watch, Texas Monthly was nominated for 16 National Magazine Awards, the magazine industry's equivalent of the Pulitzer Prize, and twice was awarded the National Magazine Award for General Excellence.
For eight years, Mr. Smith hosted the Lone Star Emmy Award-winning weekly interview program Texas Monthly Talks, which aired on PBS stations statewide. He currently hosts Overheard with Evan Smith, airing on PBS stations nationally.
Mr. Smith has served on or chaired the boards of several distinguished organizations, including KLRU-TV, the Blanton Museum of Art, the Headliners Club, the Austin Film Society, the Texas Book Festival, the Waller Creek Conservancy, St. Stephen's Episcopal School, Trinity Episcopal School, the Austin Community Foundation and the American Society of Magazine Editors.
A New York native, Mr. Smith has a bachelor's degree in public policy from Hamilton College (Clinton, New York) and a master's degree in journalism from Northwestern University (Evanston, Illinois), which has inducted him into its Hall of Achievement.