Description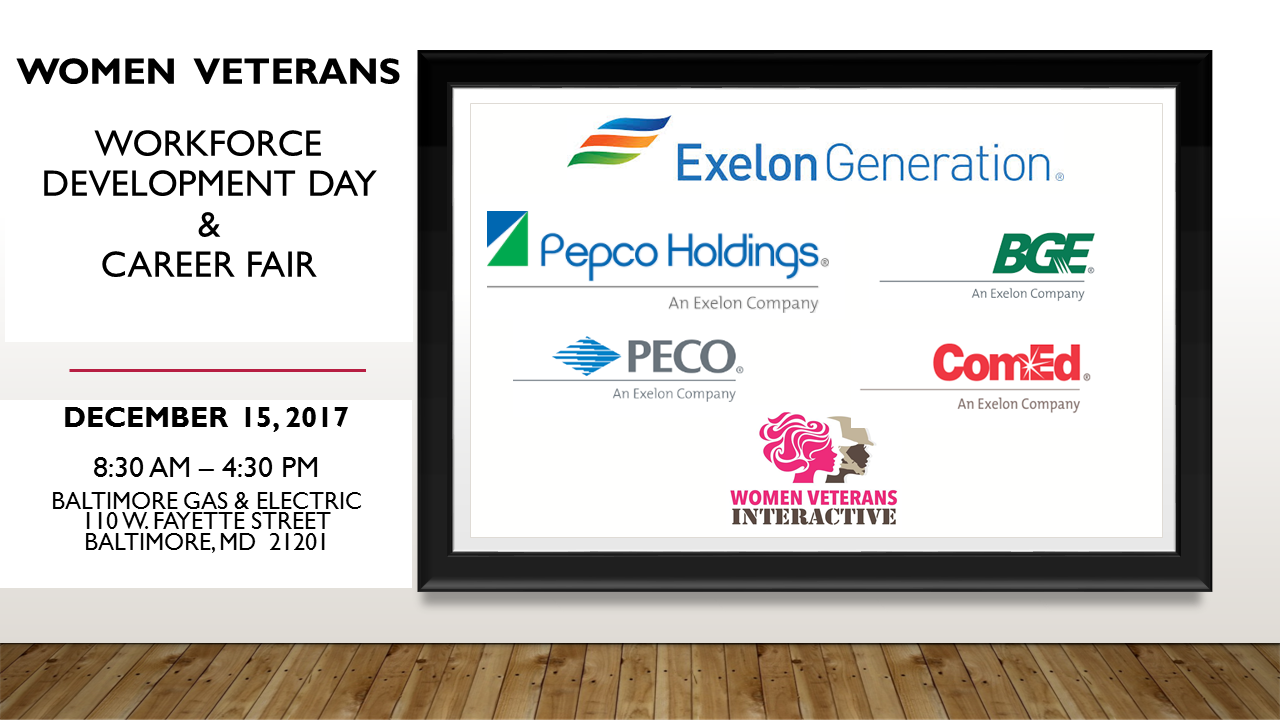 Women Veterans and Transitioning Military Women
Join Women Veterans Interactive for a Free day of Workforce Development and Career Opportunities at Exelon!
What to expect!
An overview of Exelon Corporation from Exelon VP

Hear from an Exelon panel and learn about the culture at Exelon

Submit your questions for Exelon

Overview of employment opportunities at Exelon

Learn how to interview at Exelon

Participate in Mock-Interviews

Meet with Exelon Recruiters

Awesome networking

Breakfast and Lunch

Swag Bags
About Exelon
We are a FORTUNE 100 company that work​s in every stage of the energy business: power generation, competitive energy sales, transmission and delivery. As the nation's leading competitive energy provider, Exelon does business in 48 states, D.C., and Canada and had 2015 revenues of $34.5 billion. We employ approximately 34,000 people nationwide.
Exelon's family of companies represents every stage of the energy value chain. Exelon's six utilities deliver electricity and natural gas to approximately 10 million customers in Delaware, the District of Columbia, Illinois, Maryland, New Jersey and Pennsylvania through its Atlantic City Electric, BGE, ComEd, Delmarva Power, PECO and Pepco subsidiaries. Exelon Generation is one of the largest competitive U.S. power generator​s and has approximately 32,700 megawatts of nuclear, gas, wind, solar and hydroelectric generating capacity comprising one of the nation's cleanest, lowest-cost power generation fleets. And Constellation provides energy products and services to approximately 2 million residential, public sector and business customers, including more than two-thirds of the Fortune 100. ​
This is a free event and registration is required!