Description
Imagine a multimedia mosaic of colors, poetic prose, prayers and poetry to music. Each track is a masterpiece in itself. And collectively, this compelation takes the listener on a journey called Spiritual Insights.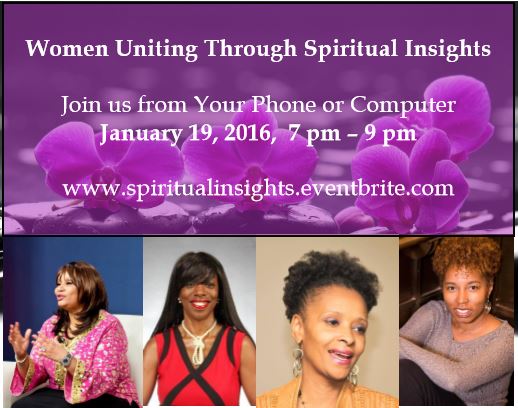 Join usTuesday 1/19/16 at 7 pm for the launch of "Women Uniting Through Spiritual Insights." Our moderator Andrea Beard Dudley of Global E.M.P.A.C.T. International Detroit, MI is a dynamic presenter, author and powerhouse who will interveiw the creators of this empowerment project that will feed your soul all year long!
Invite your girlfriends and the women in your life to join you as we unite to speak life, wisdom, joy and love into your spirit.
Featuring:
Minister Dawn Gibson, Writer, Talk Show Host, Certified Advocacy for Sexual Assault & Domestic Violence
Dawn founded and established New Dawn Ministries, LLC ─ a faith-based business ─ on January 1, 2014, where she also functions as the CEO and Chief Visionary Officer. Dawn shares her story with hurting people across the nation. She explains how she overcame childhood sexual abuse by her alcoholic father, the trauma of being raised in a violent home, emotional/physical abandonment (which started under the age of four), memory repression, divorce, and other traumatic experiences. Dawn's mission is to see the brokenhearted rescued from internal torment and restored back to wholeness. www.justdawnllc.com
Mavis Kelley, Author, CHHC, AADP, Bio-Energetics
Mavis educates, teaches and trains women who fall prey to the unhealthy work environments who suffers from stress, anxiety and depression resulting in poor health by introducing them to wellness vehicles that restores health, enhances vitality and improves well-being so they can look and feel absolutely amazing so they can live their authentic life!
Mavis specializes in finding the root cause of disease and energetic weaknesses in order to balance those energies placing the body back in balance for optimal health. Mavis is the founder and owner of www.nspirehealthyliving.com
Versandra Kennebrew, Author, CHHC, CMT
For more than a decade Versandra Kennebrew has introduced to the masses holistic options for optimal health and well-being. As the founder and president of VKI Personal Development, she continues to educate and facilitate workshops, retreats and programs that lead those overcoming major life transitions to optimal living, mind, body and spirit. Versandra loves working with healing artists who are committed to the healing of humanity. She is the host of the popular radio program Health & Healing Chronicles which shines a spotlight on healing artists, and how they are making the world a better place to live and love. www.versandrakennebrewintl.com