Join us for the 2021 Women United Brunch presented by BMO Harris Bank.
About this event
Please join us for an inspiring morning celebrating the caring power of women and supporting education in Dane County! We look forward to honoring Major General Marcia Anderson, the 2021 recipient of the Women United Philanthropy Award, and learning how Women United is working to positively impact the lives of women and ensure the academic success of children in Dane County.
This year, our keynote speaker is Dr. Gloria Ladson-Billings. She will share about the Schools of Hope strategies that are being implemented as part of the new Academic Success Mobilization Plan. With the generous support of our sponsors and guests, we have an audacious goal to raise $50,000 to support education initiatives including the Schools of Hope program at this fundraising event.
Event Schedule
10:00 am: Check In and Networking at Olin Park Pavilion
10:30 am: Brunch and Program featuring Renee Moe, President & CEO of United Way of Dane County, General Marcia Anderson and Dr. Gloria Ladson-Billings
How to Join
All Tickets: Suggested donation of $100 – All proceeds benefit the Education focus area in our community's Agenda for Change.
In-Person Program & Brunch: We are offering a limited number of tickets to attend in-person. Please see below for COVID-19 information and guidelines.
Virtual Program & Brunch: Watch the program online and enjoy a delivered brunch from the comfort of your home or office.
Virtual Program: Watch the program online from the comfort of your home or office.
Why It Matters
Education is one of the building blocks of community well-being and benefits all of us for generations. Third grade reading scores are highly correlated with later academic success – that is why early education is so important. Additionally, high school graduates have higher earning potential, contribute more to their local economies and are more likely to raise kids who graduate on time. Register to join us today and learn more about how you can support education in our community.
COVID-19 Information
Our number one priority is the safety and well-being of our community. United Way of Dane County is following recommendations for events and gatherings from the CDC and local public health authorities. The below guidelines are subject to change depending on current COVID-19 conditions in Dane County. Please follow these guidelines to help prevent the spread of coronavirus (COVID-19):
If you are sick, may have been exposed to COVID-19, or are waiting on test results, please stay home and join virtually.
Whether you are vaccinated or not, wear a mask indoors and outdoors unless eating.
Maintain distance from attendees who are not part of your household.
Masks and hand sanitizer will be provided.
Olin Park Pavilion features multiple large, open windows to provide circulation of fresh air.
Attendance will be capped at half the capacity of the venue and tables will be set for 4 guests.
Marcia Anderson
Retired Major General, U.S. Army and U.S. Court Executive
Marcia's passion, leadership and advocacy in Dane County have made a lasting impact on families in our community who are working to build stable, successful lives. Being raised in a family that made it a priority to participate in the community, Marcia has seen first-hand the value that can come from giving back.
While anyone who knows Marcia today would say that she's an assertive, confident and knowledgeable woman, she'll be the first to tell you that wasn't always the case. As a young girl, she was incredibly shy, but when her family moved from Beloit, Wisconsin to St. Louis Missouri, she was enrolled in an all-girl school. It was in that environment that she learned the value of her own voice and gained the confidence she needed to pursue her dreams.
Marcia then attended Creighton University, where she joined an ROTC program to meet a science credit requirement. As a result, she found herself on the path towards a highly-revered and decorated career in the military. In 2011, she became the first African American woman to achieve the rank of major general in the Army. After one year in Fort Knox, three years serving at the Pentagon and a total of 37 years of service, Marcia retired from the military in 2016 and moved back to what she calls her "civilian life" here in Madison, resuming her job as Clerk for the Bankruptcy Court for the Western District of Wisconsin.
Marcia credits her time in the military for positioning her as a leader in many aspects of her life. Throughout her career, she learned how to work collaboratively with people from all different backgrounds – and how to speak up and fight to keep her ideas alive. She also says that her time in the service sparked her passion for giving back and serving causes that were greater than herself.
When Marcia came back to the Dane County community, she also resumed her work with us at United Way. Knowing there are so many needs in our community, she graciously dedicates her time and experience to helping make a real difference.
In 2013, Marcia helped to start our HIRE initiative – a program which focuses on supporting adults as they prepare for and find steady employment. As one of the original co-chairs, Marcia advocated for and helped to shape this program because she firmly believes that everyone deserves employment that allows them to support themselves and their families – giving them room to thrive and grow. She knows that family-sustaining wages are a crucial piece of the puzzle when it comes to overall well-being, noting that when parents can support their kids and keep their families healthy and engaged, the entire community is in a better position to thrive. Thanks to Marcia's passion, since its start HIRE has helped more than 3,000 people find reliable work.
Additionally, Marcia has served on our Executive Committee, Personnel Committee, Task Force for Transformation and Board of Directors. She's also chaired the Madison Civics Club and currently serves on the Green Bay Packers Board of Directors. Tapping into her unique and robust skillset, she continues to be an invaluable member of the United Way family – and a cherished, contributing member of the Dane County community.
Thank You to our Generous Sponsors!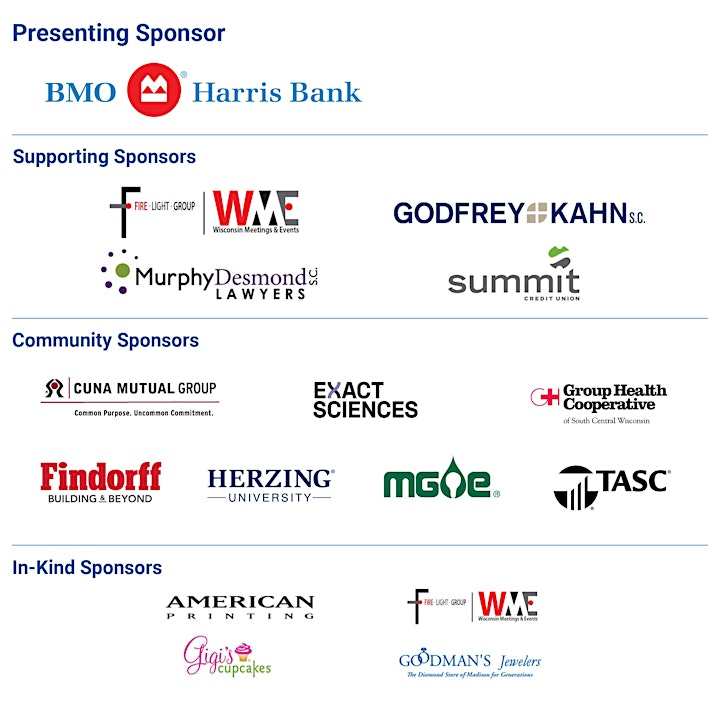 Organizer of Women United Brunch
Women United is a diverse, vibrant community, bound together by a powerful sense of belonging – to each other, to our mission and our community. Women United members fight for the education of every child in Dane County. This local network of more than 800 individuals is an emerging force, investing in and advocating for quality educational experiences from early childhood through high school.