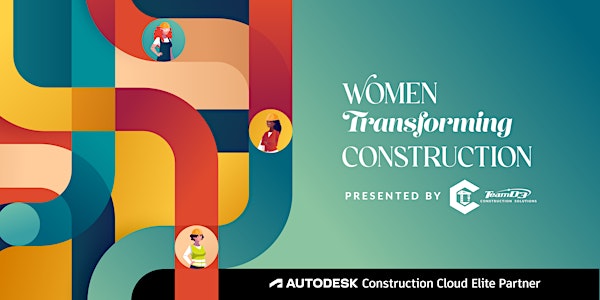 Women Transforming Construction Panel
The Women Transforming Construction Panel promotes diversity and equality, provides mentorship, and advocates for inclusion in the industry.
Date and time
Thursday, April 27 · 11am - 12pm PDT
About this event
Welcome to the Women Transforming Construction Panel! This panel is comprised of female professionals from the construction industry and Autodesk who aim to promote diversity and equality in the field. They work towards breaking glass ceilings and encouraging women to pursue careers in construction. The panel includes women from various areas of the industry, such as prefabrication, general contractors, and more, who share their experiences and insights on how technology is changing the industry. Through their work, the Women Transforming Construction Panel hopes to empower women in construction and highlight the technologies that are shaping the industry.
MEET THE WOMEN TRANSFORMING CONSTRUCTION
MODERATOR
Lisa Stine - Lisa Stine is a graduate of the University of Science and Technology, where she received a Bachelors degree in Civil Engineering. After college, she went on to spend nearly a decade in the electric utility industry, focusing heavily on the design and analysis of high‐voltage power lines and direct management of those projects, from construction to close‐out. Upon leaving the engineering world, she joined Autodesk – utilizing her background in both the sales and technical executive spaces - all the while, furthering her expertise in the landscape of engineering and construction technology.
She now has the incredible privilege of working with Autodesk construction partners in the marketing space, creating a One Team community for all Autodesk customers. She's passionate about the many advantages in the construction space – to not only drive better business, but also to create a better world. Therefore, in addition to her work at Autodesk, Lisa is a big believer in engineering sustainability and spends a lot of her time in service efforts, typically abroad. We are very excited to have her as our moderator.
PANELISTS
Amy Marks - Amy is VP, Enterprise Transformation Practice and is known throughout the world as the "Queen of Prefab." At Autodesk, and as a globally recognized thought leader and influencer, she informs strategy on business outcomes, platform solutions, and consulting for customers incorporating transformational methodologies including industrialized construction, sustainability, and new ways of working. Prior to joining Autodesk, she defined the language, process and frameworks that are adopted by companies, universities and countries around the world reflecting the convergence of Design-Make-Operate models. Notably, Amy was appointed by the Singapore government's Building & Construction Authority as an international expert to advise its design and construction productivity roadmap. Her thought leadership and tenacity, leading alongside the government and industry, resulted in unprecedented change and innovation - catapulting Singapore to worldwide recognition in the Industrialized Construction and DfMA arena. She is a graduate of the University of Florida and an alumna of the Harvard Business School.
Jennifer Suerth, LEED AP - As Senior Vice President of Virtual Construction, MEP and Operations Technology, Jen provides strategic direction for Pepper Construction in these areas and serves as a key advisor to project teams on constructability and implementation strategies throughout the early stages of project design through construction and facility management. With more than 16 years of experience in architecture, engineering and construction, Jen leads teams to think creatively and solve problems for our clients in ways that are not expected, incorporating technology and virtual construction tools in to how we deliver work. She is a forward-thinking industry-recognized innovator, continuing to work to pilot new technologies and leverage tools in new ways.
Jen's career spans award-winning structural engineering projects, leading our industry to adopt 3D design and construction practices while serving as one of the foremost thought leaders, conference speakers and interviewees on the use of virtual construction technology to deliver better buildings more efficiently. She has been recognized among Crain's Notable Women in Stem, BD+C's 40 Under 40, Builtworlds Top 50 Technology Adoptions Leaders, Women in Construction by Constructech Magazine, Chicago Building Congress Future Leaders and ENR Midwest's Top 20 Under 40. Jen holds a Bachelor of Science degree in Architectural Studies and a Master of Architecture, Structures, both from University of Illinois at Urbana-Champaign.
Nancy Kristof - Nancy is a writer and communications professional with nearly 30 years of experience working within the commercial design, development, construction and real estate industries, aka 'The Built Environment'. As a freelance writer, she is a regular contributor to Engineering News-Record and The Architect's Newspaper, among other publications. She is the owner and president of Message Matters and has been instrumental in creating content and stories for the construction industry. Her topics include engineering & technology along with construction and social issues & advocacy. She is a graduate of Colorado State University and S.I. Newhouse School of Public Communications at Syracuse University.
Debra Scifo - Debra Scifo, Executive Director of the American Subcontractors Association of Colorado since 1999. She also serves as an executive for the Colorado Environmental Professionals Association and the Rocky Mountain Steel Construction Association. Debra and her husband Peter own OBS, LLC that operates a concierge transportation service and consulting and management services. Debra follows the principles of servant leadership style of management, the idea that leaders prioritize serving the greater good. Debra and her husband have 7 children and 13 grandchildren and live in Littleton, Colorado.
ABOUT TEAM D3 CONSTRUCTION SOLUTIONS
Team D3 Construction Solutions offers construction solutions that encompass vertical, horizontal, and now industrial construction. Being a Platinum Autodesk Partner and Autodesk Construction Cloud Elite Partner, Team D3 Construction Solutions is the ultimate resource for software and training for construction solutions tailored to your unique business practices. We have experts in the AECO industry that are available to help you optimize your construction practices, saving you time and money.
Visit us to learn more: https://info.mg-aec.com/construction-solutions
Agenda
1:00 PM - 1:45 PM
Panel
---
During this time, you will hear from the panelists about their experience and how they are transforming the construction industry through their work and technology.
1:45 PM - 2:00 PM
Q&A
---
During this time, the panelists will answer questions from attendees.
Frequently asked questions
What industries do we serve?
What can I expect to gain from this panel?
About the organizer
TEAM D3 IS A COMMONLY OWNED COALITION OF BRANDS
As Business Consultants we drive desired business transformations in our clients by leveraging the latest in Digital, Design, and Data (D3) Technologies utilizing our proven processes and continuous improvement methodologies. It is with our unrivaled expertise, and unrelenting passion for the industries we serve that we become a true business partner who understands we succeed only when our clients succeed.
Team D3 consists of D3 Technologies, MG-AEC Technology Partners, and ECAD Inc.