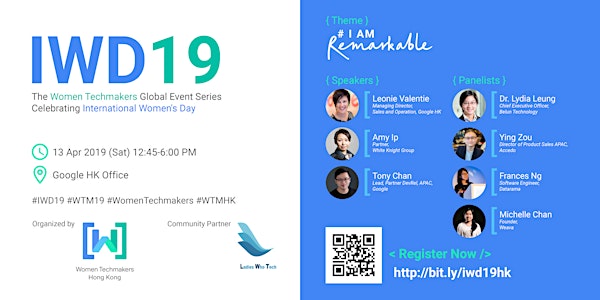 Women Techmakers IWD '19 Meet-up in Hong Kong
When and where
Location
Google Hong Kong 21/F, Tower 2, Times Square 1 Matheson Street Causeway Bay, Hong Kong Island Hong Kong
Description
*** Most sessions are conducted in CANTONESE ***
*** No walk-in due to security requirement of event venue ***
About Women Techmakers HK
Women Techmakers(WTM) is a Google's global program for women in technology, providing visibility, community and resources to drive innovation and participation in the field. The WTM Hong Kong chapter has been started sine 2017 and powered by GDG Hong Kong. Please follow us on Meetup Facebook Page.
International Women's Day 2019
Here comes the long-awaited Women Techmakers International Women's Day 2019! This global event series celebrating International Women's Day will be held on 13 April 2019 at Google HK office, from 12:45pm to 6:00pm. We have prepared a series of exciting activities for tech lovers like you!
In this event, our growing female community of designers, developers, and technology entrepreneurs will share their insightful stories with you. Other than having the valuable chance to join our free workshops, you can also make a lot of new friends who love tech as much as you do in the event.
---
Agenda
Welcome Speech (English)
By Leonie Valentine, Managing Director, Sales & Operations, Google Hong Kong
Talk 1: "Intro & Career in Developer Relations Team" (Cantonese)
By Tony Chan, Lead, Partner DevRel APAC, Google
Workshop (2 Tracks in parallel. Attendee can only register either one.
Track 1: Actions on Google Codelab (Cantonese)
Trying to do something by saying "OK Google"? Want is "Actions on Google"? We are having an 1hr code-lab for building Action App on the Machine Learning empowered Google Assistant platform.
*Beginner Level, No coding knowledge prerequired*
**Must bring a notebook computer**
Track 2: Speechless Workshop (Cantonese)
Fun and engaging workshop to put outside of your comfort zone and transform you to be a public speaker! Even Google I/O conference includes the Speechless session every year. Are you ready to be transformed?
Talk 2: "設計思維如何幫助吸引用戶成為你的產品忠實粉絲? How Design can help growing user engagement of your product?

" (Cantonese)
* What really happened inside users' mind when they first try your product?
* How should designer design for engagement?
* How designers utilize research to design products users love?
* How gamification help increase user engagement ?

By Amy Ip, Partner, White Knight Group
Expert in UX & Digital Transformation, Former Senior Director & Design Expert in Tencent, worked in Yahoo & Microsoft
Panel Discussion: "Advantages & Challenges of Tech Women's Career & Workspace" (English)
Amy Ip, Partner in White Knight Group

Dr. Lydia Leung, CEO, Belun Technology

Ying Zou, Director of Product Engineering APAC, Accedo.tv

Frances Ng, Software Engineer, Datarama

Michelle Chan, Founder, Weava
Cocktail Party
---
Language
Most of the talks and workshops will be conducted in Cantones
---
More about the guest speakers:
Talk Speaker: Tony Chan
Tony is the Head of Partner Developer Relations for APAC. He joined Google in 2007 and has been empowering developers, from startups to fortune 500 companies, to build high quality and innovative integrations with various Google technologies like TensorFlow, ARCore, Firebase, Google Play Services on open platforms like Android and the web. Prior to joining Google, Tony was a senior application developer at the University of Michigan and a management consultant at PricewaterhouseCooper. He received his M.S.E. and M.B.A. degrees from the University of Michigan, Ann Arbor.
Talk Speaker & Panelist: Amy Ip
Amy is a Partner of White Knight Group, a revolutionary investor helping startups to release potentials. She is an expert in design thinking, leveraging design approach to help capture opportunities and develop innovative concepts. Previously, Amy was Group Director of Fjord Greater China (Part of Accenture Interactive) and she led Digital Transformation Programs to help clients (include banking, insurance and retail industry) develop experience strategy.
Amy was a Senior Director & Design Expert at Tencent, and was the Chairlady of Tencent Design Committee. She was also a Microsoft and Yahoo!HK alumni.
Panelist: Dr. Lydia Leung
Born and raised in Hong Kong, Dr. Lydia Leung possesses a very strong academic background. Not only has she published over 30 journals and conference papers, she is also the co-author of a book chapter and the owner of 17 US/China patents.
Dr. Leung is currently the CEO of Belun Technology, which is in the frontier of home screening tool for sleeping disorder, respiratory and cardiovascular related diseases. Prior to joining Belun Technology, she was the Director of the Opto-Electronic Technology Division at ASTRI. During her eleven years with ASTRI, she established the medical/healthcare electronic team and spearheaded its development. She was responsible for the strategic planning, R&D, patent portfolio, design, development and marketing of medical/healthcare electronic devices and telecare/telehealth system for chronic disease management.
Panelist: Michelle Chan
Michelle is the founder and CEO of Weava, a research tool to highlight, organize, and create research documents all in one place. It is used by over 200+ educational institutions around the world. Prior to joining Weava, Michelle was responsible for product design at Amazon and other startups in San Francisco and Hong Kong.
---
Does everything sound great to you? Register now!