Women Tech Entrepreneurs Webinar Series - Exploring Role-models success stories and how they manage to thrive.
About this event
HOW SHE DID IT
Exploring what successful women tech entrepreneurs are doing to thrive.
Join us as we explore in these series, success stories of for Women Entrepreneurs and Founders in Tech startups and businesses.
We will be looking at how they approached specific aspects of entrepreneurship, what is enabling them to thrive, resources they have benefited from along the journey, and key learned lessons they would share with other women on the entrepreneurship journey.
We will be navigating through the different tech sectors, industries and across continents.
Don't miss out on these opportunity to learn from inspiring Women leaders in Tech entrepreneurship.
Who will we hear from?
16th March 2021: Mariatheresa Samson Kadushi, Founder at Mobile afya, the first Swahili USSD application in Africa using internet-free mobile technology to provide basic health information to Swahili speaking countries. Recipient of IVLP - a fellowship for emerging African leaders under US Department of State (2013); an Associate Founding Partner of DARECHA – holders of Commonwealth Development Work Award (UK – 2015); A YALI alumni- Young African Leaders Initiative RLC (2016) and one of the 10 finalists of African Leadership Academy 2011. Kampala International university alma mater under ICT (Information, Communications & technology) College. In her spare time, she runs Kids of Africa – an organisation that works to reform lives of children in adversity where in her early 20's she adopted and became a legal guardian to a homeless teen.
This event is for you. Join us as we learn about Tech entrepreneurship and frame together solutions to foster women-led tech-enabled entrepreneurship.
This is an online event - Webinar access details will be sent after registration!
Past event speakers:
---
16th February 2021: Aisling Quinn, Founder at MoShoppa, a turnkey e-commerce platform that uses AI technology to create online stores with instant inventory access to 140,000 top brands in minutes.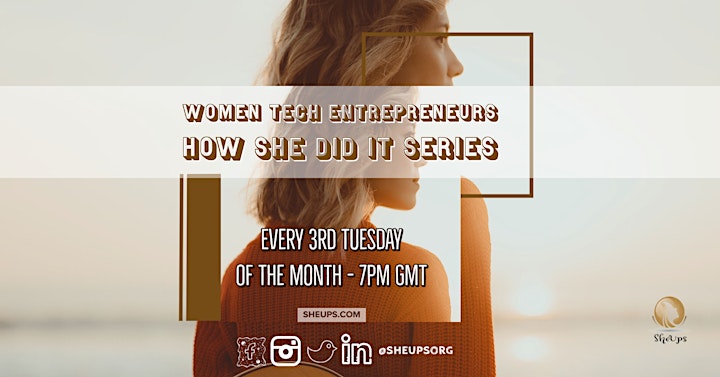 Organizer of Women Tech Entrepreneurs Series - #HowSheDidIt