Description
Women Talk Design & Ladies that UX SF Present: Women Talk: Conferences (SF)
Celebrate International Women's Day by hearing from a panel of brilliant women sharing their experiences and advice for speaking at tech and design conferences
Tuesday, March 5th, 6:30 PM - 8:30 PM
For this panel discussion, we've invited incredible women who have spoken at design and tech conferences and public events to share their experiences. Learn how they got their first speaking engagement, what conferences they attend, how they prepare for giving a talk, and what advice they have for those getting started. We hope you'll leave inspired to share your own ideas and experiences, and get out there and speak.
Agenda:
6:30 - 6:50 - Meet and mingle
6:50 - 8:15 - Panel & Q&A
8:15 - 8:30 - More networking
Panelists:
Paige Bennett

Paige Bennett manages the Ecosystems Design Research team at Dropbox. She previously created strategic research projects at Medium. Prior to Medium, she was the first User Researcher at Weight Watchers, where she built out a research practice and team. Paige began her career as a tv news reporter before moving to the Middle East to conduct field research in the Gulf.
Mariam Braimah

Mariam is a product designer at Netflix helping shape the global non member user experience to drive customer growth & acquisition. She's currently a design lead for the company's mobile & desktop sign up efforts. Outside of her day job, Mariam founded The Kimoyo Fellowship, an immersive learning program aimed at facilitating the cross-pollination of knowledge, ideas and shared experiences between leading tech industry professionals across the African diaspora. Prior to these roles, she headed a cross-functional research and design team at public data tech startup, Inflection, and studied History of Art & Architecture at Harvard University.
Jina Anne
Jina Anne is a design systems advocate. At Opvitae, she's an advisory board member focused on design.
At Amazon, Jina was Senior Design Systems Lead. At Salesforce, she was Lead Designer on the Lightning Design System. She led the CSS architecture and style guide for the Apple Online Store.
Jina organizes the design systems conference, Clarity. She founded Design Systems Coalition and its San Francisco chapter. And she runs the Design Systems Slack.
Jina coauthored Design Systems Handbook, Fancy Form Design, and The Art & Science of CSS. She's published several articles and speaks at conferences including Adobe MAX.
Refreshments and snacks will be served.
The event is open to everyone. Please take a moment to read through Women Talk Design's Code of Conduct before RSVPing.
By registering for this event, you recognize that photographs will be taken during the event, that may be used in press and marketing materials for Women Talk Design and Ladies that UX SF. If you would like to opt out, please let the registration desk know when you check in, or send us an email at contact@womentalkdesign.com.
Thank you to our partners: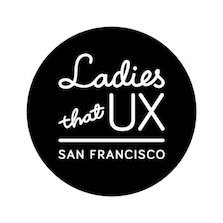 Photo courtesy of Meg Durcan