Description
Women Talk: Conferences (AUSTIN)
a panel of brilliant women sharing their experiences and advice for speaking at tech and design conferences
Tuesday, April 10th, 6:30 PM - 8:30 PM


Women Talk Design is on a mission to see diverse speakers on stage. In this panel discussion, we've invited incredible women who have spoken at design and tech conferences and public events to share their experiences. Learn how they got their first speaking engagement, what conferences they attend, how they prepare for giving a talk, and what advice they have for those getting started. We hope you'll leave inspired to share your own ideas and experiences, and get out there and speak.
Agenda:
6:30 - 6:50 - Meet and mingle
6:50 - 8:15 - Panel & Q&A
8:15 - 8:30 - More networking
Panelists:
Alexis Du Mond Puchek
Alexis Du Mond Puchek has 13+ years of experience in User Experience, Interaction Design, Front-End Web Development and Design, and Information Architecture. She has experience working in-house with Fortune 500 companies like Visa and PayPal, as well as in advertising and consulting firms with companies like SapientRazorfish and frog. Her background in financial services, enterprise software, systemic thinking, prototyping methods, and cross-platform and responsive interfaces has enabled her to create world-class solutions for IT services, financial services, ecommerce, automotive, spirits, airline, oil and gas, healthcare, cellular, and banking clients. As a Principal Director at frog, Alexis drives concepting and ideation throughout the holistic program life cycle and leads the Interaction Design Discipline in the studio.
She is a guest lecturer and speaker at the University of Texas at Austin, General Assembly, the Art Institute of Austin, AIGA Creative Space, and other design firms, student organizations and national conferences. She sits on the UXUI Advisory Board for Austin Community College, Graphic Design Advisory Board for Round Rock High School, and was a 2017 Advisory Board member for Austin Design Week.
Alexis is a teacher, mentor, and connector. She strives to lift people up and empower designers to produce exemplary, usable, and accessible design.
Nancy Giordano
Described as endlessly optimistic, Nancy is a strategic futurist with a drive to help enterprise organizations and visionary leaders transform to meet the escalating expectations ahead. Recognized as one of the world's top female futurists, she has spent her career building, shaping and evolving a portfolio of $50 billion worth of major global brands. With growing conviction of what will (and needs to) shift, executives value her unique abilities to sense and synthesize the terrain ahead and to guide those ready to build more relevant and sustainable solutions.
Her current work dives deeply into the emerging intersection of tech, business and society. She recently designed the talent and culture framework for an artificial intelligence start-up and produced Gigaom Change, a c-suite summit diving into the seven most disruptive technologies for enterprise. Putting her concepts into practice, Nancy is currently a board member for GMDC, a non-profit trade organization determined to keep member retailers relevant and thriving in the years ahead, is working with a leading fintech/martech provider to ensure the survival of community banks and credit unions nationwide and is helping usher in the world of distributed applications and computing by launching emergent cryptographic technologies Holochain + Holo.
She has been ranked as one of the World's Top Female Futurists (research by Ross Dawson) and was voted 7th Woman of Influence on the Future of Leadership list (Women Speakers Association). She was the first global TEDx licensee and currently leads a youth-led team to produce one of the globe's largest TEDx events for teens, hosting over 600 teens annually. Nancy lives in Austin with her three fast growing, curly haired teens.
Sam Kapila
Sam is a designer and educator living in Austin, TX. She writes and speaks about Responsive Web Design, Diversity and Inclusion in Tech, and design research and process. She is currently a Product Designer at thoughtbot.

She's a former Director of Academic Operations and Diversity, Director of Instruction, and Design Instructor in for-profit education and universities. Sam is also the Tech Ladies City Organizer for Austin. She shares her thoughts on the web in the documentary, What Comes Next Is The Future.
Sam has written for The Pastry Box Project (2015, 2018) as well as a monthly column for net magazine print and online. She makes playlists and travels a lot. She also cooks and dines out and photographs it all. She grew up on the Dutch island of Curaçao, and lived in India, Florida, Greece, and South Carolina.
The event is open to everyone. Please take a moment to read through Women Talk Design's Code of Conduct before RSVPing.
Thank you to our partners: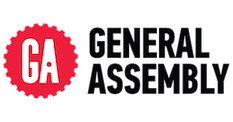 Photo courtesy of Meg Durcan