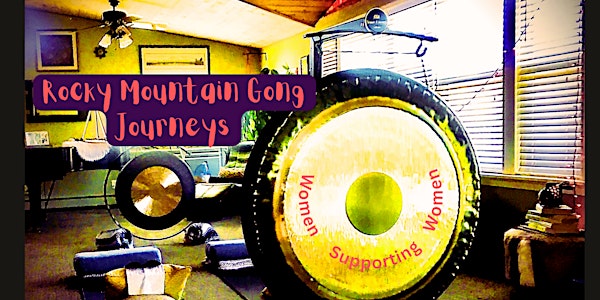 Women Supporting Women- Gong Journey - Relax, Connect, and Transform.
Ladies, are you ready to relax, heal, grow, and thrive? Let The Gong take you on a deeply relaxing journey and improve your well-being.
When and where
Location
The Golden House 3616 Soderburg Drive Fort Collins, CO 80526
Refund Policy
Refunds up to 1 day before event
Eventbrite's fee is nonrefundable.
About this event
** Special session scheduled for Monday, Jan 16 @ noon -Hope you can join us!
Sign up with Eventbrite and our mailing list to get special offers and early notice of new events. Subscribers will receive discounted ticket offers before the events go live. Make sure you follow (heart us) and subscribe through Eventbrite AND use the QR CODE IMAGE BELOW to get on our non-eventbrite mailing list. Thanks and Happy New Year!
Offered most 1st and 3rd Sundays unless a private event is scheduled. Also offered periodically on other special days!
RESERVE SEATING ONLY - PLEASE, NO WALK-INS. Event subject to cancellation if minimum not met so reserve early. Early Reserve saves $
Great for a girl's day out...Alone or with your girlfriends. Come journey with The Gong.
NO EXPERIENCE NECESSARY. BEGINNERS ARE ENCOURAGED AND WELCOME!
LADIES, Feeling stressed out and overwhelmed? Do you wish you could experience deep relaxation, reduction of stress and anxiety, improve your sleep, and learn to heal from emotional/physical blockages? Are you feeling a lack of connection with others who may understand your challenges? Enter The Small Group Gong Sound Bath Meditation for Women.
Hi, I'm Patty, a Certified Sleep Science Coach, Certified Health Coach, Rocky Mountain Gong Journeys owner and Certified Gong Sound Healing Facilitator, who is recovering from living a modern lifestyle. My life has been transformed through sound healing and purposeful connection, and I want to share it with you so that you can show up in life how you've always imagined. Sounds like a sales pitch, I know but sound healing with community and The Gong is a NEXT-LEVEL UPGRADE for your life! If you're ready to be your best and feel your best, come let me share the power of a gong session with you.
No experience required so grab your girlfriends, mothers, daughters, aunts and cousins or come alone. YOU ARE WELCOME HERE. Schedule your wellness today.
A gong sound healing is great way to decompress and find yourself again. The Gong has been said to be a highly transformational, healing instrument and I agree. Creating positive relationships with others brings us closer and improves our quality of life so that we can be healthy and thrive. Life is meant to live, not just survive. We NEED others in our life that we can relate to and who relate to us.
The Gong has been used in healing for thousands of years. The the mind finds it challenging to follow and control the complex sounds of The Gong and will enter into a deeply relaxing meditative state. It is great for those who feel resistant to meditation. The Gong releases tension and blocks in the body, it stimulates a higher functioning of the glandular and nervous system, it increases prana, our vital life force, and improves circulation . The Gong quiets the mind, clearing the clutter from the subconscious, by working into the delta and theta brain wave states, those we typically reach during restful sleep.
Come experience A SOUND AND VIBRATION TRANSFORMATION
**Does the scheduled time not work for you? I also do private individual and small group sessions by appointment. Learn more at Book Online at Rocky Mountain Gong
Release - Receive - Revitalize
We will begin our session with some gentle breath work and energy routine to prepare the mind and body, followed by a deep relaxation lying down or in a seated position, fully clothed. You are then "bathed" in the sounds and vibrations of The Gong to enhance deep meditation and healing. A blanket is recommended as you will cool down.
Once The Gong finishes, we process and reflect in silence and stillness for 5 minutes. Sharing and/or journaling your experience IS OPTIONAL but can help to advance your journey.
The entire experience lasts about 75 minutes. We invite you to stay and enjoy some tea and snacks and build community with other women.
Mats, pillows and blankets and eye masks provided at The Golden House. Feel free to bring your own if that feels right for you.
It is said, and many have experienced The Gong:
Aid in deep relaxation - greater stillness, contentment.
Be a gateway for those who feel resistant to meditation
Improve concentration and memory
Reduce anxiety and stress
Help move emotional & physical blockages
Stimulate altered states of consciousness
Relieve and reduce pain
Improve mood or negative emotions
Improve sleep quality
Improve self-image and motivation
Create clarity and balance
Enhance creativity and oh so much more
Please don't hesitate to message me with any questions. I am happy to answer.
Rocky Mountain Gong is on Facebook and more info regarding our regular services can be found at rockymountaingongbath.com
The Golden House location
I have created a space with an abundance of natural light and beautiful views for gathering and meditating in my home studio. I graciously welcome you into my home, grateful to hold this safe space for you. Text me with any questions 970-344-9882.
*Dogs on premises - Our rescue dogs, Yadi and Nova will happily greet you upon arrival and retreat to their space. They enjoy receiving The Gong and give it 2 paws up!
More about Patty:
A lifelong lover of learning and challenging her brain and body, She enjoys engaging with others on topics surrounding whole health and wellness.  She is an avid hiker, nature & dog lover and consumer of holistic health information, a partaker in self-inquiry and spiritual exploration, and an appreciator of the gifts that Earth and our Universe provide.  Patty sees The Gong as a gateway for those, like herself, who struggled with attaining enlightening meditative states. Connecting with The Gong and Gong Community has had a profound impact on the way she lives and presents to the world.
Patty lives with her husband, Andrew, in the beautiful foothills of Fort Collins with their 2 rescue dogs, Yadi and Nova. They have 2 wonderful, grown daughters that inspire them everyday.
TERMS & CONDITIONS - By purchasing your tickets you confirm that you AND any guests you have purchased tickets for, have read, understand and agree to the Terms, Conditions and Contraindications.
DISCLAIMER
Yoga, Energy work, Breath work, Gong Meditation do not diagnose, prescribe, treat or cure any diseases or condition - either physical or mental. Advice, information or instruction is not intended to be a substitute for professional, medical or psychological treatment and care. Patty Hayes/Rocky Mountain Gong Journeys LLC does not accept any liability for participant´s medical or psychiatric conditions, which may exist prior to or which may arise during, after or subsequent to any participation to any service offered. You understand and agree that you are fully responsible for your own wellbeing. We do take your welfare and wellbeing very seriously. Please make sure you read the medical information relating to Gong events and if you are unsure of whether to attend please speak to your medical practitioner/doctor.
LIMITATION OF LIABILITY
Attending classes in person or online, you release Patty Hayes/Rocky Mountain Gong Journeys LLC from any and all damages that may result from such participation. You accept any and all risks, foreseeable and unforeseeable arising from such participation. You agree that Patty Hayes/Rocky Mountain Gong Journeys LLC will not be held liable for any damages of any kind resulting or arising from including but not limited to - direct, indirect, incidental, special, negligent, consequential or exemplary damages happening from the use or misuse of online services. You agree that the use of services is at your own risk. Patty Hayes/Rocky Mountain Gong Journeys LLC has no liability for loss incurred by you whether financial or otherwise.
GONG MEDICAL CONTRAINDICATIONS
MAY NOT BE suitable for pregnancy, people with pacemakers or other implants, those suffering from serious heart conditions, acute or serious mental health problems or those who may suffer from sound induced epilepsy. If you are in any doubt about your suitability to attend these sessions, please consult your medical practitioner for advice.
Patty Hayes/Rocky Mountain Gong Journeys LLC cannot access your suitability to participate. If you are in any doubt about your suitability to attend these sessions, please consult your medical practitioner for advice.
CANCELLATIONS
In the event of Patty Hayes/Rocky Mountain Gong Journeys LLC canceling an event – you will receive a full refund. No refunds if you fail to attend or cancel without a 48 hour notice. Eventbrite fees, Bank or Transaction Fees will be deducted from any refunds.
*Dogs on premises - Our rescue dogs, Yadi and Nova will happily greet you upon arrival and retreat to their space. They enjoy receiving The Gong and give it 2 paws up!