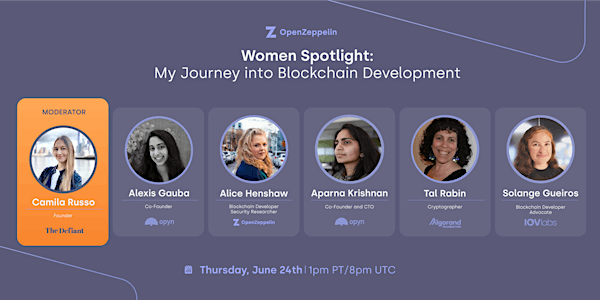 Women Spotlight: My Journey into Blockchain Development
What defines a blockchain developer? We will dive into the background & skills required for blockchain development and how to get started.
About this event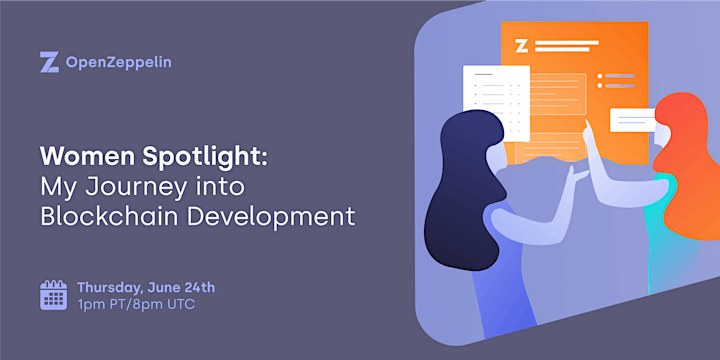 In this event, we will feature leading women in the blockchain industry who have one common goal; furthering blockchain technology through development and education.
Our guest speakers will highlight the different aspects of blockchain (research, development, usability, analysis) and inspire motivation for career paths.
Event Agenda & Speakers:
1. Introduction
2. Panel Discussion: "My Journey into Becoming a Blockchain Developer"
Moderator:
Camila Russo, Founder, The Defiant
Panelists:
Aparna Krishnan, CTO, Opyn
Tal Rabin, Cryptographer, Algorand Foundation
Solange Gueiros, Blockchain Developer Advocate, IOV Labs
Alice Henshaw, Blockchain Developer and Security Researcher, OpenZeppelin
Alexis Gauba, Co-Founder, Opyn
Who is this event for?
This event is for learners of all levels, beginners, intermediate and advanced. We're calling all females (and males!) from economics, finance, cryptography, security and those who are new to smart contracts - solidity.
After the event, you can claim your POAP, drop us an email events@openzeppelin.com
How to join the event online:
This event will be on Zoom. Please check your ticket confirmation email (scroll down to the bottom) for access URL.
About OpenZeppelin:
OpenZeppelin provides a complete suite of security products and audit services to build, manage, and inspect all aspects of software development and operations for decentralized applications.
_________________________________________________________________
Be part of the community
Continue the discussion on our forum 📖
Join our Discord ⚡
Follow us on Twitter 🐥
Even better, join the team 🚀