Description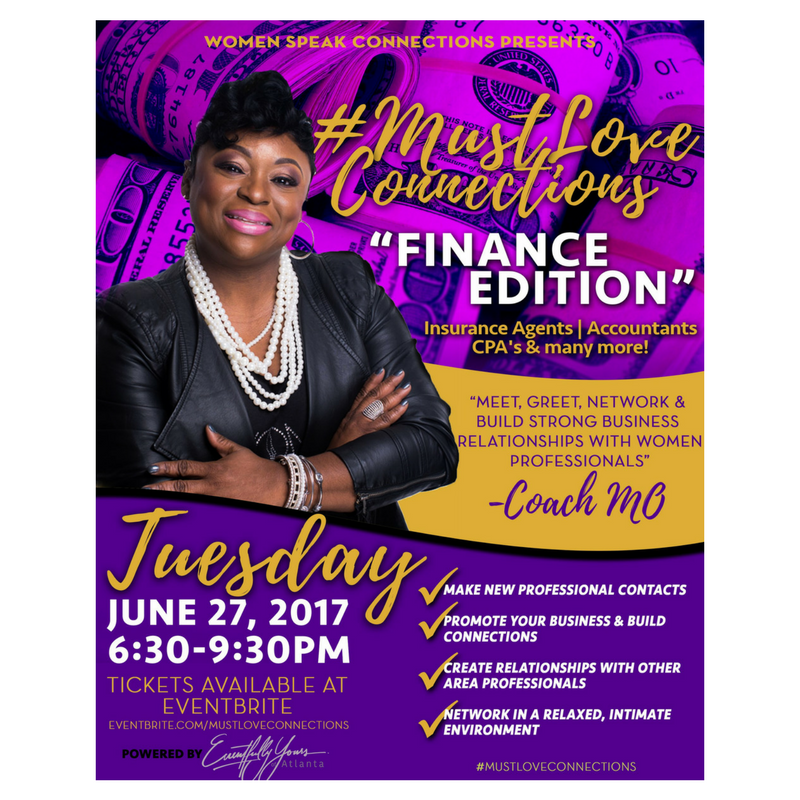 If you're a business woman in financial industry in Gwinnett County, don't miss the chance to network with the most inspiring women entrepreneurs! We invite all insurance agents, bankers, accountants, CPA's, and real estate professionals to attend our WSC Networking Mixer #FinanceEdition.
Women Speak Connections
is holding its next networking event on June 27, 2017. Connect with a thriving community of business women who meet monthly to share stories, build strategic alliances, gain referrals and simply relax and have fun.
Whether you're an experienced professional or a budding entrepreneur, you'll be inspired and welcomed by the WSC community. Everything we do is guided by a collaborative spirit, acceptance of others, and attention to the unique role of women in business today.
Join WSC's monthly networking event on June 27, 2017 to make valuable contacts and grow your business alongside the most successful women in Gwinnett County.
Questions? Text or call Mernice Oliver at 678.687.0357, or email Mernice@WomenSpeakInternational.com.
For more information or to become a member, visit the WSC website: www.WomenSpeakConnections.com
See you there!
WSC celebrates the influence and achievements of women entrepreneurs in Gwinnett County. We empower our attendees with valuable resources and live events to connect, learn, collaborate and grow. You'll be part of an inspiring community of successful women who share their secrets, and uplift others along the way. Join us today!
Event Agenda:
6:30pm – Event Kickoff, Open Networking & Business Showcase
6:45pm - Open Networking
7:30pm - Introductions: Event Sponsors
7:45pm - Open Networking
8:45pm - Event Wrap-Up & Door Prizes
9:30pm - Event ends
ACCESS:
Be confident you are reaching the key influencers in the local community with your marketing message by partnering with your WSC host.
IDENTITY:
Increase awareness of your company as a catalyst for growth by aligning your brand with our Superstar sponsors and leaders.
COMMUNITY:
Establish your presence in the local leadership community as an organization that supports women owned businesses.
Emerging Vendor Package: $40
2 Reserved Tickets

Exhibitor booth at the event.

Mention from stage during the event.

Industry Exclusive.
Superstar Sponsor Package: $150 w/attendee list
5 Reserved Tickets

Premier Location of exhibitor booth at the event.

Business Spotlight during event (3 minutes).

Inclusion of approved brochures/ collateral marketing materials/ giveaways in attendee welcome packet.