Description
WSO SOUND OFF DAY
APRIL 6, 2019
Where entrepreneurship and creativity collide.
Find your cohort at our discussion day with a full schedule of in-depth conversations with the best of the best, thoughtful networking opportunities and fireside chats. We're bringing 15+ leading lady entrepreneurs together for one day, under one roof — to share everything from life hacks to stories of success (and failure). This isn't just any old panel day. This is a guided and interactive experience to help you build new alliances.
*Panelists + speakers announced throughout February + March.
*Lunch, coffee & snacks provided.
LOCATION: 1736 16th St, Oakland, CA 94607, USA

AGES: 21+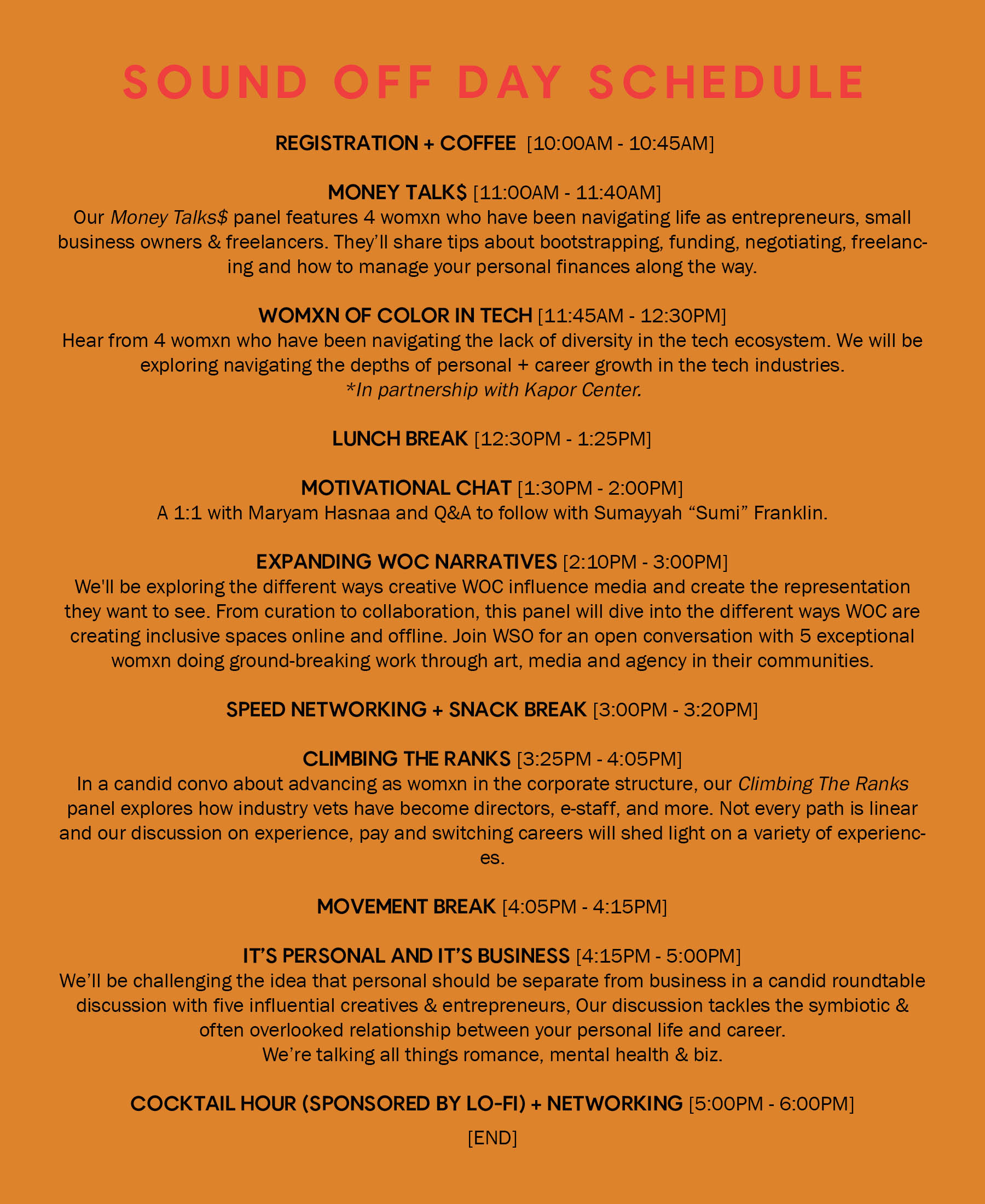 ~ CURRENT SPEAKERS ~
MONEY TALK$
Meryl Pataky - Neon Artist Bender & Curator @merylpataky
Elisha Greenwell - Brand Strategy Dir. + Founder/CEO @ Black Joy Parade @leeshag
Claudia Mata - Founder @ Vertly @claudiamariamata
Moderated by Maria Choi - Founder + CEO @ Raise For Good
WOMXN OF COLOR IN TECH
Kai Frazier - Founder & CEO @ Curated x Kai @CuratedxKai
Angie Coleman - Community Manager + Content @ Snowflake @angieidunno
Humaira Syed - Coordinator @ Maven Youth
Uchenna Okoye - Senior Android Engineer @ Pandora Media @uchennaf.okoye
Moderated by Lili Gangas - Chief Tech Community Officer @ The Kapor Center @lilsdaexplorer
MOTIVATIONAL CHAT
Maryam Hasnaa - Energy Healer + Teacher @maryamhasnaa
Moderated by Sumayyah "Sumi" Franklin - Full Spectrum Birth Worker @sumistouch
EXPANDING WOC NARRATIVES
Aria Sa'id - Executive Dir. @ Compton's Transgender Cultural District @ariasaid
Lukaza Branfman-Verissimo - Artist, Activist, Educator, Storyteller & Curator @bluekaza
Stephanie Gancayco - Founder & EIC @ Hella Pinay @bruhastylez
Ruth Gebreyesus - Writer & Producer @kotetakotet
Moderated by Yetunde Olagbaju - Artist & Curator @ye.tunde
CLIMBING THE RANKS
Rian Worm - Dir. of Marketing @ AEG (Oracle Arena & Oakland Coliseum)
Jada Ogden - Dir. of Talent at Scout Model & Creatives Agency
Sara Haider - Dir. Product Management @ Twitter @pandemona
Moderated by Lynzie Riebling - VP, Audience Insights & Strategy @ REVOLT @hilynzie
IT'S PERSONAL AND IT'S BUSINESS
Mereba - Performing Artist @mereba
RL Esterline - Artist / Active Voice @rachellenaesterline
Vida Vasquez - Visual Artist, Designer, Educator @vidavasquezstudio
Jane Shin - Content Producer @janeshin
Moderated by Fredia - Stand-Up Comedian & Co-Host @ It's A Look Podcast @yesfredia
Visit womensoundoff.com/festival-2019 for more 2019 festival events & follow @womensoundoff for exclusive updates.
*All religions, races, ages, genders, & sexualities are welcomed at Women Sound Off.