Women' s Retreat - The Spirit of a Conqueror- Living a Kingdom Life
About this Event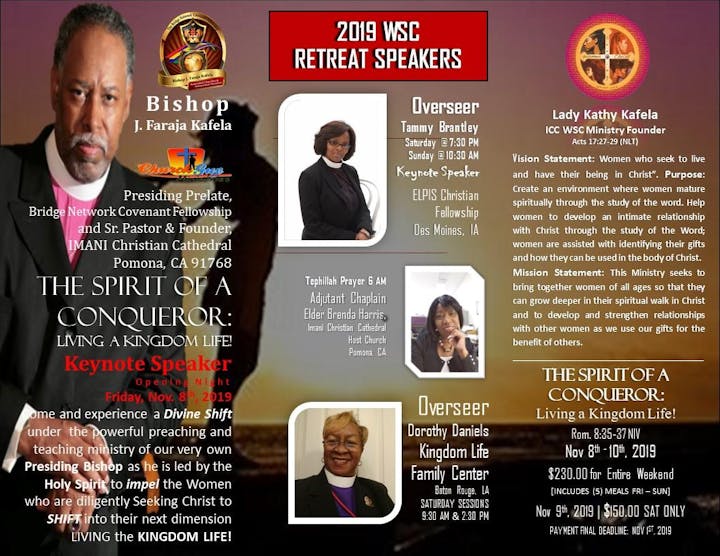 Come and experience a Divine Shift under the powerful preaching and teaching ministry of our very own Presiding Bishop as he is led by the Holy Spirit to impel the women who are diligently Seeking Christ to shift into their next dimension. Living the Kingdom Life!
Friday Night - Bishop J. Faraja Kafela - Imani Christian Cathedral
Saturday Morning - Elder Brenda Harris - Prayer Imani Christian Cathedral
Saturday (2) Sessions - Overseer Dorothy Daniels Kingdom Life Family Center Baton Rouge, LA
Saturday Night - Overseer Tammy Brantley - Elpis Christian Fellowship Des Moines, IA
Guest can choose from a wide variety recreation at our Freetime on Saturday after 2:00pm with activities at the Forest Center Zip Lining, Big Swing, Hiking or Simply Seeking a time of quiet reflection in a tranquil place.
Friday Night at 6:00pm to 8:0pm Taco Bar
Saturday Breakfast, Lunch & Dinner
Sunday Morning - Breakfast at 8:00am-9:00am
please register for an Experence at the Mountain Top