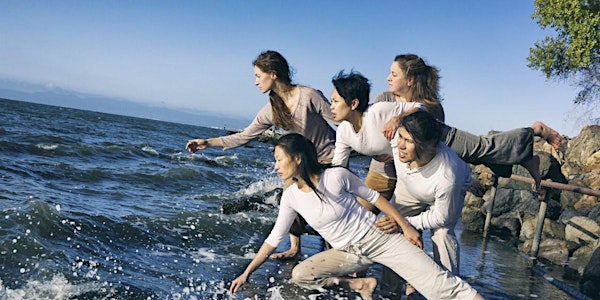 Women Out in the World: A Panel Discussion on Site-Specific Dance
As part of Women's History Month, please join us for a vibrant discussion with three longtime site-based artists in the SF Bay Area
About this event
During the past year, many professionals and students alike have begun to explore site-specific work both inside buildings and outdoors. Our sense of space, place, access, and venue continue to shift in terms of both artmaking and experiencing dance. Please join us for a conversation with three longtime choreographers passionate about site-based work: Nina Haft, Joanna Haigood, and Lenora Lee. We will talk about their work and inspirations, where they see site-based work in the field right now, and artmaking in the months ahead.
-----
Nina Otis Haft is Artistic Director of Nina Haft & Company, a Bay Area-based contemporary dance ensemble known for gender and cultural commentary and site-specific performance. Nina has been profiled in Dance Magazine and received support from Djerassi Resident Artist Program, Hambidge Center, Shawl-Anderson Dance Center, Margaret Jenkins' Dance Company (CHIME), Conney Project on Jewish Arts, California Arts Council, among other arts foundations. NHCo is known for Dance in Unexpected Places, performing in dockyards, synagogues, bars, parking lots, regional parks, cemeteries and other liminal spaces. Her work has been presented in Boston, LA, Madison, NYC, Portland, San Diego, Novosibirsk, Amman, Jerusalem, Bethlehem and Ramallah. ninahaftandcompany.com
Since 1980 Joanna Haigood has been creating work that uses natural, architectural and cultural environments as points of departure for movement exploration and narrative. Her stages have included grain terminals, a clock tower, the pope's palace, military forts, and a mile of urban neighborhood streets in the South Bronx. Her work has been commissioned by many arts institutions, including Dancing in the Streets, Jacob's Pillow Dance Festival, Walker Arts Center, the Exploratorium Museum, the National Black Arts Festival, and Festival d'Avignon. She has also been honored with the Guggenheim Fellowship, the Herb Alpert Award in the Arts, the United States Artist Fellowship, and a New York Bessie Award. Haigood is also a recipient of the esteemed Doris Duke Artist Award. Joanna has had the privilege to mentor many extraordinary young artists internationally at the National École des Arts du Cirque in France, the Trinity Laban Conservatoire of Music and Dance in England, Spelman College, the Institute for Diversity in the Arts at Stanford University, the San Francisco Circus Center and at Zaccho Studio. http://www.zaccho.org/
Lenora Lee is a dancer, choreographer, and artistic director of Lenora Lee Dance. She has been pushing the envelope of large-scale, site-responsive, immersive, and multimedia dance performance that connects various styles of movement and music to culture, history, and human rights issues, inspired by individual stories as well as community strength. Lenora's work integrates contemporary dance, film, music, text, and research, and has gained increasing attention for its sustained pursuit of issues related to immigration, global conflict, incarceration, and its impacts, particularly on women and families. It has grown to encompass the creation, presentation, and screening of films, museum and gallery installations, civic engagement, and educational programming. Lenora is a 2019 United States Artists Fellow, and recipient of the 2021 New England Foundation for the Arts National Dance Project Production Grant. http://www.lenoraleedance.com
-----
Photo from Nina Haft & Company. Sarah Chenoweth, Frances Sedayo, Rebecca Johnson, Rogelio Lopez, Peiling Kao. Photo by Pak Han.