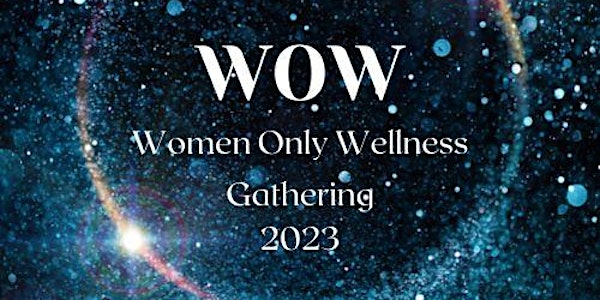 Women Only Wellness Gathering 2023
The Gathering will leave you feeling empowered, wanting to make self care a priority and teach you how to integrate it into your daily lives
By Women Only Wellness (WOW)
Date and time
Fri, 9 Jun 2023 18:00 - Sun, 11 Jun 2023 12:00 BST
Location
Sentry Circle Camping , Lenthor Farm Stokesley Road Northallerton DL6 2UD United Kingdom
About this event
Join us for a women only wellness gathering for a day and night full of activities that will promote nurturing and sharing, with yoga, meditation, sound baths, drumming, women's circles and much more. Your investment will give you access to ALL workshops and a delicious healthy meal on the evening of 10th June.
You are welcome to join our Facebook Group
Look for: 'WOW Gathering 2023'
Join us for 'The Gateway To Light' circle, yoga, compassionate meditations, wellness workshops, recovery workshops, arts and crafts stalls, healthy refreshments, transformative sound baths, shamanic drums, guest speakers, guided relaxation, and communal fire circle.
As this is a wellness festival it will be a alcohol free event and smoking in designated areas. You can bring their own food, however their will be light refreshments to purchase.
If you are interested in hosting a workshop please use the "book a workshop" ticket link. The fee is £20 to allow you to showcase your business and grow your client base. We want to discuss your workshop with you before you book to avoid duplication. Please call us on 07947738362/07761933030/07852232310 and leave a message, or email: info@tracuk.uk with any questions and we will respond.
If you are interested in coming along to sell your products to participants, the fee is £40. There is a maximum of one other similar type of stall. We will not take multiple books for similar businesses, so please contact us before you book.
Workshops facilitators and stall holders are exempt from day ticket charges. The evening meal is included if you wish to have it.. Anyone who books a workshop can find our stall and workshop Facebook group. Search for WOW Stall Holders/Speakers/Workshops facilitators.
We offer variety of tickets from single day tickets for the full main event day on Saturday 10th June.
Details of workshops will be emailed to ticket holders nearer the time of the event and once the timetable is completed. Please check your emails after the 1st June 2023.
At Sentry Circle we have a selection of pods and bell tents that are available for hire from Friday 9th until Sunday 11th. This will offer people the chance to attend and explore the local area and have a truly relaxing and calming weekend in North Yorkshire. For people staying overnight we have the options for you to order a breakfast (options below)
The pods are priced as follows and furnished as follows:
2 Person Pods one double bed is for 2 nights
2/3/4 person consists of 2 doubles one on mezzanine 2 nights
The bell tents are priced as follows and furnished as follows:
2 Person one double bed with bedding 2 nights
3 person one double one single bed with bedding 2 nights
4 Person two double beds with bedding 2 nights
There is an 8 person bell tent that has no beds or bedding but if you would like to come and stay in this with your own sleeping bag and matt it is £10 pppn this does not include the cost of your day ticket for the event
There are also Camping pitches that are £10.00 pppn but this doesn't include admission day ticket and you must bring all of your own camping equipment.
Any questions or queries please contact us and we will provide you with assistance.
Any queries about your booking please feel free to contact: 07947738362/07761933030 and leave a message or email: info@tracuk.uk
NO REFUNDS WILL BE GRANTED ONCE YOU HAVE BOOKED.
Parking will be available on site in a designated parking area. Please follow the instructions of the parking marshals. No cars will be allowed to stay in the camping area. This is an alcohol free event. A drone photographer will be attending the event. Attendance is at your own risk. We recommend sturdy shoes and warm clothing for the evening.
For anyone staying over, please vacate the site by 12pm Sunday 11th June.
WOW Gatherings are created to help empower women to make healthy and positive choices and is to support TRAC UK - The Recovery Advocates and Consultants, Registered charity No. 1184801 and Be Kind, No Excuses CIC, domestic abuse prevention, Register 14238905