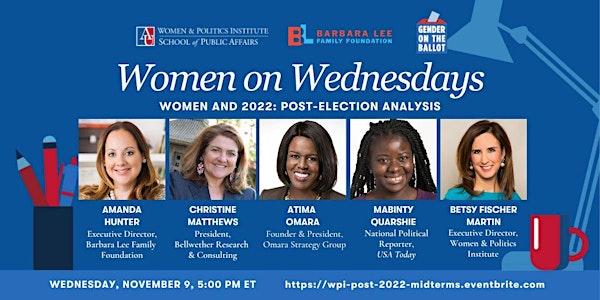 "Women On Wednesdays": Women and 2022: Post-Election Analysis
Amanda Hunter, Christine Matthews, Atima Omara, and Mabinty Quarshie break down the 2022 midterm elections as they pertain to gender.
Refund Policy
Contact the organizer to request a refund.
Eventbrite's fee is nonrefundable.
About this event
A day after voters across the country go to the polls, please join American University's Women & Politics Institute for a virtual conversation with Barbara Lee Family Foundation Executive Director Amanda Hunter, public opinion pollster Christine Matthews, political strategist Atima Omara, and USA Today's national political reporter Mabinty Quarshie, as they break down the 2022 midterm elections and share their analysis on how women candidates fared up and down the ballot. WPI Executive Director Betsy Fischer Martin will facilitate the discussion.
ABOUT AMANDA HUNTER
As Executive Director, Amanda Hunter leads the Barbara Lee Family Foundation's (BLFF) nonpartisan efforts to advance women's political equality and increase women's representation. Previously, she served as the Foundation's Research and Communications Director where she was responsible for promoting BLFF's mission to advance women's representation in American politics by leading all research and communications efforts.
Hunter graduated Summa Cum Laude with a B.A. in English and Communications from St. Joseph's College of Maine.
ABOUT CHRISTINE MATTHEWS
Christine Matthews is president of Bellwether Research & Consulting, a public opinion research firm, and co-founder of Burning Glass Consulting, which specializes in women voters. A leading public opinion pollster known for her innovative qualitative research techniques and strategic counsel, she has conducted polling for political candidates at every level.
Matthews has a B.A. from Indiana University and a M.A. from Georgetown University and is a member of the American Association for Public Opinion Research (AAPOR). In 2014, Campaigns & Elections magazine named her as one of their top 50 influencers shaping campaigns and the future of the industry.
ABOUT ATIMA OMARA
Atima Omara is an award-winning political strategist, advocate, writer, and speaker who has spent 15 years engaging youth, women, and people of color in the political progress and related progressive causes. She is the founder and president of Omara Strategy Group – a D.C. metro based progressive consulting firm supporting candidates and organizations that share her goal of achieving a more reflective democracy for women, people of color, and LGBTQ communities.
Omara is a graduate of Women's Campaign School at Yale and Wellstone Camp and she is now a national trainer for Vote Run Lead. Omara earned a Bachelor of Arts degree from the University of Virginia and a Masters in Public Administration with a concentration in Non-Profit Management from George Mason University.
ABOUT MABINTY QUARSHIE
Mabinty Quarshie is a National Political Reporter and Assistant Elections Editor at USA TODAY. She previously worked at USA TODAY as a Congress Reporter, covering breaking news, and a Political Reporter, writing trending political stories. She has also served as a Politics Audience Editor and Audience Editor. Prior to that, she was a Social Media Intern with NPR and NBC News, as well as a Communications Intern with the Advancement Project.
Quarshie holds a bachelor's degree in English Language and Literature/Letters from George Mason University and a Master's in Journalism from Georgetown University.
ABOUT BETSY FISCHER MARTIN
Betsy Fischer Martin is an Emmy-winning journalist and former TV news executive. Currently, she is the Executive Director of the Women & Politics Institute at American University and a faculty member in the School of Public Affairs, where she teaches courses on campaigns and elections. During her earlier career in television news, she spent 23 years at NBC News serving as the longtime Executive Producer of Meet the Press with Tim Russert and as the Managing Editor of NBC News Political Programming.
A native of New Orleans, Fischer Martin did her undergraduate and graduate work at American University in Washington, DC. She is a cum laude graduate of their School of Public Affairs and earned a master's degree in Broadcast Journalism from the AU School of Communication.