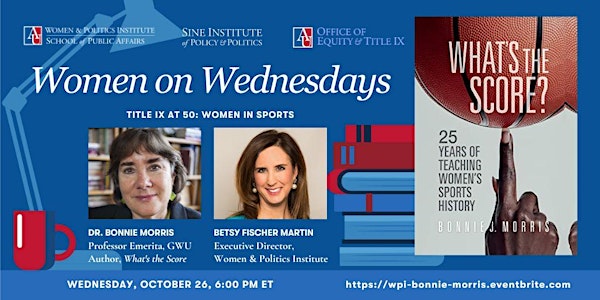 "Women On Wednesdays": Dr. Bonnie Morris - "Title IX at 50"
Dr. Bonnie Morris, author of "What's the Score" in conversation with WPI Executive Director Betsy Fischer Martin.
Refund Policy
Contact the organizer to request a refund.
Eventbrite's fee is nonrefundable.
About this event
As part of our "Women on Wednesdays" series, please join American University's Women & Politics Institute, Sine Institute of Policy and Politics, and AU Office of Equity and Title IX for a virtual conversation with American University alumna Dr. Bonnie Morris, CAS/BA '83, author of What's the Score?: 25 Years of Teaching Women's Sports History and WPI Executive Director Betsy Fischer Martin.
For more than 25 years, Dr. Morris has been teaching "one of the most provocative college courses" in the country: Athletics and Gender, A History of Women's Sports. Published in concert with the 50th anniversary of Title IX, Dr. Morris' teaching memoir provides not only a peek inside her classroom, but also an engaging history of women's sports. Dr. Morris will detail her experience teaching this course, talk about what she's learned from conversation with students, and offer insight into the future of women's sports. Order the book here
ABOUT BONNIE MORRIS
Bonnie J. Morris, author of 19 books and a member of the Authors Guild, has been teaching women's sports history since 1996, becoming Professor of the Year and emeritus professor at George Washington University, Vicennial Medalist at Georgetown, and a nominee for the Excellence in Teaching Prize at UC-Berkeley. She is a scholarly adviser to the National Museum of Women's History, a history consultant to Disney, and the archivist for Olivia Records, as well as three-time faculty for the global Semester at Sea program. Morris is currently a lecturer in history at the University of California at Berkeley.
ABOUT BETSY FISCHER MARTIN
Betsy Fischer Martin is an Emmy-winning journalist and former TV news executive. Currently, she is the Executive Director of the Women & Politics Institute at American University and a faculty member in the School of Public Affairs, where she teaches courses on campaigns and elections. During her earlier career in television news, she spent 23 years at NBC News serving as the longtime Executive Producer of Meet the Press with Tim Russert and as the Managing Editor of NBC News Political Programming.
A native of New Orleans, Fischer Martin did her undergraduate and graduate work at American University in Washington, DC. She is a cum laude graduate of their School of Public Affairs and earned a master's degree in Broadcast Journalism from the AU School of Communication.
ABOUT THE WOMEN & POLITICS INSTITUTE
The nonpartisan Women & Politics Institute at American University provides academic training to young women that encourages them to become involved in the political process and facilitates research by faculty and students that enhances our understanding of the challenges and opportunities women face in the political arena.
ABOUT THE SINE INSTITUTE OF POLICY AND POLITICS
The Sine Institute at American University is a laboratory for university-wide collaboration and an incubator for policy innovation, convening the best and brightest in the public, private, academic, and nonprofit sectors, as well as journalism
ABOUT THE AU OFFICE OF EQUITY AND TITLE IX
The Office of Equity and Title IX oversees American University's efforts to prevent and respond to discrimination, harassment, and sexual assault and serve faculty, staff, and students. Its mission includes furthering the university's efforts to dismantle structural racism, eliminate gender-based violence, and address barriers that prevent members of our community from full participation and access.