Description
The Women on Fire Conference is an event curated by Tijania " Tee " Goodwin from Philadelphia and the Founder of The Tijania Experience. The purpose of the conference is to inspire and instill tools in women who have been through life's challenges. Some have given up, some are lost or stuck and some have used other ways to cope with their problems/issues. This event will help build their esteem, provide them with tools that they can utilize in their everyday lives and also give them the strength that they can overcome ANYTHING!
The theme for this year's conference is " The Evolutionary Woman." This theme speaks on so many levels but ultimately the goal is to let the attendees know that your past does not dictate your future. We spend so much time worrying about how things happened and have hindered us. Our NEW perspective is to use our past experiences as a way to help us #LEVELUP !
---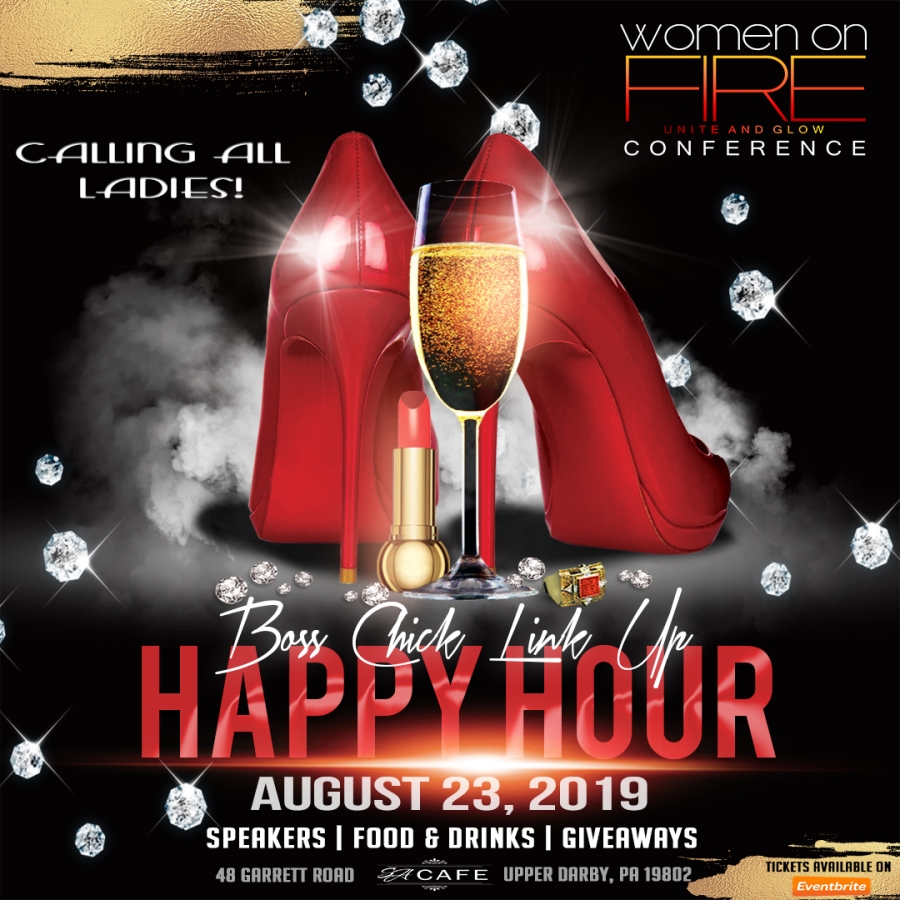 Our first event on August 23rd is The Boss Chick Link Up Happy Hour!
This will be a time to network with some amazing women while all having FUN. There will be music, drink and food specials as well GIVEAWAYS!
We will be at SA Cafe Lounge at 48 Garrett Road in Upper Darby, Pa
Hope to see you there!
If you would like to donate a giveaway item for the Happy Hour, please contact Tijania at TheTijaniaExperience@gmail.com
---
Our Second Event is The Women on Fire Conference on August 24th.
The event consist of workshops, a panel discussion and a keynote speaker.
Keynote Speaker:
Tyshanique Hamilton: CEO of The Great University, LLC and Author of The Great U: 21 Day Journey
---
Workshop Presenters:
- Shanayah J. Wright, MFT: Minds & Cranes Mental Health & Wellness Blog, Founder
Workshop Title: #SOULGOALS : Prioritizing your Menatal Health & Wellness
- Alisha Jones, M.Ed: Founder of Divine3 Ministries
Workshop Title: Finding, Following and Fulfilling your God-Given Purpose
---
Panelists:
Hazell McKenzie, MSW: Author of Suitcase of Dreams
Regan Farley: Publicist, CEO of Regan Farley Agency and Hustle Sold Separ8ly
Lauren Byrd: Founder of Love Perseveres
Destiny Thomas: Author, Podcaster, Infertility Advocate, Prayer & Discernment Coach and Motivational Speaker
---
Catered Continential Breakfast and Buffet Lunch will be served.
There will be a DJ and plenty of photo opportunities with your NEW SISTERS!
Network and Learn one another!
Take this day and turn it into an experience you will never forget.
There is opportunity for sponsorship, in-kind donations, swag bag items and much more. If you have any questions on how you can be a part of this event, please contact Tijania at TheTijaniaExperience@gmail.com
Hope to see you there!