Description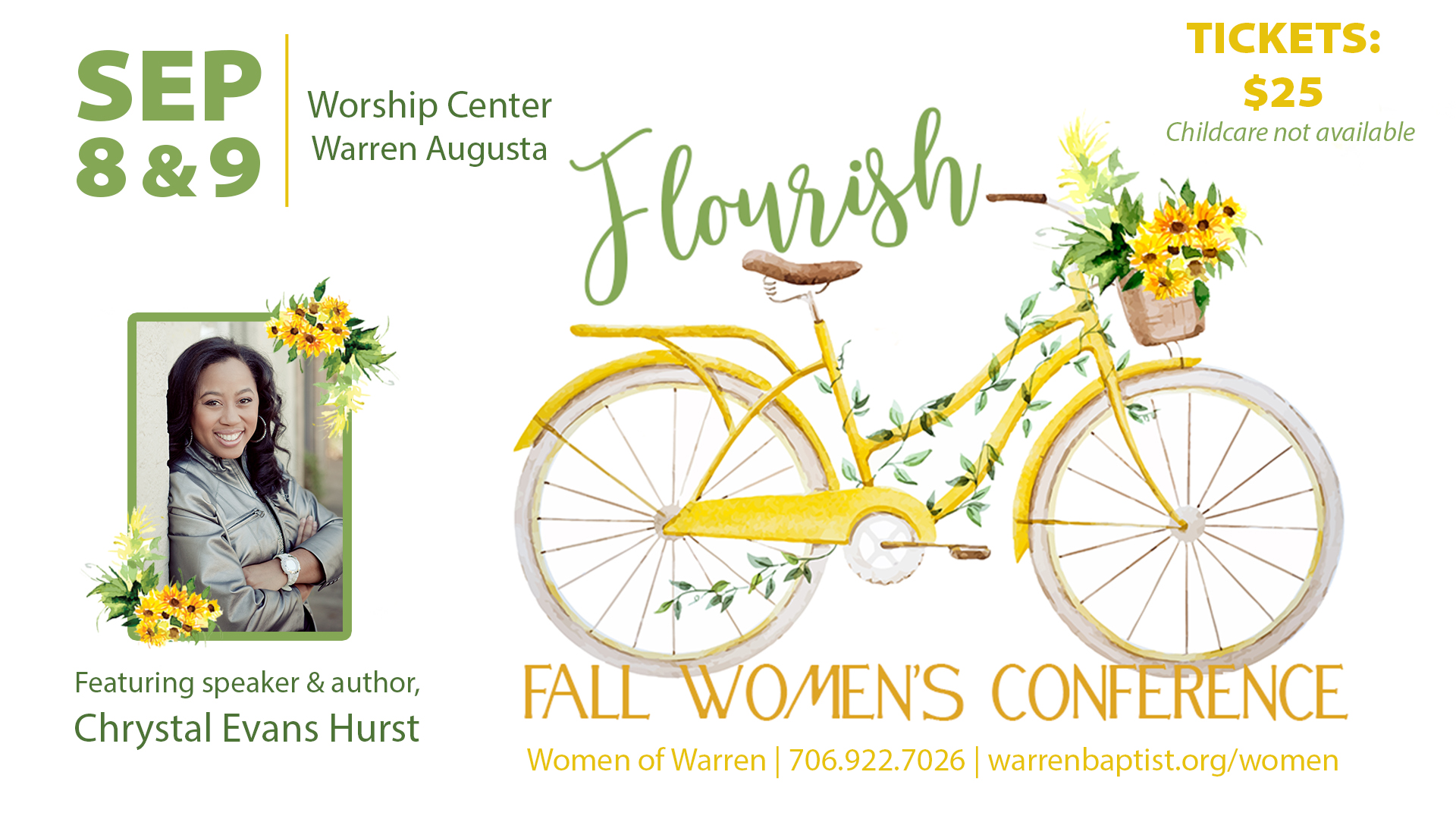 Join us for Flourish, our Fall Women's Conference featuring speaker and author, Chrystal Evans Hurst. The event begins on Friday evening from 7:00-9:00 PM and on Saturday from 8:30 AM-2:00 PM.
Use Coupon Code EARLYBIRD at registration for $5 off for a limited time only!
Includes:
Three large-group sessions
Engaging praise and worship
Lite breakfast Saturday morning
Lunch
Snacks and materials.
Shopping (Chrystal's book table, Timballi Crafts & more!
This will be a wonderful time of encouragement for women of all ages. No childcare available.

Conference schedule:
Friday evening:
6:30 - Doors open
7:00 - Praise & worship & Session 1 with Chrystal
8:30 - Stay for book signing if you choose
Saturday morning:
8:15 - Doors open, lite breakfast served
9:00 - Praise & worship & Session 2 with Chrystal
10:15 - Break
10:45 - Praise & worship & Session 3 with Chrystal
12:15 - Lunch and Q/A with Chrystal
1:00 - Stay for book signing if you choose
2:00 - Conference concludes.
Boxed lunch from Chick-fil-a included in price of ticket. (Chicken Sandwich, chips, cookie, tea, coffee & water) Those with dietary issues, please call the Women's Ministry office at 706.922.7026.
About Our Speaker:
Chrystal Hurst is an energetic, fun-loving "girl-next-door" who loves to encourage other women in fulfilling their full potential in Christ. Chrystal firmly believes God's promise in Jeremiah 29:11, "I know the plans that I have for you…" and she desires to help other Christian women believe and apply that truth to their lives.
Chrystal is a gifted writer, speaker, and worship leader. Being the eldest child of Dr. Tony and Lois Evans, Chrystal been surrounded by the Word of God her entire life. As a member of Oak Cliff Bible Fellowship, Chrystal assists her mom in leading the women's ministry and loves to encourage women toward a deeper relationship with the Lord. Chrystal has recently co-authored a book, Kingdom Woman, with her dad. You can also find Chrystal writing on her blog—Chrystal's Chronicles—where she poignantly reflects her thoughts about her faith and day-to-day experiences.
Most importantly, Chrystal is a dedicated wife and homeschooling mother of five. She considers herself to be the COO (Chief Operating Officer) of the Hurst household. Chrystal and her husband, Jessie reside in a small town just outside of Dallas, Texas. Check out Chrystal's blog here: Chrystal's Blog