Event Information
Refund Policy
Contact the organizer to request a refund.
Eventbrite's fee is nonrefundable.
The Fashion Show highlights the beauty of the cultures and the successful stories of the forcibly displaced women that WoW serves.
About this Event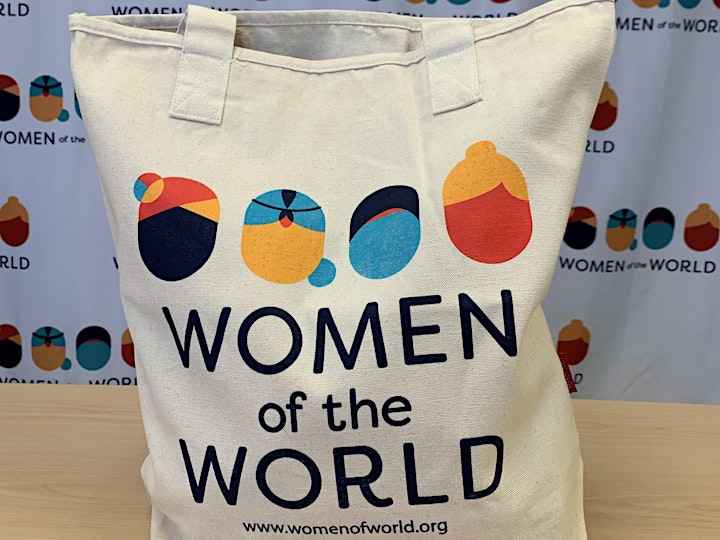 With the purchase of a VIP ticket, you will receive a Women of the World canvas tote filled with amazing Utah-made products and experiences valued at more than $130!
Every year we have the opportunity to help showcase the rich culture and the resilience of our program participants. This year WoW is conducting the Fashion Show virtually and inviting an international audience of influencers and leaders, including members of the UNHCR from both Geneva, Switzerland and New York City. This virtual event will be free, attracting the broadest coalition of interest and influence—people that can really impact change. We are looking for sponsorships since this is the only fundraiser and is a WoW signature event, showing the brave, resilient, powerful women. The Fashion Show is also always a great education for Utahns about their new neighbors. Sponsors do more than just cover the costs of our Fashion Show and programs, they are a beacon of safety and humanity for our whole community, safe spaces where forcibly displaced women can work, shop, and live as valued members of our society.
Also since the Fashion Show will be free for all the world to see, enjoy, and learn from these brave women and generosity of Utahns, our state will shine even brighter.
We focus on what works best for our women to achieve self-reliance quickly and effectively, namely, educational advancement, employment opportunities, and English proficiency. Women of the World was able to safely serve our community at all times during the pandemic, offering virtual and in-person service.
Some highlights of our 2020 success:
• Helped 39 women find new jobs (190 job applications)
• Our clients' revenue increased by $920,000 on an annual basis from job placement and career development
• $27,000 in educational support and scholarships
• $96,000 in savings through customized service and advocacy. Much of this on partnering to reduce the burden of health related expenses.
• 881 case hours
Throughout the pandemic, Women of the World has been open both virtually and in-person in order to secure the necessary healthcare, maintain well-being, overcome trauma, and assist in employment for our ladies. In the coming months, we anticipate that our case load will escalate as women continue to recover from COVID-19 and require services and a social safety net to return to work and previous wellbeing; questions will arise on vaccine distribution and access for our low-to-moderate income clients; and we continue to combat misinformation.
Our women are resilient and hard-working and Women of the World continues to be there for them, our customized casework and community development will be a necessary component of the well-being of this community, and their access to a safe space is key to the trust they place in us. Please consider sponsoring Women of the World by going to https://womenofworld.org/fs2021 for more details.
This video is a great introduction to the glamor and diversity of the Women of the World Fashion Show and Cultural Gala. PBS Utah did such a great job capturing the Fashion Show and the women that make it all possible. A great video to get excited about our upcoming event.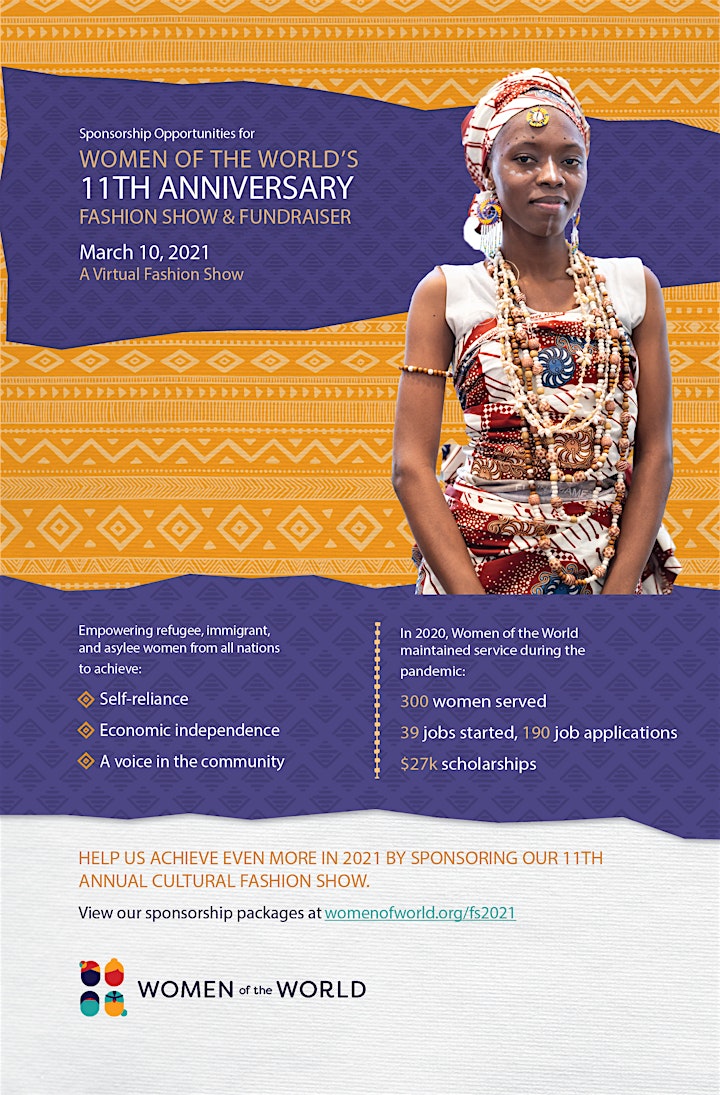 Date and Time
Location
Refund Policy
Contact the organizer to request a refund.
Eventbrite's fee is nonrefundable.