Women of Purpose III "Walking in Kingdom Authority" Matthew 16:19
Description
A Women's Empowerment Conference.
This Conference is three days of soaking in the presence of the Lord! Join with other women as we unite in a powerful worship experience. Kisia Fells Coleman,Charita Chancellor, Aylsha Davis, Niki Winston, Shirene Hicks and Sherri Bedford Downs will be among the speakers during this event! You don't want to miss this God appointed event! We will have early morning prayer, insightful teachings,shopping, powerful fellowships and receive a rhema word that is sure to change your life! You will leave this conference with a better understanding of what "Kingdom Authority" really is and you will be determined to walk therein. Register Today and reserve your room to stay

This event is also open to young ladies ages 5 and up. There will be classes especially designed for them. Please register in a timely manner so provisions can be made for you and your girls. Please note we are also on facebook. If you follow the events page @ https://www.facebook.com/events/222539271497826/ and you desire to register for our vision board party which will be held during this event May 6, registration is required. The pinned post will be on the events page on Facebook and you are free to register for the vision board party on this page!
REGISTRATION CLOSES TWO WEEKS PRIOR TO THE EVENT APRIL 22,2017!!!!!!!!!!!!!!!!!!!!!!!!
Please register for your hotel room by April 7th as the rate will change.
WOMEN OF PURPOSE III 2017 CONFERENCE
WOMEN AGES 5 AND UP
Ladies this conference includes with registration:
●Full buffet breakfast every morning! (ONLY FOR HOTEL GUEST)
●Refreshments!
●Full plated meal on Saturday!
●Conference materials!
●Access to the vendors and the hotel accommodations and so much more!
*Vision Board Party (Registration Req)
*Health and Fitness Party
Tentative Itinerary
Friday
Evening Service 7:00 pm
Saturday
9 am- 11:00am (GENERAL SESSION)
11:00 am – 12:00pm (BREAK OUT SESSION)
12:00 pm – 1:00pm (BREAK OUT SESSION)
LUNCH SERVED 1:00pm – 2:00 pm
Vision Board/Health Fitness (Parties)2:00-3:30 MUST REGISTER FOR THIS SESSION
Evening Service 7:00 pm
Sunday
Worship 10:00 am – 12:00 am
All EVENING SERVICES ARE FREE AND OPEN TO THE PUBLIC
These are possible scenarios Conference fee included
Per Person Rates for entire weekend stay $99.00/night ((Book By April 7th))
4 people in a room: $150.00/Person
2 people in a room: $200.00/Person
1 person in a room: $300.00/Person
Hotel room fees are not due until you arrive to the conference.
******These prices are Not Including Tax******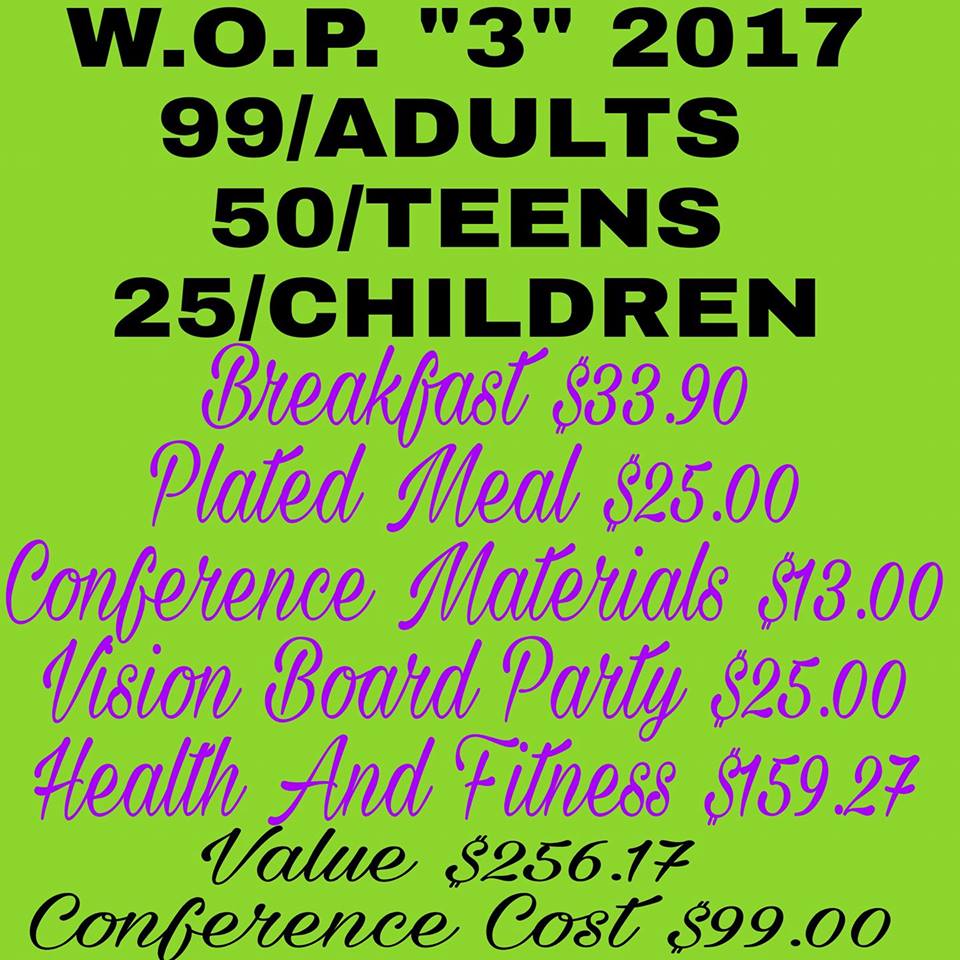 See you in Deerfield!