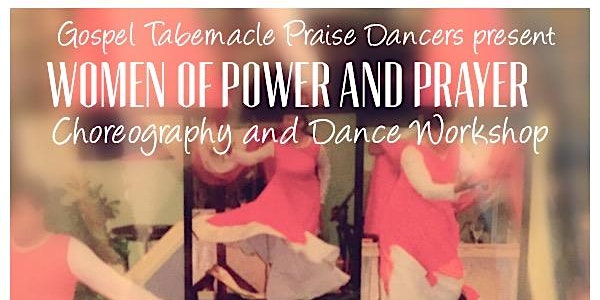 Women Of Power and Prayer Choreography and Dance Workshop
When and where
Location
Gospel Tabernacle 743 East Main Street Laurens, SC 29360
Description
You were born for such a time as this! If you are looking for ways to choreograph POWERFUL dances for ministry, how to be freer in your PRAYER times of intercession as you go before the Lord on behalf of your family and city - for anything, then you will want to be with us. I'm extending the registration until December 3rd so hurry and register! Space is limited worshipers.

The Gospel Tabernacle Praise Dance Ministry invites you to their intensive half-day Women of Power and Prayer Choreography and Dance seminar to help you to create Dynamic dances for ministry and to empower you to incorporate movement in your times of prayer and intercession.

Here is a wonderful suprise for you!

With Christmas right around the corner, our ministry is offering a registration that is chock full of goodies...our beautiful church to host the seminar, a continental breakfast to fuel your body, a lovely dance tool provided in each registration bag...much more, and last but not least, the anointed and talented choreographer, speaker, author and owner of her own online dance school- Jocelyn Richard - will be there to teach you activations and give you tools to help you to be a dynamic choreographer too.

During this powerful event you will learn how to: 1. take a minimum amount of tools and create powerful dynamic dances, not only to music but also to the reading of the scriptures, 2. bathe in prayer and worship to become strengthened in your hands and feet, and 3. celebrate and rejoice with (Hava Nagila) Jewish dance steps as we become unified in power and in prayer!

Special registration details:

1. The cost for you? Simply a love offering. Ask God what He would have you to give, and then offer what he puts on your heart. If you are unable to offer anything at this time, but you know God wants you to be there, contact us so that our heavenly Father can make provisions for you. Our budget is set, but we and our church believe Philippians 4:19 that says My God shall supply all my needs according to his riches...

2. For our preparation, you must register by November 22, 2015, which has now been extended until 12/3/15.

3. The attire will be black comfortable dance pants or palazzo pants. There will be a conference T-shirt that has been made to go with the pants...not mandatory, but would be really nice! May not be available if registration is after November 22, 2015. T-shirt (may be) available for purchase at workshop.

4. If you would like to purchase a t-shirt, please indicate size. T-shirts are ($18.00 for S- XL) - ($20.00 2X-3X). Here is what the t-shirt looks like.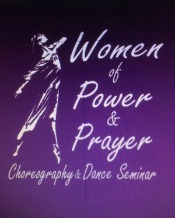 5. We ask that you arrive at 8:00am for a continental breakfast.

6. There will be a Woman of Power and prayer gift bag waiting for you when you arrive, so you will know what to expect. (The gift bag is only available for those who register on advance on this page)

7. You may bring a canned good for our Christmas family donation.

Note: We ask that no more than 5 people come from a group so that there is room for other individuals and groups to come.
Note: Just wanted to say that Greenville, SC approximately 40 minutes away has been added as one of our country's best tourist sites. Bring your family and you can visit there after the conference for a Christmas celebration for yourselves! You won't regret it.
Hotels in Clinton, SC approx. 15 min. away from Laurens
Hotels that are in Clinton S.C (approx. 10 to 15 minutes away from Laurens, SC):
1. Hampton Inn & Suites http://hamptoninn3.hilton.com/en/hotels/south-carolina/hampton-inn-and-suites-clinton-i-26-CNTSCHX/index.html
Address: 201 E Corporate Centre Dr, Clinton, SC 29325 Phone:(864) 938-1040
2. Comfort Suites
Address: 12865 South Carolina 56 Trunk
Clinton, SC 29325
Phone: (864) 833-1800