Description
THIS EVENT IS FULLY BOOKED!
THE ULTIMATE WINTER ESCAPE FOR EXECUTIVE WOMEN TO REGROUP AND RECHARGE IN 2019
This 1.5 day leadership retreat set at the luxurious Macedon Ranges Hotel and Spa in Victoria, provides the perfect place and space for you to focus on you and your leadership.
Helping you to regroup, recharge and rebrand - because you're worth it.

---
BALANCE IS KEY
Finding the balance between tackling ambitious goals and taking downtime, can be challenging for those with big career goals and even bigger roles.
Leading women frequently find that they struggle to find the time to put themselves first.
This Immersive Retreat Experience will provide you the perfect opportunity to fit your own mask first - so that you can better help yourself, your staff and your organisations in the long run.
---
LEADERSHIP IMMERSION
Immerse yourself in all things branding, leadership and career development - along with enjoying great food, wine and even better company.
From 12 noon Thursday 1 August to 3.30pm Friday 2 August you will be challenged, inspired and educated, along with inspiring others on the same journey.
Early bird pricing closes 30 June 2019 COB
---
WOMEN OF IMPACT WINTER LEADERSHIP RETREAT INCLUSIONS
Your host, Amanda Blesing, joins forces with guest facilitators, Julie Hyne (CEO Stylist) and Irene Scott (Award Whisperer)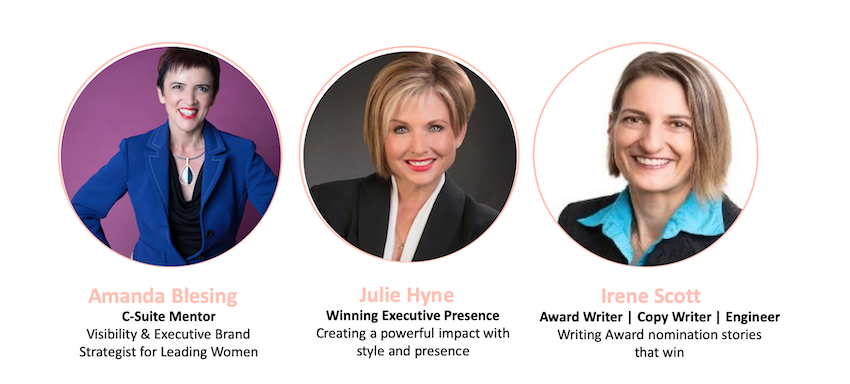 Together we'll take you on a journey that includes the following:
Topics for our Women of Impact Winter Leadership Retreat 2019 include:

What's your Leadership Brand? Unpacking, defining and refining your unique leadership value proposition. Too often executive women underestimate themselves and their impact which sees them missing out on plum assignments, or being undervalued and under appreciated by others. (Hint: You won't after this session.)


Winning Executive Presence - presence, style and impact, how to leverage for more influence


Visibility Strategy Under the Microscope


Winning Awards, Accolades & Opportunities - How to Write an Award Winning Application to Showcase Your Expertise… 7 tips to boost your application success


LinkedIn Impact (of course we can't have a retreat without revisiting your Linkedin strategy) - ideal for those newer to LinkedIn and seasoned influencers alike.
What else is included?
All meals including 2 x lunches, 3 x morning/afternoon teas, 1 x wine tasting & dinner, 1 x networking breakfast

Wine Tasting Dinner with a special guest female wine maker, Laura Swallow, the winemaker for Rowanston on the Track, to share tasting notes and her career story in the breathtaking views of the Macedon Wine Room.

Tai-chi - an optional tai-chi class will be offered in the Friday morning of 2 August
---
Which option is for you?

Amanda's one on one clients (current and past) are eligible for a discounted fee. See ticketing options. If you're not sure please email ablesing@amandablesing.com.

Amanda's 12 month clients who have one Retreat fee included in their 12 month Pack get to attend FOC. Booking a must.

For those new to Amanda's programs and paying the full fee, the Retreat fee includes a 2 hour strategy session with Amanda Blesing (to be scheduled separately to the Retreat). What a way to kick off the 2nd half of 2019!
---
ACCOMMODATION - please book directly with the venue


A room rate of $160/night for the base room has been held with the venue Phone: +61 3 54264044

Upgrades are available for upstairs rooms - please enquire at the venue

Got a good friend or close colleague you want to attend and share with? The venue is happy to simply split the room rate in half.

Additional nights - book directly with the venue to extend your stay. Early booking recommended as winter weekends are a very busy time at the Resort and Spa.

Airport Transfer Post Event - at the conclusion of the event on Friday 2 August - we will offer a transfer service back to the airport. Departing 3.45pm with ETA 4.30pm.
First in best dressed rules definitely apply.
NOTE: Accommodation, flights and transfers are additional to the Retreat/Immersion fee - with the exception of the post event bus to the airport which is included for those travelling,