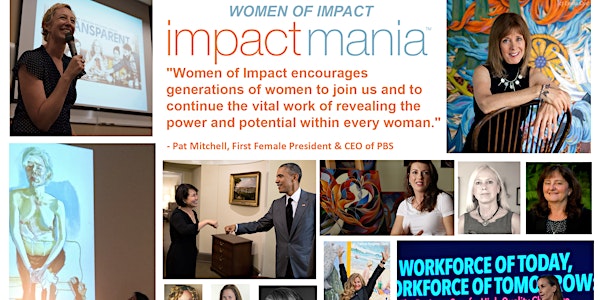 Women of Impact Panel and Discussion
When and where
Location
Art, Design & Architecture Museum, UCSB Behind the UCSB Storke Tower Park in Lot 3 Santa Barbara, CA 93106
Description
impactmania's founder Paksy Plackis-Cheng captured more than 1 million words from 130 Women of Impact in 30 Countries.
This exhibition is complemented with a panel discussion on July 19th that includes women featured in the book from eight U.S. Cities and five Continents!
Among them: Jean Kilbourne, Women Hall of Fame inductee 2015; Teresa Herd, Intel's vice president Global Creative Direction; Laura Jana, M.D., award-winning author; Aliza Shvarts; artist and scholar; Jodie Grenier, Marine Corps Veteran and executive director, Foundation for Women Warriors; Teresa Goines, executive director, Old Skool Café; Lady Leslie Ridley-Tree, CEO and Chair of Pacific Air Industries and philanthropist; Carla De Landri, former senior producer '20/20' and ABC News, Marla McNally Phillips, Theatre Producer, Miyoung Chun, scientist and entrepreneur, Thais Barros Beldi, Manager Strategy and Innovation, Facens University, from Brazil and Brittany Teei, Founder and CEO, KidsCoin from New Zealand.
Also attending: Masha Keating, artist; Laura Bialis, filmmaker; Alethea Tyner Paradis, founder and CEO, Peace Works Travel; Rachel Gloger, co-founder and Executive Director, SBTRAN; Diana Starr Langley, founder Dioptics Medical Products; Kimberly Foster, Co-Director BioEngineering Institute, UCSB; Georgina Miranda, mountaineer and CEO SheVentures (the Netherlands); Laurie Ashton, Legal Counsel Nuclear Zero and was nominated as part of a team for the Nobel Peace Prize; and Yanling Duan; and founder OHDA and Bejing Design Week curator (China).
Join us, July 19th, from 5:30 - 7:30 pm (the 170th Anniversary of Seneca Falls) and learn more about women's work, challenges, and avenues to impact. Send in your questions for the panel:
info@impactmania.com
.
Art, Design & Architecture Museum (UCSB)
www.impactmania.com
www.museum.ucsb.edu/about/impactmania
FAQs
Is this a women-only event and is there a minimum age requirements to enter the event?
This special event is for all genders and there is no minimum age requirement.
What is my parking option at the event?
The Art, Design & Architecture Museum is located behind the Storke Tower at UC Santa Barbara (UCSB). Please park in Lot 3, it is a two minute stroll from there.
How can I get involved and support the event?
The event is free to the community. There is limited seating available, please register, and support the project with with a tax-dedutible gift to the Art Design & Architecture Museum (UCSB).
How can I contact the organizer with any questions?
info@impactmania.com