About this Event
The mission of the Women of Glimmer Women's Summit is to empower, support and celebrate 100+ diverse women in one room. Focus on emotional healing is necessary for a woman to feel free and joyful. Many women struggle with emotional wounds from childhood, past hurts, disappointments, negative thought patterns, and so on.
WHY ATTEND?
1 day of inspiration, education and connection with fellow like-minded women at the Women's Summit — that only begins to describe Women of Glimmer Women's Summit, taking place at the beautiful and elegant Ramada Plaza in ABQ August 24th.
As an attendee, you'll experience powerful panel discussion from local women and male speakers this year; uncover new and innovative strategies; and learn about letting the pass go and embrace the future. Share best practices with new contacts, discuss issues, and find inspiration on how to conquer challenges in both your personal and professional lives at this unique event.
Keynote Speakers: Brejette Terry-Emery, Felicia Cortez ,Tyron Grant & Jason Goldberg
Host: Aleitress Owens
12:00pm-1:00pm Music, Food & Social Connect
1:00pm-1:20pm Band break
1:30pm-1:40pm 1 min slideshow & Introduce Panel Speakers
1:40pm-1:50pm Tyron Grant (emotional wounds from childhood )
1:50pm-2:00pm Brejette Terry-Emery ( Past Hurts)
2:00pm-2:10pm Jason Goldberg ( Disappointments)
2:10pm-2:20pm Felicia Cortez (Negative Thought Patterns)
2:20pm-2:40pm Q& A
2:40pm-3:00pm Group Exercise
3:10pm-3:20pm Celloquacious (Keely Mackey)
3:25pm-3:35pm Spoken word
3:35pm-3:45pm Dancer
3:45pm-4:00pm Announcement and Etc
4:00pm-4:30pm
Social Connect with live music, food , panel discussion, Q&A,group exercise &more.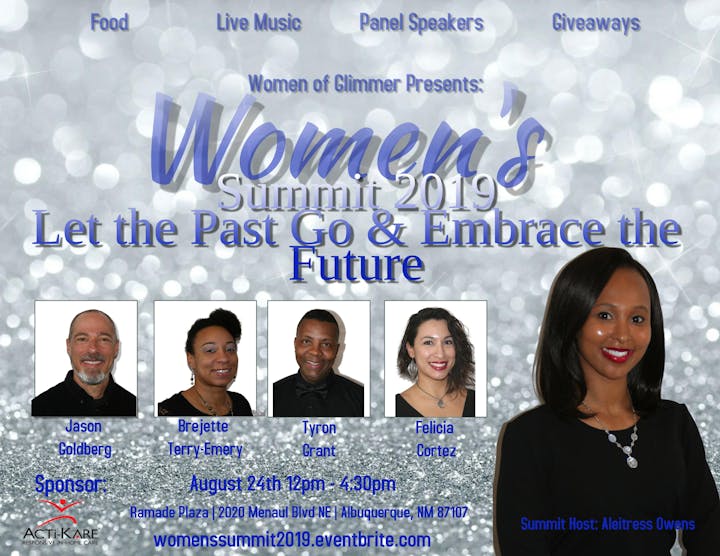 Ramada Hotel Midtown
To book guestrooms call 1-866-650-4900 and reference Women of Glimmer to book at the special rate.