JOIN PROPHETESS DR. MATTIE NOTTAGE AND SCORES OF WOMEN FROM AROUND THE WORLD FOR THE WOMEN OF FIRE & POWER "STAY FREE" ONLINE CONFERENCE
About this Event
CALLING ALL KINGDOM WOMEN OF FIRE AND POWER….IT'S TIME FOR ANOTHER DATE WITH DESTINY WITH CONFERENCE HOST, PROPHETESS DR. MATTIE NOTTAGE!!
CONFERENCE HOSTS AND SENIOR PASTORS OF BELIEVERS FAITH OUTREACH MINISTRIES, INT'L APOSTLE EDISON & PROPHETESS DR. MATTIE NOTTAGE FROM BEAUTIFUL NASSAU, BAHAMAS INVITE YOU TO BE A PART OF THE POWERFUL WOMEN OF FIRE & POWER ONLINE CONFERENCE 2021!!
UNDER THE THEME: "STAY FREE!"
FRIDAY, MAY 7TH THRU SUNDAY, MAY 9TH, @ 6:30 P.M. (EST) NIGHTLY
YOU WILL RECEIVE: DELIVERANCE, HEALING, REFRESHING AND A PROPHETIC IMPARTATION FROM GOD'S DAUGHTER OF FIRE AND POWER HERSELF, PROPHETESS DR. MATTIE NOTTAGE
REGISTRATION IS REQUIRED FOR THIS POWERFUL KINGDOM ENCOUNTER; CALL 1.888.825.7568 OR 1.242.698.1383; LOG ON TO MATTIENOTTAGE.ORG…YOU DON'T WANT TO MISS IT!
P.S. WATCH THE VIDEO BELOW FOR MORE INFORMATION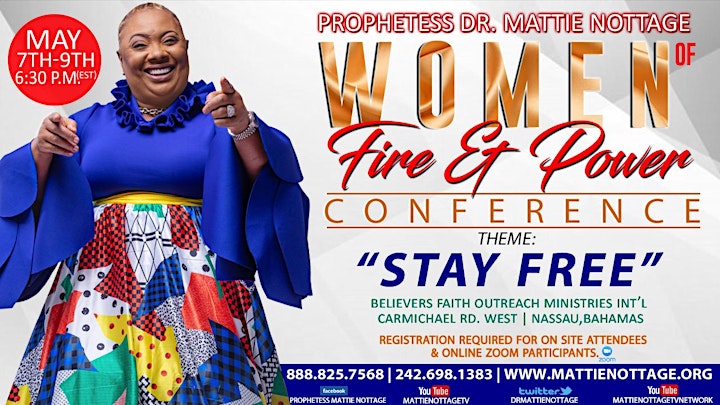 Date and Time
Location
Refund Policy