Sales Have Ended
Registrations are closed
Thank you for registering for Women of CUP: Talking About What Matters -- From Disruption to Opportunity, A Look Forward into 2021 and Beyond. Ticket sales have ended. If you have questions about ticket availability contact info@cupusa.org.
Sales Have Ended
Registrations are closed
Thank you for registering for Women of CUP: Talking About What Matters -- From Disruption to Opportunity, A Look Forward into 2021 and Beyond. Ticket sales have ended. If you have questions about ticket availability contact info@cupusa.org.
Women of CUP : Talking About What Matters –- From Disruption to Opportunity, A Look Forward Into 2021 and Beyond
About this Event
Please join Bank of America and CUP for a special one hour conversation involving impactful diverse women, conversing about what matters.
2020 has been a year of disruption! We are living through a pandemic, grappled with the social unrest that brought about a magnified scope on racial inequality in our country, and we had a tumultuous election season. Everything looks much different than what we are used to. It's clear that returning to "business as usual" will not be good for business. As we look to 2021 how will businesses shift to align with the 'new normal'? How do these shifts impact employees, clients and communities? What will 2021 look like for communities of color, the nature of work, and the global economy?
Tuesday, December 1st, 2020 at 5pm.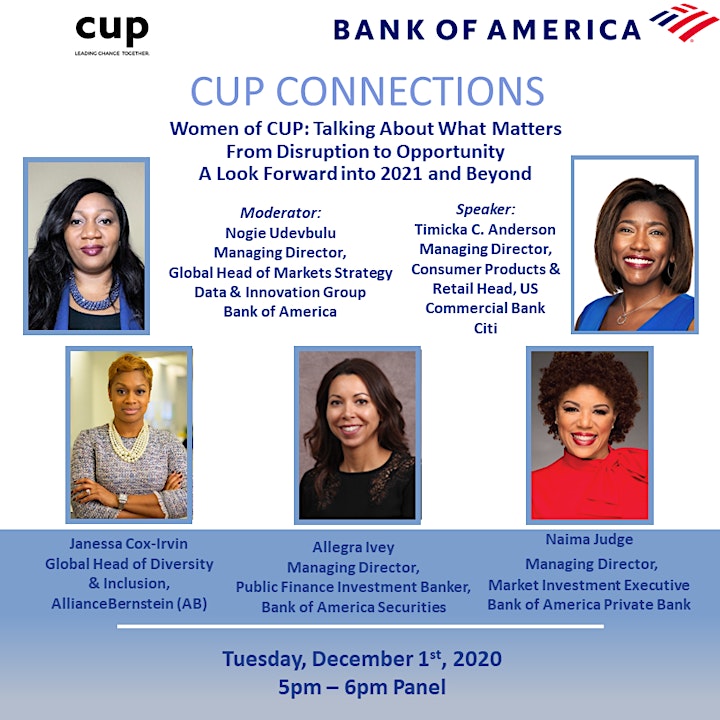 Moderator
Nogie Udevbulu, Managing Director, Global Head of Markets Strategy, Data & Innovation Group, Bank of America
Nogie Udevbulu manages a team that delivers quantitative products and solutions that combines index expertise, and trade execution flows intelligence. Her team provides insights and advisory services to Quantitative, Long-Only and Hedge fund managers on cross asset portfolio related events as it pertains to index methodologies, special corporate actions, and event driven situations. Nogie spearheads the prediction and analytics of multi-billion dollar of global indices and ETFs rebalances and has handled the analytics of several multibillion dollar portfolio transitions for some of the largest index fund managers in the industry. Nogie joined Bank of America in 2006 and has been involved in several employee professional networks especially the Women Leadership Council (WLC) where she has organized programs for senior and junior women bankers to gain exposure to senior management at the firm. Nogie is also involved with the African American's Networks (DEAL and BPG) co-organizing events that connect business initiatives with diversity.
Nogie has been recognized on the 2014 Toigo Top 40 under 40 list and named a 2013 rising star finalists of the Bond Women's Club Association. Nogie was a 2018 fellow at the 92nd Y Women InPower program geared towards women one level away from CSuite positions.
Nogie graduated from the Darden School of Business (UVA) with an MBA in General Management with a concentration in Finance. She also has a Bachelor of Business Administration from Baruch College (City University of New York). Nogie sits on the board of the Forte Foundation and is a committee member of FTSE Russell Index Advisory committee for the Americas. Nogie currently resides in Long Island, New York. She is married and the mother of two children.
Speakers:
Timicka C. Anderson, Managing Director, Consumer Products & Retail Head, US Commercial Bank, Citi
Timicka Anderson is Managing Director and Head of Consumer Products & Retail within Citi's U.S. Commercial Bank, Global and National Industries. She leads a specialized, client coverage team in the origination and development of Citi's relationship with U.S. based early stage to large sized companies. As a Banker focused on corporate finance, treasury and risk management advisory, she drives value for her clients, leveraging her experience of nearly 20 years rooted in a comprehensive knowledge of Citi's global network, products and services, coupled with tested credit and risk assessment expertise. Timicka is a Senior Credit Officer.
Timicka has led the Commercial Bank's Consumer Products & Retail team since its formation in late 2015 and is responsible for the strategy which has resulted in yearly double-digit top-line growth realized through new client acquisition, relationship uptiering and driving high-returning annuity opportunities which leverage Citi's global network. Through thoughtful target market definition and disciplined client selection, she has initiated and institutionalized relationships with high-growth, globalizing companies, positioning Citi to be a longstanding partner. Timicka also led the Commercial Bank's Healthcare team for three years, providing senior support in the acquisition of new to bank relationships in the medical device sector.
Timicka has held a number of roles in her two decades with Citi including Senior Banker in Consumer, Retail, and Home Corporate Banking within Citi's Banking Capital Markets and Advisory business from 2010 to 2015. Through a career of diverse experiences, she has served many of the Citi's longstanding clients across all industry segments.
Timicka's influence at Citi extends beyond her day-to-day business management as a member of the Black Leaders for Tomorrow Advisory Council and the Global Citi Women Affinity Steering Committee, co-leading the Economic Empowerment and Black Women at Citi workstreams. Timicka remains active in the firm's recruiting process as a key partner to the campus diversity team in developing relationships with Florida A&M University and other HBCUs. She is a multi-year recipient of the Institutional Client Group's Citizenship Award. In 2019, Timicka was recognized by American Banker Most Powerful Women as a member of Citi's Top Team. She serves on the Board for the Council of Urban Professionals, a non-for-profit organization dedicated to supporting the business and civic leadership development of women and people of color.
Timicka earned a Bachelor of Science in Chemical Engineering from Florida A&M University in 1997. She was an engineer with Procter & Gamble prior to business school. She received her MBA from The University of North Carolina Kenan-Flagler Business School.
Timicka is a master of sheet pan dinners and resides in Jersey, NJ with her husband, three sons, affectionately known as the Bboyz and chocolate labradoodle.
Janessa Cox-Irvin, Global Head of Diversity & Inclusion, AllianceBernstein (AB)
Janessa Cox-Irvin is the Global Head of Diversity & Inclusion (D&I) at AllianceBernstein (AB) and a member of the Operating Committee. As Global Head of D&I, she partners closely with the CEO, other executive committee members and human capital to lead AB's global D&I strategy, and provides thought leadership on advancing efforts that align with business priorities, meet the needs of a diverse range of clients and positively impact over 3,800 AB employees worldwide. Following the 2018 announcement of a headquarters relocation to Nashville, Tennessee, Cox-Irvin has led the development of a formalized D&I philosophy for Nashville, including a framework for community and employee engagement and corporate partnership.
As D&I continues to be a critical focus area for many clients and prospects globally, she has successfully positioned AB's approach to D&I as a differentiating factor. Cox-Irvin and her team have personally been involved in multiple client proposals and mandates. Known for her dynamism, she creates spaces for authentic discussions on challenging topics and often serves in an advisory capacity for clients, providing thought-provoking, practical solutions for organizations and individuals at various stages of the D&I journey.
Prior to joining AB in 2015, Cox-Irvin spent 11 years at Deutsche Bank, where she served as diversity & inclusion manager for the Americas region, responsible for integrating diversity practices within the corporate banking & securities and global transaction banking businesses globally. She holds a BBA in human resource management from Pace University.
Cox-Irvin is a mentor with the Step Up Women's Network and the Young Women's Leadership Network. She was a 2018 Council of Urban Professionals (CUP) Catalyst in Finance awardee and named to Crain's 2020 list of Rising Stars in Banking & Finance. Cox-Irvin's thought leadership has been featured in Bloomberg, The Wall Street Journal, Ignites, FundFire and CNBC. Additionally, she is a member of the Society for Human Resource Management (SHRM), the National Association of African Americans in Human Resources (NAAAHR), and the Securities Industry and Financial Markets Association (SIFMA) D&I Advisory Council.
Janessa resides in Brooklyn, NY with her spouse, Lanaya.
Allegra F. Ivey, Managing Director, Public Finance Investment Banker, Bank of America Securities
Allegra F. Ivey is a Managing Director in the Municipal Banking and Markets group at BofA Securities. She is responsible for municipal origination to finance projects for state and local governments such as airports, surface transportation, water and sewer infrastructure, convention centers, parking facilities and other general infrastructure. This experience spans a variety of security structures, ranging from straightforward general obligation, revenue and special tax pledges to more complex pooled financings, pension transactions and tobacco securitizations.
During her 21-year career, Allegra has focused primarily on a number of multi-credit municipal issuers, such as the cities of New York, Houston, Atlanta, Chicago, Detroit, New Orleans and Memphis. She has also executed state-level financings in Connecticut, Georgia, Michigan, Mississippi, Missouri and Virginia, as well as the District of Columbia.
Allegra joined Bank of America as a Vice President in August 2008 and was promoted to Director in late 2009 and Managing Director in 2019. She briefly joined J.P. Morgan as an Executive Director then re-joined Bank of America Merrill Lynch in 2011. Allegra began her career as an Associate at UBS (formerly PaineWebber), where she worked for nine years, during which she was gradually promoted to Director.
Allegra received her bachelor's degree (cum laude) from Harvard University with a concentration in Economics and her Master's in Public Administration from Syracuse University's Maxwell School of Citizenship and Public Affairs.
Allegra lives in New York City with her husband, four children, Tiernan (11), Ellison (10), Kellan (8) and Braden (6), and Goldendoodle, Bailey. She is a member of the Maxwell School Advisory Board at Syracuse University and the National Association of Securities Professionals.
Naima Judge, Managing Director and Market Investment Executive, Bank of America Private Bank
Judge is a Managing Director and Market Investment Executive with the Bank of America Private Bank. In her role, she leads a team of dedicated investment and trust professionals, who work closely with high net worth individuals and families to provide customized wealth and investment management solutions. She has worked in investments and wealth management for over 20 years, beginning her career as an INROADS Intern on a commercial paper trading desk. Naima attended Northeastern University in Boston, Massachusetts on a Division I full basketball scholarship where she earned her Bachelor's degree in International Business and Finance. She also has an MBA in Entrepreneurship and Corporate Accounting from the University of Rochester's, Simon School of Business. While living in her hometown of Rochester, NY, Naima co-founded a community service organization called Women In Service Excellence, or "W.I.S.E." WISE focused on mentoring and educating inner-city young women on a host of topics such as etiquette, personal finance, and public speaking. She was a past recipient of the U.S. Trust "President's Award" which is an annual honor awarded to the top performing associates in the organization. In 2017, Naima was inducted into her High School's Hall of Fame for her outstanding achievements in basketball during her high school tenure as well as her personal and professional accomplishments after high school. Naima, in her capacity with The Bank of America Private Bank, has been a corporate partner with YearUp, a national not-for-profit organization focused on closing the opportunity divide for youth ages 18-24. She was featured in Bank of America's 2019 diversity advertising campaign and often represents the firm as a host, speaker, or panelist for both internal and external events. Naima is a member of Alpha Kappa Alpha Sorority Incorporated, and currently serves on the board for several non-profit organizations such as Meals on Wheels Atlanta, Raising Expectations Inc., and the Georgia Minority Supplier Development Council.