Location
Jacobs Center For Neighborhood Innovation
404 Euclid Avenue
San Diego, CA 92114
Description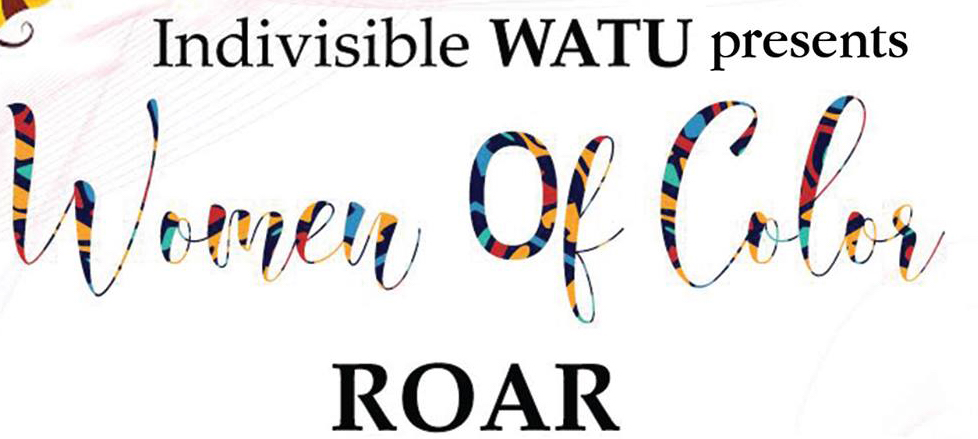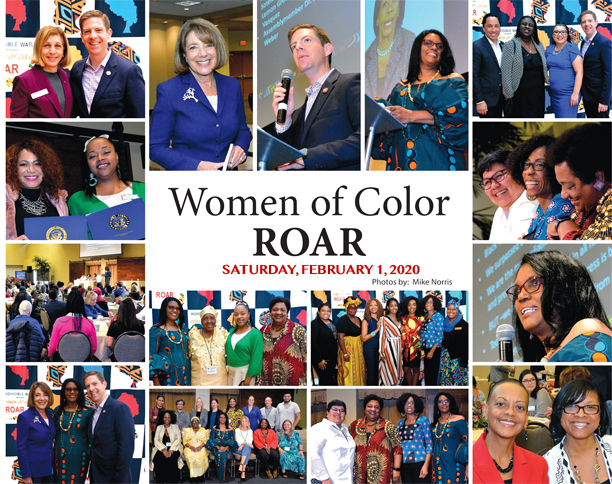 Celebrating a Century of Milestones
2020
Women of Color Roar 2020 is a Black History Month celebration of the historic campaigns and elections and achievements of Women of Color from Shirley Chisholm to Kamala Harris. It has been 100 years since the 19th Amendment giving women* the right to vote. Right here in San Diego, we have Black women running for mayor, the county board of supervisors and holding positions on the city council and school boards.
Join us as we celebrate our historic progress and inspire the upcoming generations of young women to run for office and seek careers in public service.
We will honor leaders and elevate the members of our community contributing to uplifting and trailblazing.
Table Sponsorships and Program Book acknowledgments are available - Contact us at woc.roar@gmail.com
-----------
How do we diversify the pipeline? Although we have made gains, there is much work to do. How is it possible that there have only been two Black women in the Senate in 200 years? And how are we going to eliminate the barriers that have kept us from electing a Black woman governor?
Join us for a look at the landscape, the opportunities, and the obstacles facing Women of Color in the 2020 election season and beyond.
If you have a school or community organization that would like to nominate students to receive a complimentary ticket to WOC Roar 2020, please contact us at woc.roar@gmail.com.

Women of Color Roar 2020

Join us for "A Century of Milestones"

It is the 100th Anniversary of the 19th Amendment giving Women* the right to vote. It is also the 100th Anniversary of The League of Women Voters and the 100th Anniversary of the ACLU.

We are honoring Senator Holly J. Mitchell from Los Angeles. She got the governor to sign a bill that prohibits employers from discriminating and firing Black women for wearing their hair natural. https://www.thecrownact.com

The ACLU of San Diego and Imperial Counties will receive our first organization award for their exceptional work on the immigrant crisis and their tireless quest for defending our civil rights and fighting for human rights.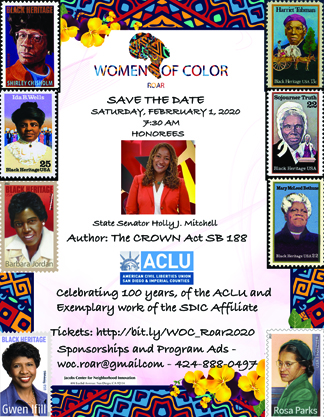 2019
The theme was "Running and Winning" and featured a panel of the most powerful Women of Color in San Diego County - Assemblymember Dr. Shirley Weber, City Council President Georgette Gomez, and City Councilmember Monica Montgomery. We were overjoyed to have set a new record of over 400 tickets sold and over 100 of those were donated to the high school and college-age young women. Thank you so much to all our sponsors and donors.
Our Woman of Distinction Award went to Congresswoman Maxine Waters. See her acceptance speech and video greeting here: https://www.facebook.com/WomenofColorRoar/videos/307176856815488/
2018
Our 2018 Inaugural event, the Women of Color Roar Breakfast was a stunning success. The sold-out event brought 300 women from diverse racial and ethnic groups together to honor Black women leaders who were trailblazers.
We sponsored 80 high school and college-age young women to attend complimentary as our special guests. This unique gathering provided the young women with the opportunity to be surrounded by women in leadership and exposed them to great role models which led to mentorships and internships. The Women of Color Roar breakfast was a transformative experience for them.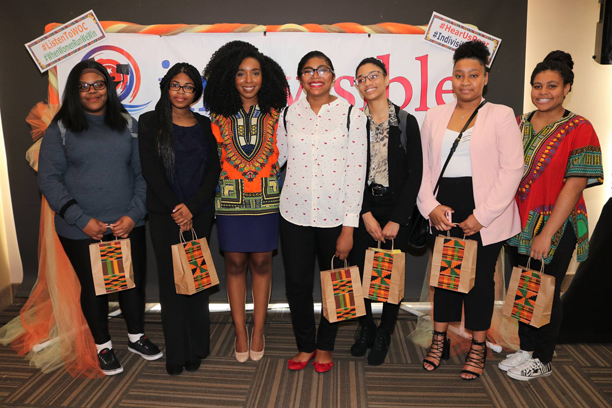 Women of Color Roar 2020 will offer mentorships, internships and instill a sense of mission to encourage young women to run for office. We will be honoring trail-blazing Women of Color in our community. They have been working tirelessly to register disenfranchised voters, to supply medical aid to the refugees at our border and stand up for criminal justice reform.
It is fitting that we launch Black History Month lifting up and amplifying the voice of the women carrying the Democratic Party to victory.

We are energized by this development on a national level and seek to nurture it in our own region. Our mission is to support women in office, uplift women running for office and encourage more women to run for office in San Diego County.

* * *

Delicious Breakfast Buffett.
Speakers
Award Ceremony
For information: woc.roar@gmail.com 424-888-0497
The Indivisible Project is a 501 (c) 4 nonprofit corporation. Donations are not tax deductible.