Description
Join us for a day of coworking and collaboration with Impact Hub Houston and Women of Color Exposed! You don't want to miss this opportunity. Let's roll up our sleeves together and get to work!
This day is intended as an opportunity for Women of Color Founder or Future Founder who are looking for opportunities/resources to start, grow and scale their businesses. We're starting the morning with mentorship roundtables to give you an opportunity to receive direct feedback/advise/answers to questions or challenges about your business. At lunch, we will have a group of panelists talking about ways to receive funding for your business. In the afternoon, DivInc will be having office hours + an info session about their accelerator program. We're closing the event with a mixer + mini market where you will be able to continue networking with other entrepreneurs (or promote your business, if you purchase a booth ticket).
In between each session, we will have coworking opportunities (time for you to catch up with work, network, and collaborate with the other participants and guests).
Food will be provided as well!
EVENT SCHEDULE
8 AM REGISTRATION
8:30 am -10:30 am Morning Coffee + Mentoring Round Tables
10:30 am - 12:00 pm Co-Working Break
12:00 pm -1:00 pm Lunch Panel
1:00 pm -2:30 pm Co-Working Break (DivInc Office Hours)
2:30 pm - 3:00 pm DivInc Info Session
3:00 pm -5:00 pm Happy Hour Mixer (with Mini Market)
EVENT DESCRIPTION
MENTOR ROUNDTABLES: Join us for 20-minute interval sessions where you will have the opportunity to be coached by mentors of your choosing. Mentors are representing diverse industries and depth experience. This mentoring session is designed to provide insight, guidance, and inspiration. Thank you to our morning coffee sponsor: Young Hustler Coffee
Mentors Include:
Vanessa Reed, Comerica Bank
Financial professional with extensive experience in accounting, banking and financial management. Currently employed by Comerica Bank as the Texas External Affairs Manager, responsible for the banks community development programs in Texas.
Jose Avalos, Creative Vida
Jose is the Co-Founder of Creative Vida, a nonprofit organization with a mission to educate and empower youth through creative experiences. Jose has creativity and inspiration as natural strengths that get showcased in solutions for companies and organizations. Being extremely intuitive and perceptive about people has helped him build immediate genuine and rewarding relationships. A bicultural background makes him a versatile leader with a current broad scope on branding, sales and marketing.
Courtenay Siegfried, VP, Communications & Impact at ALICE
Courtenay leads Alice's external communication efforts, our work with entrepreneur organizations, and impact reporting. Before Alice, Courtenay lived the entrepreneur life as owner and president of 20K Group, a global communications agency with a diverse client roster, from Fortune 100 companies to local nonprofits. She also co-founded Launchpad Skills for Success, a corporate training company specializing in emotional intelligence and business communications for early-stage professionals.
Erin Mcclarty, Erin McClarty, PLLC
Founder of Erin Mcclarty, PLLC Erin is a mix between a business coach, licensed attorney, and an impact architect. She helps clients all over the nation create businesses, charities, projects and movements that create impact by reflecting their founders. Forming structures, documents, and business models that reflect their values, dreams, purpose and mission through focus, healing, tools, community, and education.
Ana Rojas Bastidas, Orolait
From Colombia, South America to Houston, TX. From Blogger to Influencer. From Human Resource Director to Executive Director. From Mom to Momtrepreneur. No two journeys are the same and Ana Rojas Bastidas is an example of what happens when you align your passions with your purpose to create your own opportunities. As she embarks on her newest journey as Founder and CEO of Orolait, a line of breastfeeding friendly bikinis, all of her previous experiences have prepared her to create a game-changing brand that is also a movement. In her not so spare time, she also serves as a mentor for TiE Houston's Young Entrepreneur program and advisor for Impact Hub Houston.
Christyna Lewis, Edward Jones
Christyna Lewis has been involved with expanding capacity for organizations, and peace of mind in money matters, since 2001 when she worked with local refugee agencies in financial literacy training. She has been both an entrepreneur herself, and a collaborator in building human-centered institutions. One highlight, during Hurricane Harvey, Christyna oversaw Central City Co-op's efforts to distribute thousands of pounds of fresh produce to those impacts.
Christyna currently a financial advisor with a nationwide firm. Christyna is your mentor if you are looking to shift your context for getting the work done, if you are looking for peace of mind and ease with your finances, or if you are out expand the capacity of your organization.

Kimberly Penn
Kimberly Penn or the High Tech Maven founded a boutique technology (Webtropolis) consulting firm over 26 years ago. She also founded two corporations specializing in drone technology and audio/video or IoT technology. Currently, she has clients in greater Houston, thirteen states, Washington-DC, Canada, Mexico, Poland, and Dubai. She has worked on technology and security-based projects with budgets in excess of $30million+. Having served on several national Information Technology Curriculum committees she managed a national (English to Spanish) translation technology curriculum project for over 365,000 students. Is a Content Expert for Pearson Publishing and is currently a technology book reviewer for a national college system. She has spent over 16 years teaching at the college level. Kimberly has earned several local, state and national teaching awards at the collegiate level. As a lifelong learner who values education, she has earned a double B.A. in Computer Systems Information & Psychology from Houston Baptist University, a M.A. in Sociology from the University of Houston, and a M.P.S. in Technology Management from Georgetown University.
Miara Shaw, Transformational Speaker. Life & Business Strategist. Corporate Trainer. Author.
A maven is a trusted professional who seeks to pass knowledge on to others and Miara Shaw, also known as 'Maven' Miara has made this her winning formula. Miara uses her 25+ years of corporate experience in the oil and gas industry and 9 years as an entrepreneur to move clients from stuck to execution! She spent 15 years of her experience as one of the few African American female natural gas traders at some of the nation's largest oil companies. She combined her timely execution as a trader with her witty, yet direct style of speaking and coaching and has become a sought-after transformational speaker, corporate trainer, and strategist.
"You are CPR - Capable, Prepared & Ready®" for your very next step is the motto Maven Miara frequently shares with her followers (called Maven Nation) which includes corp-preneurs, up-and-coming business babes to those transitioning to a new career. She helps them gain clarity, connection & confidence in executing in their journey.
---
LUNCH PANEL: Attacking the $tats -- only 0.0006% of black women have received venture capital funding. (http://projectdiane.digitalundivided.com/) Let's change that! Join us for a candid panel discussion where we will identify resources, talk about the importance of cultivating relationships, and help you open up your network. Panelists will be announced soon!
Thank you to our lunch refreshment sponsor: The JuJu Products
Panelists:
Isis B. Ashford
Isis B. Ashford pioneering the new genre of sports analytics for injury prevention. She is a leader in sports technology and health tech entrepreneur with a penchant for fusing data analytics insights, wearable tech, and content into game-changing products and solutions. Her expertise ranges from storytelling and product development where she has designed the software for mobile and web applications for major college athletic programs including the University of Miami and Delaware State University. Isis received a Bachelors of Science in Electrical Engineering and currently resides in Houston.
Yolanda Vallier
With over 10 years' experience as a licensed Business banker, I've facilitated hundreds of commercial loans, helping business owners across the country get access to working capital. As an experienced Realtor and FINRA Registered Agent, I have a wealth of knowledge in understanding the financial dynamics of acquiring commercial capital and assets. I enjoy helping business owners remove obstacles when starting, sustaining, and growing their businesses. And the thing that does that best is money! I founded Interim Capital Lending Solutions to bring my education, experience and resources to the business community. Our team of financial specialists are fully trained and certified. We intermediate loans to businesses of all sizes, by matching our clients and their needs with our portfolio of lending partnerships with banks, unregulated (non-bank) financing companies, and private lenders. Our win is ensuring businesses get the funds needed to start, grow and succeed! We endeavor to help business owners position themselves to be lendable whether right now or later. By providing relevant education through consultation and compatible lending resources, we equip business owners to access working capital and loan programs that help their businesses start, grow and succeed!
---
DivInc INFO SESSION: DivInc is an accelerator program for women and people of color. We equip diverse entrepreneurs with strategies critical to building and growing exceptional technology businesses.

---
MIX & MINGLE + MINI MARKET: Happy Hour! Sip and Shop local designers, retailers and more!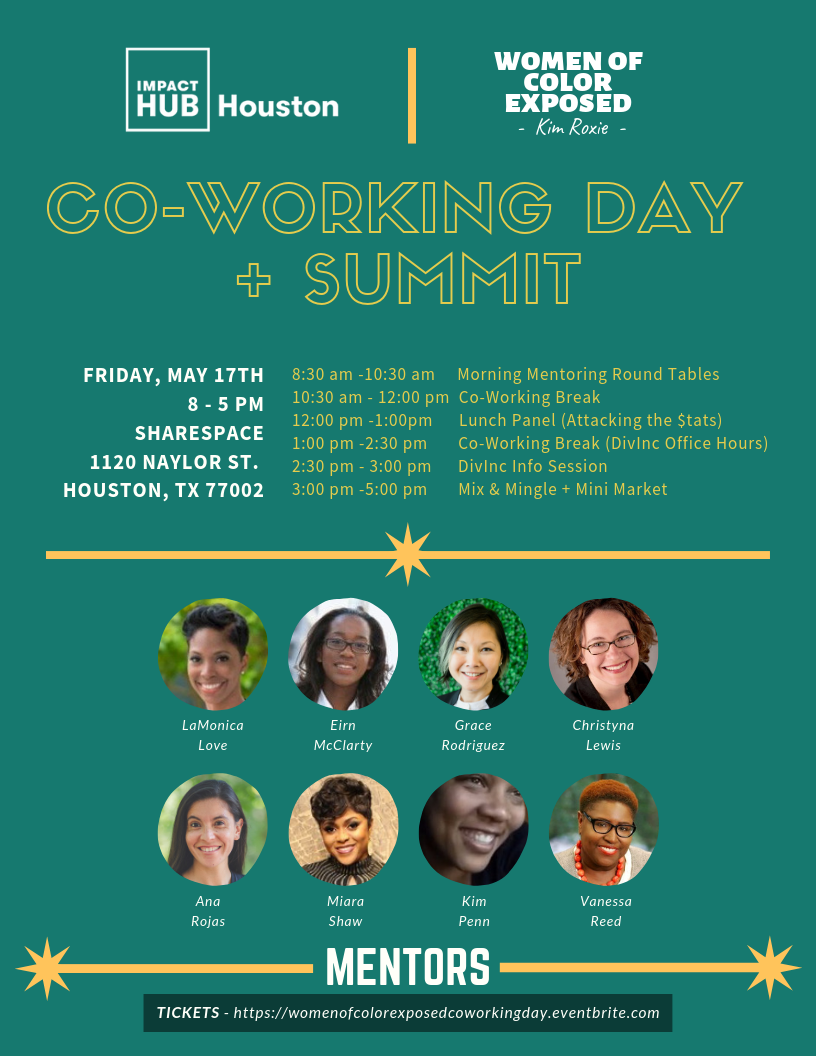 * Many thanks to Sharespace for sponsoring the venue for the event!