Location
Reunion Chicago
2557 West North Avenue
Chicago, IL 60647
Description
E3 Radio presents the 2018 Women of Color Candidate Forum for Illinois in partnership with Morten Group, LLC, Reunion Chicago, Equality Illinois and Chicago NOW PAC.
Join us on International Women's Day as we hear from first time women of color candidates who have stepped up to run for elected office.
RSVP TODAY and learn more about the candidates below (listed in alpha order)

Gaylon Alcaraz, Candidate for Cook County Commisioner, 4th District; http://www.gaylon2018.com
Maria Hadden, Candidate for 49th ward alderman; http://www.mariafor49.org
Sameena Mustafa, U.S Congress in IL-05, http://www.sameenaforcongress.com
Delia Ramirez, Candidate for St Rep, 4th district; http://deliaforstaterep.com
Charise Williams, 3rd District Cook County Commissioner, http://www.chariseforcommissioner.com
We are the ones we've been waiting for!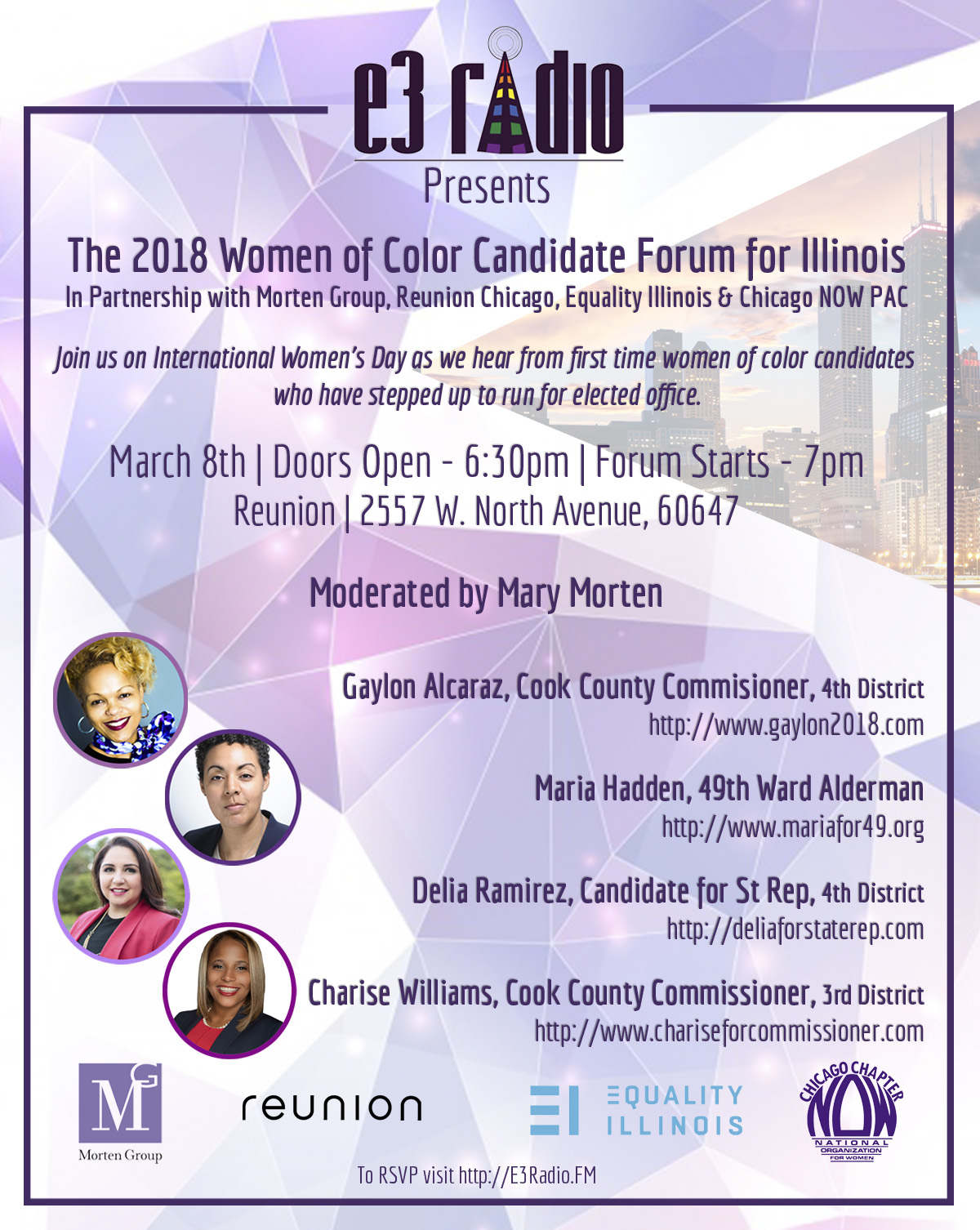 About E3 Radio: E3 Radio is an online radio network producing authentically-edgy radio streams from a queer point of view. Our three pillars are to educate, empower, & entertain. We do this via our programs that blend music and talk which we define as "New Age NPR". All of our programs are meant to challenge perceptions, evoke conversation & engage our listeners. E3 Radio is Queer Radio Done Right.
About Morten Group: Morten Group focuses on organizational and resource development, including workshops on diversity and building communities of inclusion and access, racial equity integration and strategic planning, executive coaching and succession planning, and board recruitment and retention.
About REUNION CHICAGO: REUNION is an art gallery, event space and project incubator located in Chicago's Humboldt Park neighborhood. Event/cultural producer Kristen Kaza and brand strategist/ cultural producer Elijah McKinnon assumed management of the space in 2016, with a mission to provide a collaborative and grounding environment prioritized for queer, people of color and femme-identified individuals in creative roles. Reunion Chicago is located on the first floor of a commercial space located at the corner of North Ave and Rockwell Street. The gallery and restroom facilities are wheelchair accessible.
About Equality Illinois: Equality Illinois builds a better Illinois by advancing equal treatment and full acceptance of the LGBT community. Equality Illinois envisions a fair and unified Illinois where everyone is treated with dignity and respect and where all people live freely regardless of sexual orientation or gender identity or gender expression.

About Chicago NOW PAC: Chicago NOW strives to be a major force in fostering gender equality, social change, and social justice to the Chicago community, and Chicago NOW PAC has been an integral part of Chicago elections. Our members are highly engaged in local government and politics, and look to Chicago NOW PAC for guidance on Election Day.