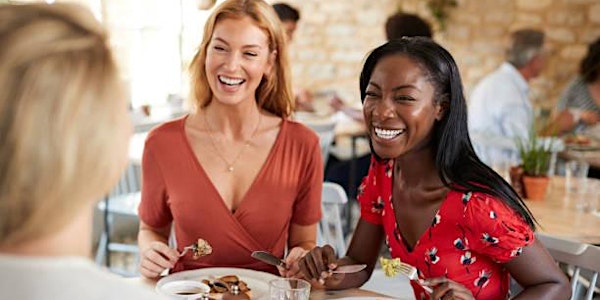 Women & Moms In Business Networking Brunch Meetup
Let's get out from our day-to-day week. Come out to meet, network and collaborate with other like minded entrepreneurs like you.
When and where
Location
Cosmic Diner 888 8th Avenue New York, NY 10019
About this event
WHO WE ARE
We are wise entrepreneur women, moms, moms-to-be or not-moms-at-all* navigating (or attempting to navigate) the entrepreneurial space.
We value community and camaraderie.
We have ideas.
We need help.
We communicate from the heart and love to be listened to.
HERE'S WHAT PAST ATTENDEES SAY:
" I really enjoyed my experience! I liked that the group was smaller, this allowed everyone to speak more about their business and have a more informal conversation. Everyone who attended was extremely kind and enjoyable to speak with. I was able to connect with everyone after as well, whether it was via email, linked-in, or other forms of social media. I also really enjoyed the game that you had for us to help us learn more about one another, I thought it was a great idea! "
- Dana Spagnola
"I just want to say that the meetup was out of my expectations. This was different than other networking events that I've been to. I felt very comfortable and it didn't feel forced at all. Janet had had really awesome games to help break the ice and supported our conversations. It was really organized and this meetup gave meaning to what networking actually is. I can say that I made more than just a network but a bond from this event."
- Omawattie Singh
WHO WE ARE NOT
We are not a recruiting scheme (e.g., no solicitation for pyramid-style affiliates, associates, or consultants permitted).
WHAT WE ALLOW
We allow you to pitch what you do and who you can help at the end of the gathering. So bring your business cards and come ready to make meaningful connections.
WHAT WE DON'T ALLOW
We don't allow you to be disrespectful, or think that you are better than anyone in the space. We hold you accountable for your own actions and therefore do not guarantee that you will sell or make money by coming to this gathering.
WHEN & WHERE WE MEET
WHEN: We have events all year long, every two weeks.
Time: 11:00am EST
Place: TBA after registration (Near Midtown, Central Park NYC) Usually A Restaurant Setting. (Must have proof of vaccination)
WHAT WE DO
We come together to brainstorm, mastermind ideas and give each other business support. It's a place where you come to talk about your struggles, your wins and make amazing business friends who can support you in your entrepreneurial journey.
FOR MORE INFO CONTACT JANET:
REGISTER TO RESERVE YOUR SEAT AT THE TABLE (EARLY RESERVATION IS $30.00)
FYI: WHEN YOU PURCHASE A TICKET YOU CAN BRING ONE FRIEND FOR FREE BY GIVING THEM A CODE THAT YOU'LL RECEIVE IN YOUR TICKET DETAILS ONCE YOU PURCHASE.
RESERVATION IS NON-REFUNDABLE.
For any questions contact me at 914-688-2802
or info@janetsoriano.com
Please visit my website for more information about me and my business at janetsoriano.com
*When you reserve for this event you will be added to a newsletter email list, for future event reminders and valuable weekly business trainings.*