A new exhibition of more than 100 extra ordinary banners made for PROCESSIONS
About this event
A 14-18 NOW commission, to mark 100 years of the first UK women getting the vote.
This free, ticketed exhibition will take place from 2 June – 11 July 2021 at London Scottish House, Westminster.
Emblazoned with the concerns of women across the UK, the banners are a powerful reminder of the importance of feminist activism and the power of protest today.In June 2018 tens of thousands of women embraced the idea of PROCESSIONS and joined us to create an unforgettable mass-participation artwork celebrating 100 years of votes for the first UK women.
Three years on, Women Making History continues this legacy, providing an opportunity to reflect on the banners' calls for equality, to examine the pace of progress and to be inspired to keep pushing for change.
Created by leading British artists in collaboration with women's groups across the UK, these vibrant artworks inspired by the banners of the suffrage movement, speak to the present and the future. Artists include Claudette Johnson, Sarah Maple, Sadie Williams and Vivienne Westwood.
Follow on social media using #WomenMakingHistory
Exhibition opening hours:
Mon & Tues: CLOSED
Weds: 12 – 6pm
Thurs, Fri, Sat: 12 – 8pm
Sun: 12 – 6pm
ACCESS
London Scottish House is partially accessible but does require assistance. Please let us know if you have any access requirements ahead of your arrival.
If you are planning your visit and wheelchair access is required, please contact us 24 hours before you arrive. If possible, wheelchair users are advised to arrive by car. There will be free parking provided for wheelchair users only on site, in the basement car park accessed via Elverton Street.
For more information or to discuss in detail how we can assist you on your visit please get in touch.
Email: wmh@artichoke.uk.com
Phone: 020 7650 7611 (Mon – Fri 10:00 – 6pm)
LONDON SCOTTISH HOUSE
Please avoid bringing large bags or suitcases when you visit, as we do not have any cloakrooms at the venue.
Please note that the venue was originally built as the home of the London Scottish Regiment and is now a cultural centre with displays of social and military artifacts dating back to 1859, some of which may be visible but are not part of the Women Making History exhibition.
EXHIBITION GUIDE
Find Artichoke on the Bloomberg Connects app to explore our exhibition guide.
Click here to download now for free from Google Play and the App Store.
CANCELATION
If you're no longer able to attend, please cancel your order 24 hours in advance. Go to "Tickets," select your order and choose "Cancel Order". If you want to cancel a single ticket in your order, contact us at wmh@artichoke.uk.com
FIND OUT MORE
For more updates about Artichoke projects, join our mailing list.
The companion volume to the exhibition Women Making History, published by Artichoke and Profile Editions, is available to buy. Click here to order your copy.
The banners are available to view remotely on Google Arts & Culture, and a special exhibition guide will be available to download on Bloomberg Connects from 27 May, a free digital guide to cultural organisations around the world. To download the Bloomberg Connects app, visit the Apple App or Google Play.
COVID-19 SAFETY
The safety measures that are in place are intended to minimise the risk of contracting Covid-19, but this risk cannot be completely eradicated. Therefore, anyone visiting the exhibition acknowledges that they do so at their own risk.
By attending the event all visitors are acknowledging their consent to, and agree to abide by, the safety precautions as follows:
• We ask that visitors do not attend if they or someone in their party is required to self-isolate or experiencing any Covid-19 symptoms.
• Please arrive at the exhibition at your pre-booked entry time only.
• Tickets booked are non-transferable to enable accurate track and test details are to be collected*.
• You do not need printed tickets, we can scan directly from a smart phone.
• Groups entering must stay in their group of up to six people, including children & infants.
• Please follow the one-way systems in operation throughout the exhibition.
• Remember HANDS - FACE - SPACE. Meaning wash / sanitise HANDS. Wear FACE coverings at all times. Give yourself and your groups SPACE of 2m.
• Hand sanitiser will be available at entry to the exhibition.
• Face coverings must be worn in the exhibition and throughout the venue itself. Please also remember to use face coverings if travelling to and from the venue on public transport.
• Always follow 2m social distancing guidelines whilst at the exhibition.
• Please bring as few items as possible to minimise risk of transmission.Failure to comply with the above precautions could result in visitors being asked to leave the venue. We further reserve the right to refuse entry to any person who refuses to comply with our safety precautions.
By booking a ticket for the event, you are acknowledging that an inherent risk of exposure to Covid-19 exists in any public place where people are present, and that you and those in your party voluntarily assume all risks related to exposure to Covid-19 and agree not to hold Artichoke, the Venue, Artichoke's event partners or any of their affiliates, directors, officers, employees, agents, contractors or volunteers liable for any illness or injury. Anyone attending an Event acknowledges that they do so at their own risk.
*The exhibition is required by the UK Government to collect the name of the lead member of the group and the number of people in the group, a contact phone number for the lead member of each group of visitors and the date of visit, arrival time and, where possible, departure time. This information will be shared with contract tracing schemes in order to support NHS Test and Trace and will only be used where necessary to help stop the spread of Covid-19. This sharing is based on legitimate interests of the visitors and the employees and staff at the exhibition, to ensure that we can protect the health and safety of individuals and support the public health efforts to tackle Covid-19.
.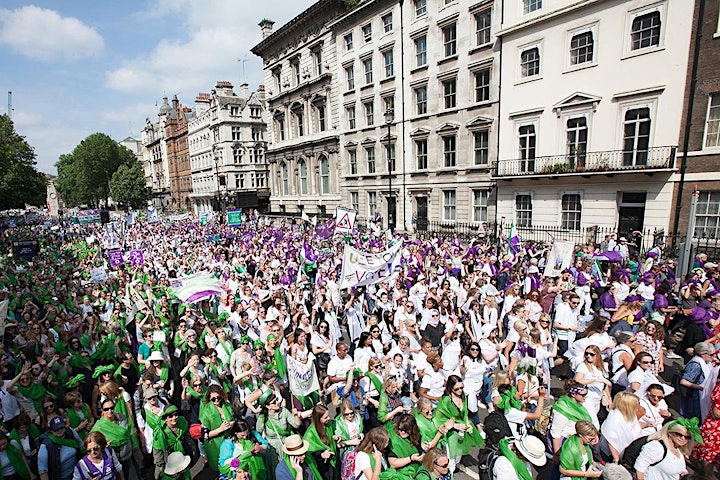 Organizer of Women Making History