Event 2 of our IWD series focuses on how we have an impact by investing in solutions that are effective for women and girls.
About this Event
Women Leading in Philanthropy
A conversation with female philanthropists on the most critical challenges facing women and girls today and how we can develop effective solutions to drive long-term change.
Background: Women have been making history since the beginning of time, but they are often left out. This year, we will be inspired by those who have paved the way and empowered by current leaders who are elevating more women and helping them break down barriers.
The Challenge: There has never been a more important time to support women in the workplace and the advancement of women in leadership. The events of 2020 and ongoing impact has turned workplaces upside down and intensified the challenges that women already face. Women are more likely to have been laid off or took a leave of absence during the COVID-19 crisis.
As a result, more than one in four women are contemplating what many would have previously considered unthinkable: scaling down their careers or leaving the workforce completely. Today, companies risk losing accomplished women leaders, future women leaders and years of hard work to advance gender diversity.
Join Us: We invite you to join us for a conversation with women leading in philanthropy and learn more about the issues affecting women and girls globally; how you can best support women and girls; and invest in effective solutions that will drive long-term positive change.
Our agenda includes:
11:00 am – 11:10 am
Opening remarks by Solange Tuyshime, Founder and CEO of Elevate International
11:10 am – 11:20 am
Welcome by Elevate Board of Directors from Rima Aristocrat, Chair of Willis College and Director of the Elevate Board
11:20 am – 11:45 am
Opening Keynote from Taylor Lindsay-Noel, serial entrepreneur, and Owner and Founder of Cup of Té Luxury Loose Leaf Tease
"An accident left former gymnast Taylor Lindsay-Noel quadriplegic—but didn't stop her from dreaming big. Her collection of six ethically sourced teas is a luxurious mix of flavors, and a portion of the proceeds goes to mental-health awareness causes."- Oprah Winfrey
11:45 am – 12:10 pm
Panel Discussion featuring Pauletta Senior, Women Foundation, Jennifer Gillivan, IWK, and Her Excellency Sibongiseni Dlamini-Mntambo, The South African High Commissioner to Canada
12:10 pm – 12:30 pm
Closing Keynote: Sarah Kambites, Acting/ President & CEO, United Nations Association in Canada
#IWW2021 #ElevateWomen #MakeHistory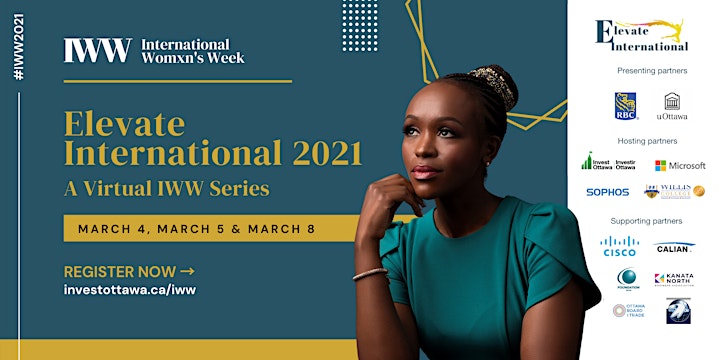 Background information and other Elevate International IWW 2021 events:
Traditionally hosted on Parliament Hill in Canada's Capital, Elevate International is honoured to host an annual leadership event dedicated to advancing the leadership and economic empowerment of women. It aims to inspire and equip more women to pursue leadership roles; empower a truly diverse and inclusive workforce, and help more aspiring leaders to realize their full potential.
Our Goal:
Together, we can help more women leaders achieve even greater impact on our society. With the support of committed partners, we look forward to creating a powerfully elevating experience that attracts stakeholders from across our region, throughout the country, and around the world.
Launching Our Virtual Series:
To help keep our community healthy and safe, Elevate International is transforming our one-day annual International Women's Day conference on Parliament Hill into an engaging and interactive virtual three-part virtual event series with broad global reach. This series will bring together women, champions and allies who are passionate about diversity, equity, and inclusion, and creating new leadership opportunities for women from every walk of life.
International Women's Day 2021
We're celebrating women's history while empowering more women to break barriers. It is in this spirit that we are pleased to invite you to Elevate International 3-part virtual International Women's Day 2021:
Event 1: Women Leading Globally with Elevate International
March 4, 2021 11:00AM - 12:30PM (EST)
Acknowledging women in leadership paving the way, exploring the challenges women are facing in the workplace and how to foster diversity in leadership.
Event 2: Women in Philanthropy with Elevate International
See information above
Event 3: International Women's Day 2021 with Elevate International
March 8, 2021 10:00AM - 1:00PM (EST)
Women have been making history since the beginning of time, but often left out history. This year, we will be inspired by those who have paved the way and empowered by today's leaders who are elevating more women to break down barriers.