Event 1 of our IWD series focuses on current workplace challenges, how to foster diversity & highlighting the women leaders paving the way.
About this Event
An Elevate International virtual IWW event series
This event is the first of three events Elevate International will be hosting in honour of International Women's Day. For more information on the other exciting, impact-focused events, see below.
The Challenge: There has never been a more important time to support women in the workplace and the advancement of women in leadership. The events of 2020 and their ongoing impact has turned workplaces upside down and intensified the challenges that women face. Women are more likely to have been laid off or have taken a leave of absence during the COVID-19 crisis. The pandemic has had a disproportionate impact on women.
Join us: Be a part of a conversation with global leaders to discuss the challenges women are facing in the workplace today and how we can continue advancing progress toward gender parity.
Our agenda includes:
11:00 am - 11:05 am
Solange Tuyshime, Founder and CEO of Elevate International
11:05 am - 11:10 am
Welcome by Elevate Board of Directors
11:15 am - 11:35 am
Fireside Chat: Leadership Begins from Within featuring Wendy Knight Agard, Integral Professional Coach with Shopify, Author and TEDx Speaker
11:35 am - 12:15 pm
Speaking remarks from Lisa Carroll, Canadian Public Sector Leader, Microsoft
Leadership Panel Discussion: Women in the Workplace 2020 and Beyond. This session will feature: Rebecca Bromwich, Diversity & Inclusion Manager, Gowling WLG; Mojdeh Cox, Public Policy and Human Rights Expert; and Lisa Carroll, Canadian Public Sector Leader, Microsoft
12:20 pm - 12:40 pm
Zoya Zayler, Inclusion & diversity lead, Accenture
12:40 pm - 1:00 pm
Michelle Douglas, Executive Director , LGBT Purge Fund
#IWW2021 #ElevateWomen #MakeHistory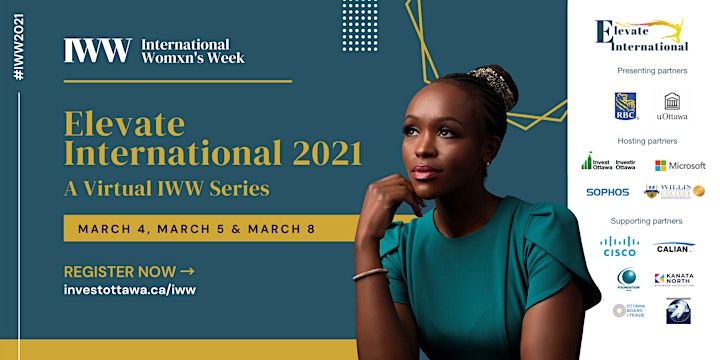 Background information and other Elevate International IWW 2021 events:
Traditionally hosted on Parliament Hill in Canada's Capital, Elevate International is honoured to host an annual leadership event dedicated to advancing the leadership and economic empowerment of women. It aims to inspire and equip more women to pursue leadership roles; empower a truly diverse and inclusive workforce; and help more aspiring leaders to realize their full potential.
Our Goal: Together, we can help more women leaders achieve even greater impact on our society. With the support of committed partners, we look forward to creating a powerfully elevating experience that attracts stakeholders from across our region, throughout the country, and around the world.
Launching Our Virtual Series: To help keep our community healthy and safe, Elevate International is transforming our one-day annual International Women's Day conference on Parliament Hill into an engaging and interactive virtual three-part virtual event series with broad global reach. This series will bring together women, champions and allies who are passionate about diversity, equity, and inclusion, and creating new leadership opportunities for women from every walk of life.
International Women's Day 2021
We're celebrating women's history while empowering more women to break barriers. It is in this spirit that we are pleased to invite you to Elevate International 3-part virtual International Women's Day 2021:
Event #1: Women Leading Globally with Elevate International
Details above
Event #2: Women in Philanthropy with Elevate International
March 5, 2021 | 11:00AM - 12:30PM (EST)
A conversation with female philanthropists on the most critical challenges facing women and girls today and how we can invest in effective solutions for long-term change.
Event #3: Make History - Elevate Women: International Women's Day 2021 with Elevate International
March 8, 2021 | 10:00AM - 1:00PM (EST)
Women have been making history since the beginning of time, but often left out history. This year, we will be inspired by those who have paved the way and empowered by today's leaders who are elevating more women to break down barriers.