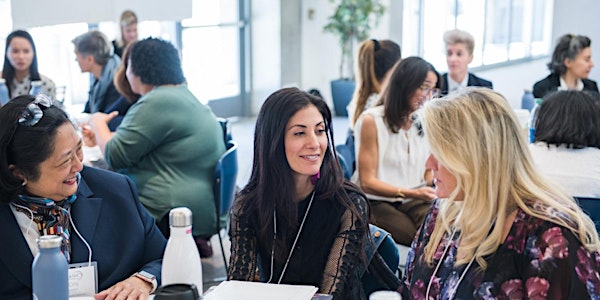 Women + Leadership (Northern California)
Joy + Activism: Sustaining the Leader and Learner in Us All
When and where
Location
The Lake Chalet Seafood Bar & Grill 1520 Lakeside Drive Oakland, CA 94612
Refund Policy
Contact the organizer to request a refund.
About this event
Join the California Teacher Development Collaborative at the 13th annual Northern California Women + Leadership Conference in-person once again! This powerful event brings together women educators from schools throughout the Bay Area to celebrate our journeys and strengthen our individual and collective impact.
Focusing on the theme Joy + Activism: Sustaining the Leader and Learner in All of Us, this year's conference will explore what it means to cultivate joyful well-being, caring communities, and ongoing learning as we imagine new futures and seek to make a positive impact.
We will hear from women about the paths they have forged to become visionary leaders and how we can all be more courageous agents of change. There will also be the opportunities to share stories and make connections with other women educators at all stages of their own leadership journeys; learn new skills to foster growth; and plan to make a difference.
Featured Presenters and Activities:
Keynote: Shabana Basij-Rasikh, co-founder and president of the School of Leadership, Afghanistan (SOLA). SOLA is the first and only boarding school for Afghan girls, operating in Kabul from 2016 through the summer of 2021 and now in Rwanda, where SOLA has reestablished its operations and students have resumed their studies.
Experiential activities to facilitate connections, develop new skills, and inspire us to take action
Time for reflection and restoration
Optional hosted-happy hour from 3-4:30 for continued discussion and networking
AUDIENCE
At CATDC, we acknowledge that the feminist movement has a history of exclusion and marginalization. We want to break out of that pattern by adopting a definition of women that is gender-inclusive and gender-expansive, and one that challenges white supremacy. Women + Leadership is an affinity space that is welcoming and respectful of all women of all backgrounds, including trans women and those who are nonbinary, gender non-conforming, and any others who identify as a woman in a way that is significant to them.
TIMING
Conference: 9:00am - 3:00pm
Happy Hour: 3:00pm - 4:30pm
GOLD SPONSORS
COVID-19 SAFETY PROTOCOLS
CATDC and Lake Chalet will be working together to do all we can to ensure your health and safety during the Conference, monitoring closely nationwide, state, and local updates and recommendations. We ask that you do not attend if you are infected with Covid, have Covid symptoms, or have had close contact with someone who is infected in the last 10 days.
All participants of in-person programming need to be up to date with their COVID-19 vaccines and show a copy of their COVID-19 vaccination card (with booster or boosters) before attending. A venue may require additional protocols which we will communicate to you as soon as possible.
Given the nature of our in-person programs which gather individuals together from a variety of schools and regions, CATDC may also require or strongly recommend masking indoors and/or testing on a program-by-program basis.  Any updated recommendations or requirements will be communicated to participants in a timely fashion prior to a program or session.   All Covid-related refund requests will be considered on a case-by-case basis. Thank you for your understanding and your cooperation.
CANCELLATION POLICY
Life happens. We understand that there will be times when you cannot attend a workshop that you have registered and paid for. Registration may be transferred to a different person up to 7 days before a session. However refunds will not be given, and a session missed for any reason will not be refunded.
Below we have outlined our cancellation and refund policy, which we have in place to ensure the most accurate numbers when we secure well in advance locations, catering, and facilitators. Thank you for understanding.
For our ongoing programs or one-day intensives, refunds are available (less a $50 processing fee) up to 22 days before the scheduled starting date. We are unable to provide refunds for cancellations made 21 days or less prior to the first day of a workshop. A missed session that is part of an ongoing program is non-refundable and non-transferrable.
Please contact us by email as soon as you know you cannot attend a workshop.
You will receive a full refund if CATDC chooses to cancel this event.