Description
Please join Independent Women's Forum for our 4th Annual Women LEAD Summit on May 9th at the American Institute of Architects.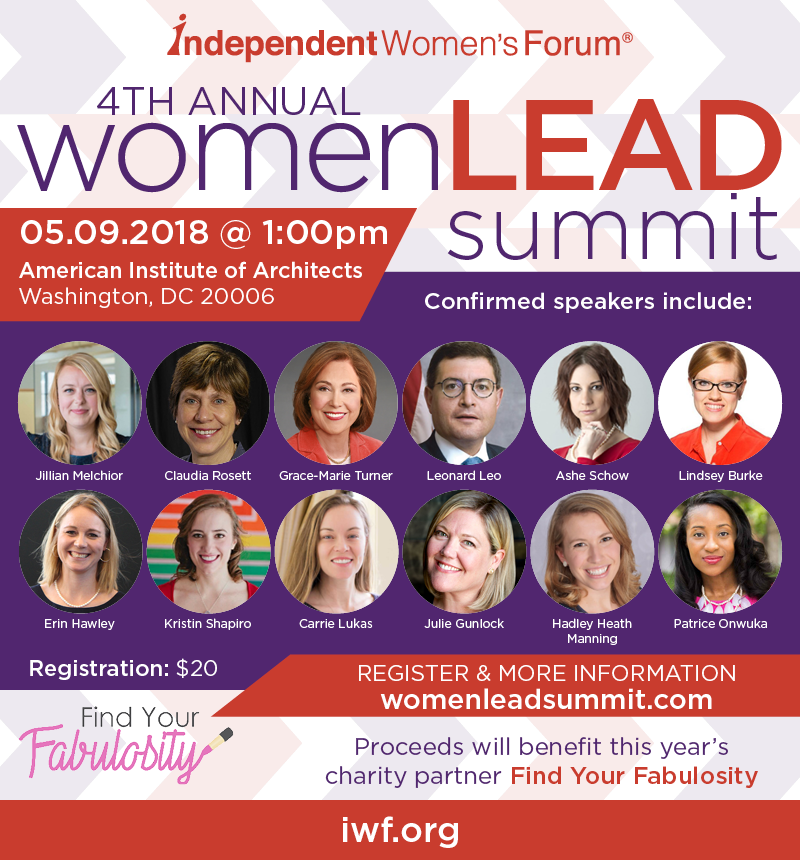 AGENDA
1:00pm: Registration Opens
1:30pm-2:00pm: Life, Love and Politics in the Real World
Keynote Discussion featuring Rachel Campos-Duffy and Congressman Sean Duffy!
2:00pm - 3:00pm PANEL: Fostering the American Dream
The economy is on the upswing: Unemployment has dropped and wages and benefits are increasing. Yet barriers still remain to helping more people pursue their vision of happiness. What policy reforms can help open more doors and give more people the incentives, skills, and ability to access the opportunities that are available?
3:00pm – 3:30pm DISCUSSION: A Conversation about Health Care
Listen to a conversation between two health care experts about the most pressing issues facing our health care system: prescription drug prices, higher insurance prices, lack of insurance options, and our current Medicare and Medicaid systems. They will dive into the core causes of the current challenges and offer potential solutions.
3:30pm – 3:45pm BREAK
3:45pm – 4:15pm DISCUSSION: Biggest Issues Facing the Supreme Court
SCOTUS expert Leonard Leo of The Federalist Society and IWF's Legal Fellow Erin Hawley will discuss upcoming challenges facing the Supreme Court.
4:15pm - 5:30pm PANEL: Creating a Better Culture and Safer, Stronger Country
Join us for a panel focusing on the big trends that are impacting our country, including increased risk aversion and concerns about health and safety issues; the #MeToo movement and the challenge of discouraging sexual harassment but without prohibiting normal social interactions; and the need to stand up for human rights and the cause of freedom in an increasing complicated international environment.
5:30pm – 7:30pm RECEPTION
Enjoy ales with females at an afterparty sponsored by Anheuser-Busch!
CHARITY PARTNER
Proceeds from your registration will be donated to this year's charity partner Find your Fabulosity.
All guests are asked to bring a new tube of lipstick to the summit.
SCHOLARSHIPS:
Scholarships are available for those who qualify. Please email Events@iwf.org if you would like to be considered for this opportunity.
QUESTIONS:
GENERAL • Events@iwf.org
MEDIA • Press@iwf.org
SPONSORSHIP OPPORTUNITIES • Amber.Schwartz@iwf.org