Description
Please join Independent Women's Forum for our 3rd Annual Women LEAD Summit on May 16th at the historic Decatur House!
The day will be broken up into three parts. Come for one portion or stay for the day.
AGENDA
PART I: MODERN FEMINIST LUNCHEON (11:30am - 1:00pm)


In honor of our 25th year, the day will feature a luncheon celebrating the accomplishments of our Modern Feminists throughout the years and a conversation on feminism between famed academic Camille Paglia and Christina Hoff Sommers, AEI Residential Scholar and host of The Factual Feminist a show related to all feminist philosphies and practices.

PART II: AFTERNOON SUMMIT (1:30pm-6:00pm)


"Women, Poverty, and the Politics of Restoring a Healthy America"
In 2017 IWF will launch The Poverty Project to dig deeper into the reasons women and their families fall into poverty and how we can do more to keep them out of poverty. This will be a standard panel discussion where we will cover a wide-range of policy issues, economic, and cultural concerns.
"The New Makeup of the SCOTUS and What to Expect in 2017 and Beyond"
"Women and Elected Office: The Need, the Challenge, and the Future"
Part III: WOMEN, WINE, AND WHISKEY RECEPTION (6:00pm-8:00pm)
*Dress for Success is our charity partner for this year
Toast the day and our Women LEADers at an afterparty!
Bring an item of clothing for Dress for Success, taste craft whiskeys from women-owned distilleries, and learn to pair your whiskey and wine with the perfect chocolate.
Special Guest TBA
A special thank you to our reception sponsors:
DISCUS
National Confectioners Association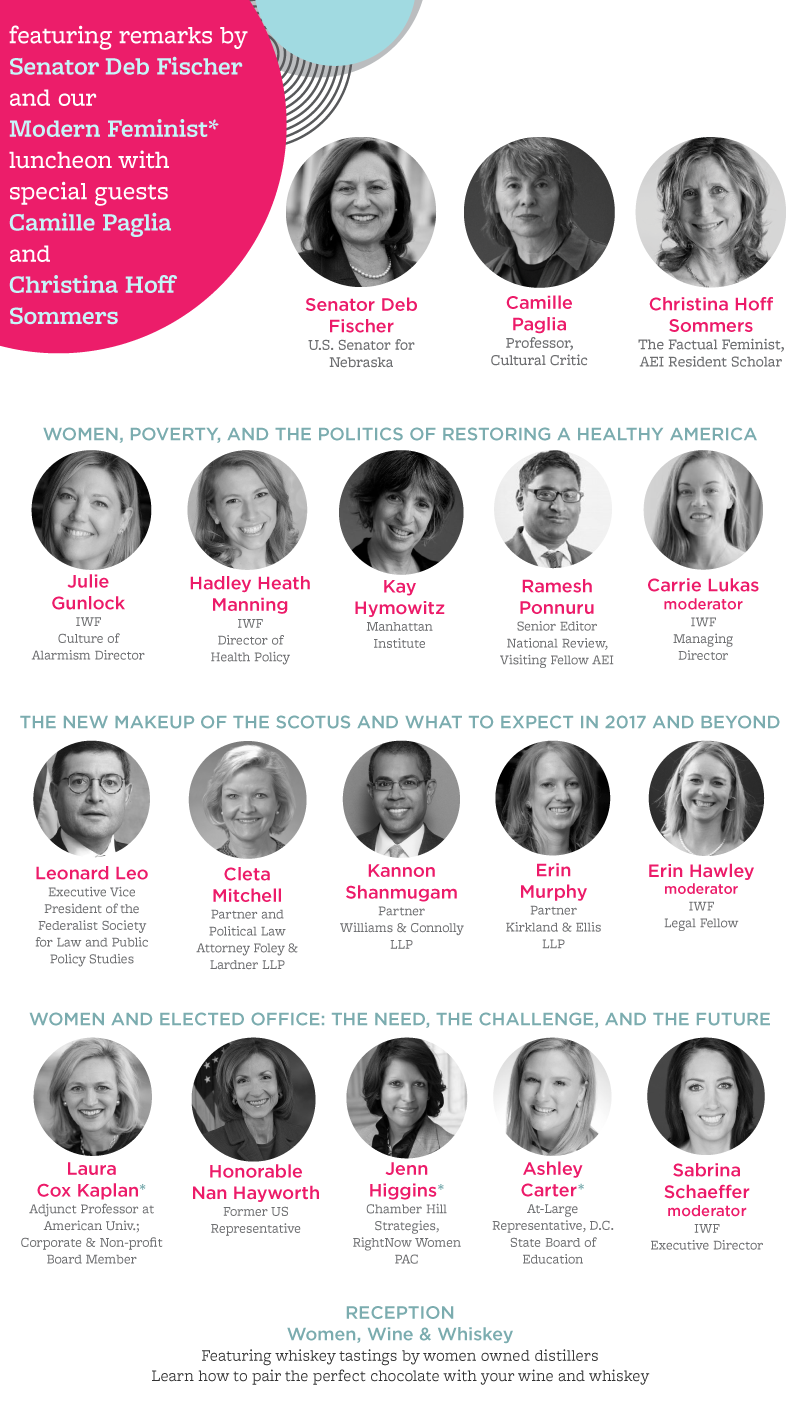 QUESTIONS:
Scholarships are available for those who qualify. Please email Events@iwf.org if you would like to be considered for this opportunity.
GENERAL • Events@iwf.org
MEDIA • Press@iwf.org
SPONSORSHIP OPPORTUNITIES • Amber.Schwartz@iwf.org