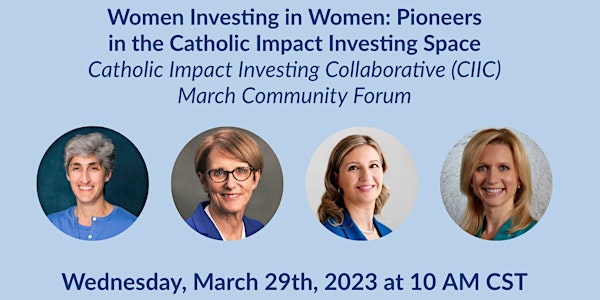 Women Investing in Women: Pioneers in the Catholic Impact Investing Space
March's Community Forum will focus on Women Investing in Women: Pioneers in the Catholic Impact Investing Space
By Catholic Impact Investing Collaborative (CIIC)
Date and time
Wednesday, March 29 · 8 - 9am PDT
About this event
CIIC is excited to announce our March Community Forum, part of an ongoing series of webinars focused on specific issues for CIIC community members to engage in open dialogue, exchange resources, and identify opportunities for mutual learning and collaboration.
Women religious congregations have long been leaders in making direct, community-centered investments, decades before the definition of "impact investing" existed. This panel discussion will showcase women in the Catholic impact investing space - both asset owners and asset managers - who have been champions in gender equity and gender lens investing and highlight how female leadership contributes to social impact and strong investment performance.
Our Panelists will be:
Sr. Teresa George, Provincial Councillor/Provincial Treasurer, Daughters of Charity, Province of St. Louise
Sarah Smith, Director, Mercy Partnership Fund, Mercy Investment Services
Sonia Kowal, President, Zevin Asset Management (ZAM)
Moderator: Jessica Cook, Managing Director, Ascension Investment Management
Catholic Impact Investing Collaborative (aka CIIC - pronounced "seek") is the global convener of a trusted impact investing community with a uniquely Catholic identity, where learnings lead to action in allocating capital for a more just, equitable and sustainable world. We build relationships, foster collaboration and peer learning, provide access to opportunities, and leave room for the Holy Spirit to guide our work.